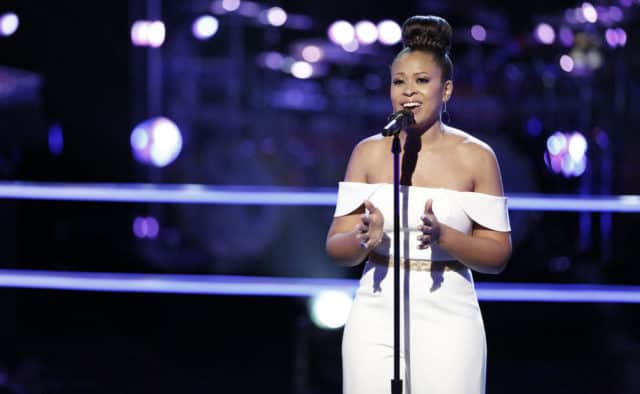 The Voice season 12 knockouts were…okay. There are a few performances that really stand out. However, those performances don't always win! What is going on this season?
1. Team Alicia: Chris Blue vs. Quizz Swanigan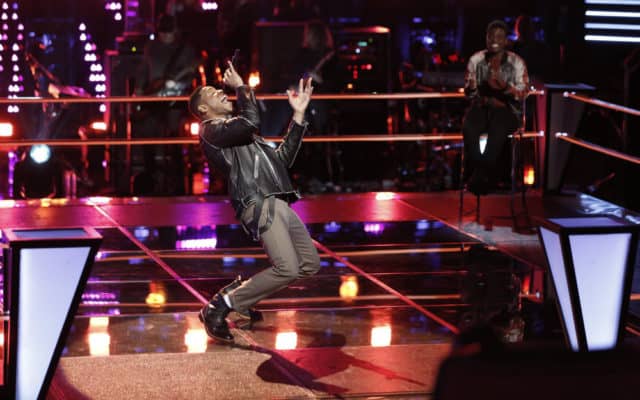 Chris is doing Superstition by Stevie Wonder. Quizz is doing "Chains" by Nick Jonas. Alicia says the winner will be who has the most growth.
Winner: Chris
Stolen: Quizz
I'm thrilled Gwen stole Quizz, but, sorry, but Quizz was robbed! One of the things that's been concerning about Quizz is wondering if he could do more than be like a young Michael Jackson. Tonight his song choice put him firmly in the modern era. Vocally there were a couple of moments that gave me chills. His performance moved him out of feeling gimmicky and into being a serious contender!
Meanwhile, all of the coaches have been saying that Chris is so amazing and that he could win the show. Clearly for this season's casting African-American soul/r&b singers was on the call list. (Last season was the female version.) While Chris's story is very compelling thus far his vocals don't stand out from the pack. Brandon Royal, JChosen & TSoul have all made stronger impressions. If not for the fuss the coaches have made I wouldn't see him as a frontrunner. Throw in that he was doing Stevie Wonder and I don't see how he was better than Quizz.
It could be that Chris is a performer who comes of better live. It's possible. I can think of a few singers I didn't really get until I saw them in concert. The biggest example for me is…Mick Jagger. So, yes, if Chris is rocking like that it would explain why all the coaches love him!
2. Team Adam: Autumn Turner vs. Hannah Eyre
Autumn says she's doing the classic "Respect" – but she doesn't have as big a voice as Aretha Franklin. That's the first thing to cross my mind. Hannah is doing "Bleeding Love" by Leona Lewis. With her I'm wondering if she has the emotional experience to pull it off. In other words, neither of these choices seem perfect for them. It's a question of which handicap is less important.
Winner: Hannah
Neither of these blew me away. Autumn had better stage presence and was more entertaining, but the song choice killed her. Gwen says she wished Autumn had chosen something more like the kind of record Autumn would like to make. Hannah at least picked a song that was vocally appropriate. While it wasn't heart-stirring her voice sounded pretty.
3. Team Gwen: Johnny Gates vs. Hunter Plake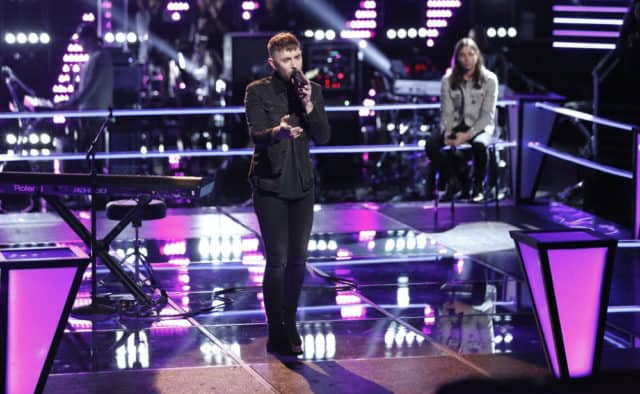 Johnny and Hunter are so different, and yet both are so good. Johnny is a straight-up rocker and Hunter's
Winner: Hunter
I was surprised that Gwen picked Hunter, not because he shouldn't have won, but because Johnny was the flashier performer. He did a great job vocally as well. Adam talked about rewarding the artistry involved in Hunter redoing the Foreigner classic, and she seemed to go with that. I was sorry to see Johnny go though.
4. Team Blake: Casi Joy vs. Felicia Temple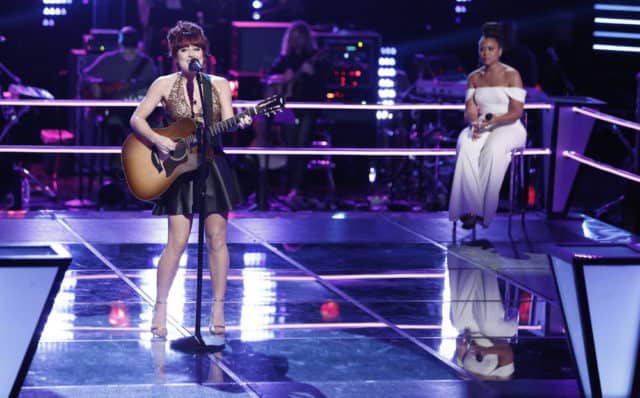 Casi doing "My Church" is the perfect song choice for her! Felicia is doing "My Heart Will Go On" by Celine Dion. It's always tough to do a superstar's signature song. Felicia does have the kind of voice to pull it off – although Blake does give her some pointers about places where she's got to watch her breath so that she holds out those notes. Hopefully it will be enough for her to get a steal – because there's no way Blake is going to give up Casi. That's in never-gonna-happen land!
Winner: Casi
I was really hoping Alicia would have stolen Felicia back because she knocked that song out the park! Like, I'll be downloading that. Casi is a fabulous country artist and sounded great as well. She's on team Blake, so it's no surprise that she won – but Felicia was universally amazing.
5. Team Adam: Johnny Hayes vs. Josh West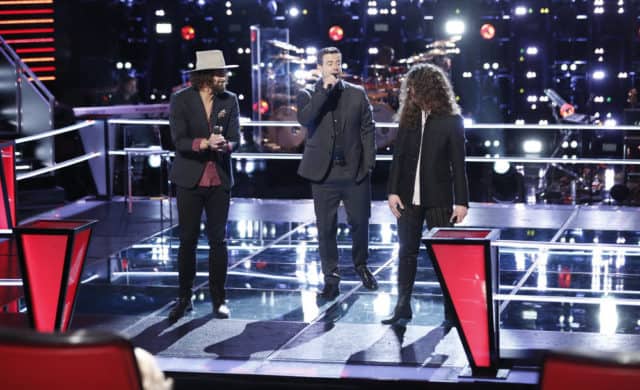 Johnny does a solid job with "Statesboro Blues" by The Allman Brothers Band but not spectacular. I wish he'd done something with more of a rock edge. He doesn't have the heaviness in his voice for real blues. Then we had Josh doing classic rock with "Carry On My Wayward Son" by Kansas.
Josh does have perfect rocker hair. Again, maybe his sound just isn't translating well on TV. Gwen hit it on the head when she said his voice is operatic. That's it exactly! I could see him on Broadway doing something like Jesus Christ Superstar – or anything else by Andrew Lloyd Webber. In terms of a great rock voice though I'd take Johnny Gates from team Gwen over Josh. Unfortunately, that's not an option.
6. Team Alicia: Ashley Levin vs. Lili Passaro
This battle was a sneak peek, so I'd heard the vocals before. Ashley was fun to watch on stage, but "Fancy" – originally by Bobbie Gentry but most recently heard done by Reba McEntire was a little too low for her in some places. Plus Alicia had warned her about getting all the words in. There were definitely places where the sounds were great, but it was impossible to make out what she was saying.
Vocally Lili reminds reminds me a bit of Norah Jones – but with more a sultry undertone. Adam says he could see her winning The Voice. Maybe. It feels like we haven't seen her full vocal potential yet. However if she stays so understated it's a no go.
Winner: Ashley
Stolen: Lili
Honestly, that felt like a give-away. Alicia says there was this country/soul thing she wanted to do with Ashley. Maybe it was just to have someone to compete against Team Blake? There is the fact that the show's audience tends to tilt country during the lives – especially for those instant saves. Adam stole Lili – beating Blake. Lili mentioned having seen the show before and what Adam could do as part of her reason to chose him. (Also, if she's seen enough of the show she knows Blake would throw her under the bus for a country star.)
Night One of The Voice Season 12 Knockouts: The Wrap Up
When watching these knockouts I finally had to admit to myself what I've been trying to avoid. No one can say that anyone who makes it onto The Voice lacks talent. The thing is that it takes more than talent to be a star. While there's some super talented singers this season overall last season had a more interesting group of performers. Almost every battle and knockout loss during season 11 felt like a letdown because they were all so good and I wanted more of them.
This season the only losses thus far have been superhard were Gaby Borromeo from team Adam, Missy Robertson from team Alicia, and just now Felicia from team Blake. She gave a stunning performance – easily one of the best of the night – and got eliminated. Hunter's soulfulness and artistry deserved the win – but in the rock lane Johnny Gates is better than Josh West.
Meanwhile for some of these knockouts both performances felt lackluster. If it wasn't about pairing but the best performances advancing would be: Felicia, Hunter, Johnny Gates, Quizz, Lili, Casi. Luckily Quizz and Lili were stolen!
Granted, there are some standout singers coming up in the future season 12 knockouts. It's not like all the four chair turns were in night one of The Voice season 12 knockouts. There are some singers coming up in knockouts that should be amazing!
Save
Tell us what's wrong with this post? How could we improve it? :)
Let us improve this post!