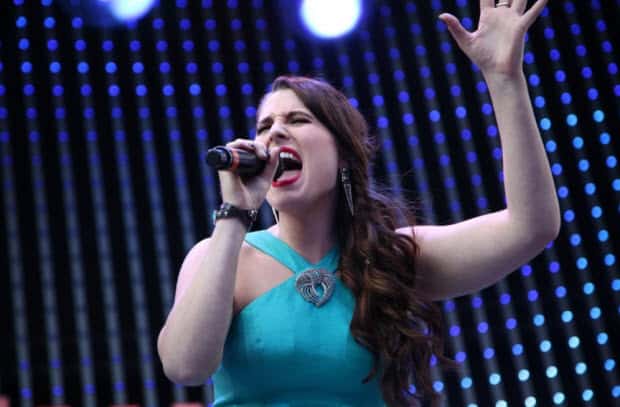 The hit NBC show The Voice wrapped it's 'Playoff' rounds last night. The two-night playoffs were the first time the contestants took the stage solo, but also saw four more contestants head home. Tuesday's one-hour episode took the total count of vocalists down to 12 from 20 before Monday's show. With Team Adam and Team Shakira set for next week, it was Usher's turn to trim his team from 5 to 3.
Here's how it went down:
TJ Wilkins (Team Usher): Wilkins sang "Tell Me Something Good" by Rufus and Chaka Khan. He used a tenor sax on stage (per Usher's teachings). He was good enough to draw comparisons to Stevie Wonder and was described as soulful. We agree!
Melissa Jimenez (Team Usher): Melissa tackled a stripped down version of Beyonce's "Halo". She struggled with the difficult song, but was applauded for taking risks.
Stevie Jo (Team Usher): Jo took on the song "The Thrill is Gone" by B.B. King. His performance was decent. His raspy voice and long falsettos were pretty solid, but he did have a couple technical issues. Levine said he did a "great friggin job".
Bria Kelly (Team Usher): Kelly performed a classic with The Rolling Stones "Wild Horses". She put her heart and soul into the performance and was rewarded. Levine said the girl who blew us away at the blind auditions was back. The other coaches shared his sentiment.
Josh Kaufman (Team Usher): Kaufman dedicated "It Will Rain" by Bruno Mars to his wife. It was on point with his raspy style. Blake admitted that he was his wife's favorite of the season and some of the other coaches echoed that he was one of the best still there.
In the end, Usher selected Kelly, Kaufman and Wilkins sending home Melissa Jimenez and Stevie Jo. On to the live show on Monday! With 12 contestants, this is when The Voice goes next level. We'll be interested to see if the show is like last season where a winner emerges before the final or maybe we'll be left guessing until the final minute.
[Photo via Ryan Tuttle/NBC]