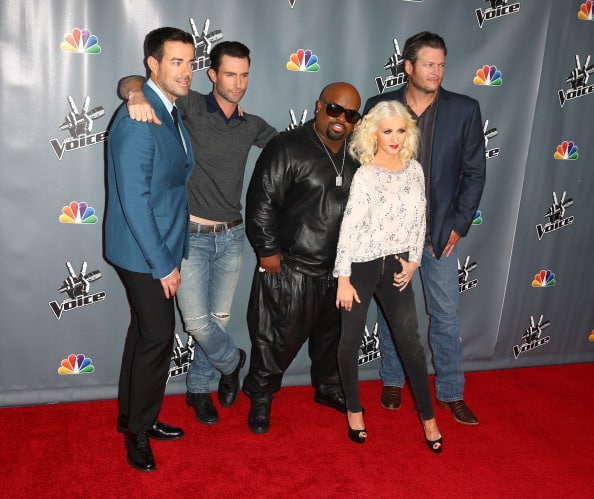 It was recently revealed that Cee Lo Green will be vacating his seat as a coach when the 7th cycle of the singing competition The Voice returns to NBC this Fall. In an interview with US Weekly, the singer claimed he decided to part ways because, "It easily and quickly became a job. Very, very obligating… taxing… and tiring. I think I ran my course there." Green parted ways with the show, which is the most rated on NBC, amicably. Blake Shelton and Adam Levine will return to their posts with newcomers Gwen Stefani and Pharrell Williams. Here are 10 other facts about the reality show.
Photo by Joe Scarnici/Getty Images
1. Believe it or not, country sensation Blake Shelton appeared on another reality show before The Voice. Shelton was a coach on a reality show called, Clash of the Choirs that aired in 2007. Shelton would create a team that would compete against teams led by Nick Lachey, Kelly Rowland, Michael Bolton, and Patti LaBelle. The teams were assembled of regular people living in the hometown of the famous singer. Shelton's team came in third place, while Lachey's team took first. Shelton was also a judge during the 2007 season of Nashville Star.
Photo by Frederick M. Brown/Getty Images
2. The Voice was the first singing competition to offer another way for fans to vote for their favorite singers. NBC and Universal Public Records allowed viewers to cast votes for their favorite performers by purchasing the studio versions of the songs they sing each week on iTunes. Votes could also be cast via toll-free phone calls, text messaging, or voting by visiting NBC.com or The Voice's official Facebook page. In comparison, American Idol fans currently can vote for their favorite through toll-free call, Google search, text message, using a phone app, or visiting the show's website.
Photo by Frederick M. Brown/Getty Images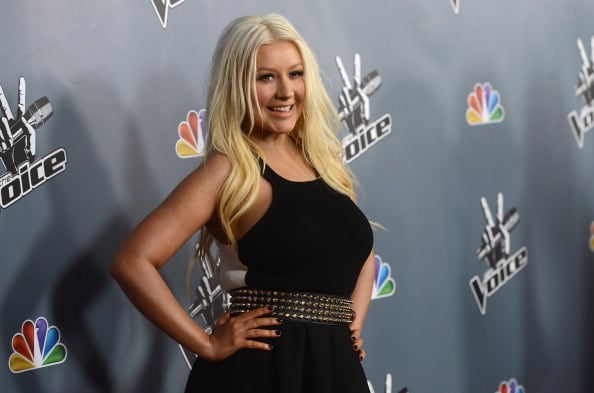 3. The Voice took home the Emmy in 2013 for Outstanding Reality-Competition Program. It also received a win that year for Outstanding Lighting Design for a Variety Series. In 2013, the series was nominated for Outstanding Art Direction, Outstanding Hairstyling, and Outstanding Technical Direction. The show was nominated in the same categories in 2012. The reality show was named the Top Television Series by the ASCAP Film and Television Music Awards in 2013. Additionally, Levine and Aguilera were nominated for Favorite Celebrity Judge at the People's Choice Awards in 2013.
Photo by Kevin Winter/Getty Images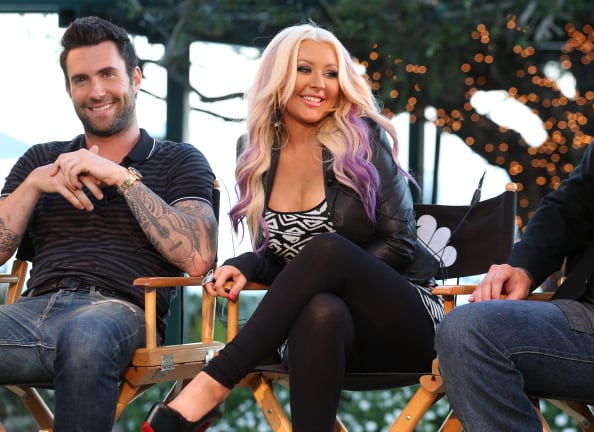 4. Adam Levine is a strong supporter of the LGBTQ Community. One of the reason's for this is because his brother Michael is openly gay. In 2012, the singer backed out of hosting his band's post Grammy show at a restaurant after he found out the owners were strong supporters of Proposition 8 in California, which defined marriage as a union between and man and woman only. In 2012, Maroon 5 was nominated for a Grammy for Best Pop Duo/Group Performance for their song Moves Like Jagger that they performed with The Voice coach Aguilera.
Photo by Christopher Polk/Getty Images for NBCUniversal
5. The title of The Voice coach Shakira's fourth album is Donde Estan los Ladrones? When this phrase is translated into English it means, "Where are the thieves?" The title holds special meaning as the singer's suitcases were stolen when she was traveling. All of the song lyrics for the album were inside the luggage. She did not have a hard copy of the song lyrics. She was able to remember a majority of the lyrics and the album was produced in September 1998. It peaked at number 138 on the US Billboard 200 and was the #1 album on the US Latin Charts for eleven weeks.
Photo by Ethan Miller/Getty Images
6. The Voice coach Usher's 2004 hit album Confessions has sold over 10 million copies in the United States alone and 20 million copies worldwide. It has been certified diamond by the Recording Industry Association of America. The album also has the highest first week sales for an R&B artist ever, which was 1.1 million copies. That places Usher at #8 overall behind N Sync, Eminem, The Backstreet Boys, Britney Spears, Taylor Swift, 50 Cent, and Lady Gaga. Confessions contained four number 1 hits: Yeah!, Burn, My Boo, and Confessions Part II.
Photo by Dimitrios Kambouris/Getty Images for Gabrielle's Angel Foundation
7. The Voice has been a rating win for NBC since it premiered in 2011. The first episode of the singing competition was watched by 11.78 million people. As the season progressed, viewership increased, especially in the coveted 18-49 age demo. The first season averaged a total of 12.33 million viewers and was the 20th most watched show of the 2010-2011 television season. The second season was ranked #9 and was watched by 15.76 million viewers, which makes it the most watched season to date. The 2013-2014 season was the highest ranked reaching the #7 spot.
Photo by Jamie McCarthy/Getty Images for Gabrielle's Angel Foundation
8. It has been confirmed that there will be a spin-off of The Voice called The Voice: Kids. A similar version first aired on Telemundo in 2013 and was called La Voz Kids and was hosted by Daisy Fuentes. The show was slated to appear sometime in 2015, though it not currently on NBC's 2014-2015 television season line-up. TravieMcCoy of the band Gym Class Heroes, Cher Lloyd, Jewel, and Cee Lo Green have all been rumored to be coaches. Cee Lo Green has mentioned in interviews that Rihanna was also in talks to be a coach on the competition.
Photo by Kevin Winter/Getty Images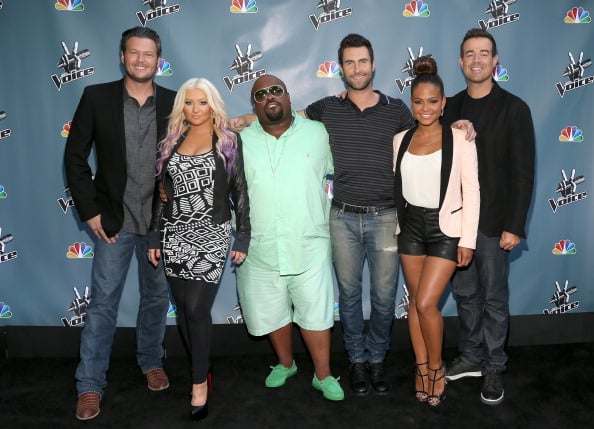 9. Christina Aguilera appeared on the Maxim Hot 100 List for 11 years straight. Her first appearance was in 2000 and she stayed on the list through 2011. 2012 would mark the first year that fans voted who made the list and not the editors of the men's magazine. Aguilera would make the list once more in 2014 and would come in at #15, beating out singers Selena Gomez at #19 and Beyonce at #21. The outfit she sported on the magazine's cover sold on eBay for $1542.69. It was obtained by BBC Radio 1 host Scott Mills, who had a friend that worked at Maxim.
Photo by Christopher Polk/Getty Images for NBCUniversal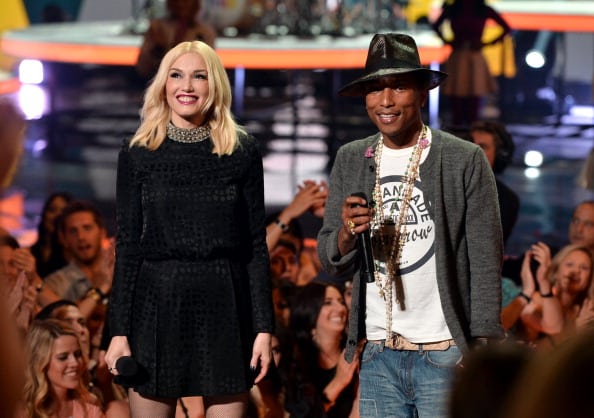 10. Singer and No Doubt member Gwen Stefani will be taking one of the coach's seats when The Voice returns this Fall. She will be filling in for Christina Aguilera, who will be on maternity leave. Stefani donated $1 million to Save the Children's Japan Earthquake – Tsunami Children in Emergency Fund. During that same time, the singer held a two week long eBay auction where fans could purchase her personal clothing and t-shirts that she designed and signed. All money collected was donated to the same fund. One lucky bidder would also get to attend a Harajuku tea party hosted by Stefani.
Photo by Kevin Winter/Getty Images for Clear Channel