Last night was The Voice season 13 premiere, and musically this looks like it's going to be a good one. As for the new coaching dynamic…at least it's not distracting from music. I'm not sure about the throwing of things though. Every newbie has their learning curve.
The first blind audition of The Voice season 13 premiere was released as a sneak peek. Singing, "Try A little Tenderness" by Otis Redding, 29-year-old New Yorker Chris Weaver wowed all four coaches: Adam Levine, Blake Shelton, Miley Cyrus, and newie to the U.S. version of The Voice Jennifer Hudson.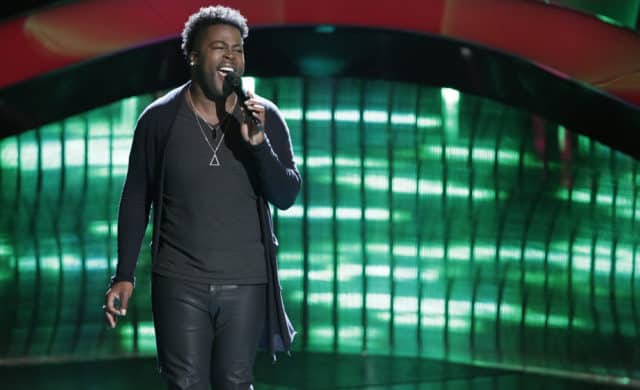 Chris had met Jennifer once before – at a party for the Broadway show The Color Purple. He got to sing there and Jennifer threw a shoe at him – a sign of respect in tradition African-American churches. Of course, this was all explained in sequence, because Jennifer threw her notebook, and Miley's shoe!
The Voice Season 13 Premiere: How's the Newbie?
I can't tell if The Voice has gotten more scripted or Jennifer is overacting, but after that there was a lot of throwing things at singers. FYI: all reality shows have some level of scripting going on. Sometimes it's just just re shooting moments or adding scenes to what actually happened. Screen Rant in put it this way.
Often times they will script scenarios or plant items so that they can make the show more interesting.
For reality TV there's also a lot of editing and splicing things together that were in fact spontaneous. There's nothing wrong with any of this. The issue is how scripted does a supposedly "real" moment feel.
Back in season 11 Miley had a genuine reaction where she told a contestant that she'd "just won The Voice." Like Jennifer's throwing of things, that too, became a schick that kept coming back. However, Miley did it with a wryness that was a wink and a nod to the audience. Jennifer's performance comes off as phony because she does it as if each time is her honest reaction. The result is a bit too theatrical. She needs to learn how to play exaggerated responses to the audience, which, ironically, comes off as more realistic.
The Voice Season 13 Premiere Performances
The Youngest One This Season – So far
Shi'Ann Jones is from Bowling Green, Kentucky. What a huge voice! It wasn't at all surprising that she ended up on team "JHud."
Jennifer telling people not to turn around was the good kind of theatrical and fun for the audience. Her telling the 15-year-old about having a mini-me…not so much. While I think Jennifer has a lot she can teach Shi'Ann vocally I'm kind of hoping Shi'Ann gets stolen by Blake. Despite the mismatch in genres he really is good with the younger artists.
The Oldest Performer – So Far
People often start second careers when they retire, but this is insane!
48-year-old Esera Tuaolo played nine years in the NFL and he has real potential. I like how Adam picked up on his breathing issues. Unfortunately, Adam didn't push his button. Esera's story is pretty incredible. He played in the NFL, came out as gay once he left, and now, he's on The Voice!
The Most Inspiring Story – So Far
Janice Freeman is 32, She's got incredible stage presence and her voice is amazing. (I downloaded this one.) She's also a cancer-survivor!
I will admit, I was hoping she'd pick Miley! She's got a big voice like Jennifer, but there is more going on with her than that. You don't do an indie rock song like "Radioactive" because you want to traditional gospel and r&b.
The Most Shocking Performance – So Far
This guy freaked everyone out!
Lucas Holiday is 26 years old from Lansing, Michigan. He looks older than that, but maybe it's because he's clearly an old soul. Unlike other white singers who've come on The Voice singing traditionally African-American r&b or gospel Lucas is not doing "blue-eyed soul." There's nothing imitative in his voice. Lucas is the real deal – a straight up r&b/gospel singer that you'd swear was a black guy. Proof that music really doesn't have a color!
The Most Country – So Far
I loved Mitchell Lee! (I'm a big Darius Rucker fan!) The banter between Blake & Adam is hilarious! I'm enjoying the lovefest they've been playing with, but it's good that the bromance still has it snippy sparks!
Keep reading to see the rest of the performers, and a sneak peek for tonight!
Tell us what's wrong with this post? How could we improve it? :)
Let us improve this post!