The Cutest Performer on The Voice – Ever!
Vocally Dave Crosby reminds me of Chris Martin from Coldplay – but he was upstaged by his 4-year-old daughter!  Adam was really the best fit for him, so I'm happy that's whom Dave chose!
From Teacher to Pop Star?
Brandon Showell is junior high school English teacher.
From his song choice and picking Adam over Jennifer, Brandon doesn't seem like he wants to be the next Usher.  He'll leaning into pop/rock music – which is what Adam does.  I wonder if he has a falsetto like Adam?  This is gonna be interesting!
The Final Performance of The Voice Season 13 Premiere
This performance by Native American Brooke Simpson was used as sneak peek! The only question was which of the four coaches she'd pick.
The Near Misses
Xaris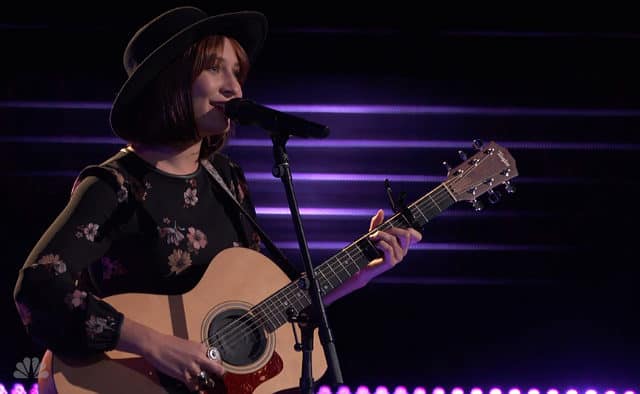 Xaris is a talented 17-year-old folk singer from Florida.  She plays several different instruments and was a sweetheart.  Xaris likes 1960's folk music.
The coaches didn't turn around, but were all sorry they didn't when they saw her.  Xaris's issues were being too breathy and trying too hard to sound like the singers she loves.  The latter is one thing when you think it's an older person, another when it's a young person still developing.  With a young person they often start out by imitating others, but with age and experience good singers find there own unique sound.  Xaris is someone they could have worked with.
Odisea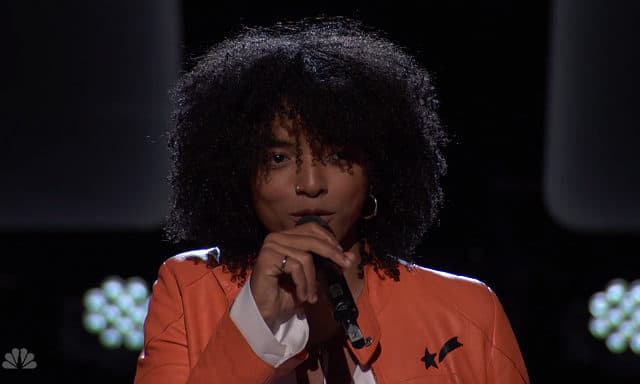 He was cute at 15, and he's even cuter now at 20.  However, it wasn't a mistake that the coaches didn't push for  Odisea.  He still didn't learn a basic lesson.  Don't dance during the blind audition!  It's amazing to me that after 13 seasons people doing the audition don't know this.   (Adam politely explained (again) why you shouldn't.  It leads to choppy vocals and since the coaches are only listening it's was near impossible to get a true sense of the singer's voice.
The good news is that Odisea is only 20.  Everyone told him he should come back – "and don't wait five years this time."  If he does, don't be surprised if he ends up on team Adam!  After all, this is the second time Adam's given him good advice.   This is what Adam told Odisea at 15:
"You're being let down at an extremely young age.  How you respond to this let-down is going to contribute to your success in the future.
At age 20, that advice still holds, Odisea.  So next time come to wow people with your voice – save the dancing and stuff for the show!
The Voice Season 13 Premiere Wrap Up
The Voice season 13 premiere has started out with some real contenders for the top four and it's just day one!   I'm really enjoying having Miley back.  You can see she's more comfortable, and doesn't feel the need to prove she's "safe" by dressing like a kid.  Like her last time on The Voice, she comes off as very sincere.
As for Jennifer, I hope she can tone things down some.  That's not easy for a diva. (In the best sense of the word – not the one that starts with b and ends with itch.)  Everyone knows she's talented and amazing, but she's got to leave some oxygen in the room for the contestants.  I do think she cares and really wants to help singers achieve their dreams.  However, in this outings she's not coming off as being emotionally honest.  Maybe it's just nerves that has her in performer mode.  Let's see how she does tonight!  Speaking of tonight….
The Voice Season 13 Blind Auditions – a Day 2 Sneak Peek – Keisha Renee
https://youtu.be/CFoWLcMaVzo
Wow, Blake's the only one who didn't turn around, but there's something in that big voice that screams country – in a Darius Rucker kind of way.  It will be interesting to hear her story tonight!  Also don't forget to use The Voice App to help your favorites win!  It's not just for voting!
(UPDATE) My bad, I didn't see Blake turn! FYI, she's got a great story!
Night 2 of The Voice Season 13 Blind Auditions air tonight from 8-9 p.m. ET on C