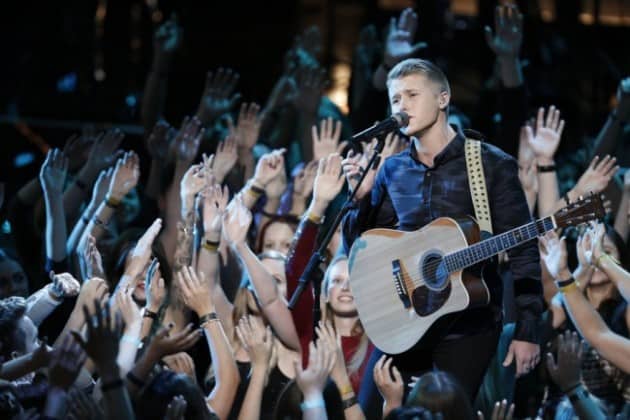 Now that we've made it to the Top 12 of The Voice, it's becoming clear who is going to make it far in the competition. We've gotten to know the contestants pretty well by now and have seen them at their best and worst, allowing us to pick our favorites to root for. At the same time, we're at the point that if a contestant hasn't caught our attention, then they probably never will. Last night's episode helped to solidify who the frontrunners are, with a handful of very impressive performances.
Out of the Top 12, there are six contestants who I would love to see go far. They've all been consistently strong throughout the season and continue to deliver week after week. Two of my favorites come from Team Pharrell, namely Mia Z and Sawyer Fredericks. Last night, Mia once again showed her unique ability to adlib as well as showing off her impressive range that we hadn't seen all of before. Sawyer took on a song that has been done a lot before in singing competitions, but he put his own spin to it. His sincerity when he sings is so moving, it's easy to forget he's only sixteen.
Team Blake also has two contestants who could easily go far, with Meghan Linsey and Corey Kent White. Meghan is a seasoned performer with amazing vocals and the ability to connect to a song. Last night gave us her best performance yet as she channeled her own life experiences into the lyrics. Corey doesn't necessarily have the strong vocals that some of the other top contestants do, but he brings something equally as important to his performances. His ability to tell a story and connect to the audience is what is going to continue driving him forward in the competition.
Adam and Christina each have someone on their team who stands out. For Adam, that person is Joshua Davis. He may not be as memorable as some of the others, but his raspy vocals are very appealing to me. Last night's performance wasn't his best, but it did prove that he was willing and able to step out of his comfort zone and perform without his guitar. On Christina's team, the standout is definitely Kimberly Nichole, who is anything but forgettable. Her vocals are insanely powerful, and it's so much fun to watch her perform, especially as she took a well-known song and did her own version of it.
The rest of the contestants really don't do anything for me, though that's not to say that others won't enjoy them. Koryn Hawthorne is a perfect example of this, as many people seemed to lover her performance last night. Her phrasing was odd to me, and she missed a few notes, leaving the performance to fall flat. Nevertheless, she's guaranteed to advance another week. Rob Taylor is another who has been impressive but I find it difficult to connect to. He knows how to have fun on stage and get the audience going, and there's no doubt that he can nail his falsetto. Perhaps it's the fact that I don't see an emotional connection in his performances that is holding me back from being a fan.
India Carney got my attention early on in the competition but since then has tapered off, not able to maintain a spot in my favorites. She stepped outside of her comfort zone last night but I'm not sure it paid off. However, I am glad she tried to sing a more contemporary song, even if it was one of her weaker performances.
The last three contestants are at the bottom of the pack for me, never having had a standout performance. Deanna Johnson seems like a sweet girl, but her song choices are terrible. While she clearly has strong vocals, her performances are forgettable and unexciting. Hannah Kirby, on the other hand, is getting by solely on her crazy performances. She continues to shout songs at us as she tries to distract from that with her interesting dance moves. It just doesn't work for me. Brian Johnson also does nothing for me, despite his earnest and heartfelt performances. His voice is strong but bland, with nothing interesting really happening. If I had to guess, two of these three will be sent home tonight, especially since they performed early on in the night.
[Photo via NBC]