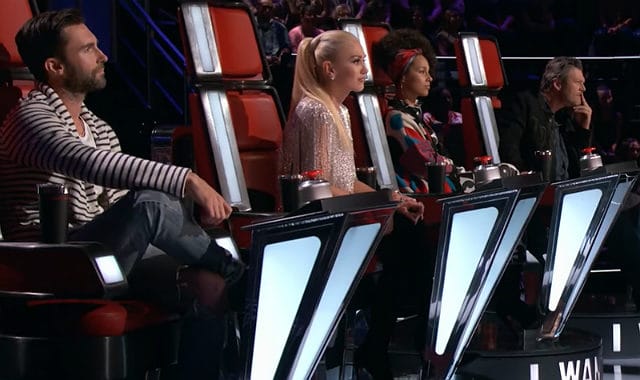 It's time to recap and review The Voice season 12 day of the Blinds! 'For this round we got treated to more young singers and old-school tunes. It's hard to believe that the music choices are coincidental. Without further ado, let's get into the music!
Micah Tryba – 24
Micah's from Wheaton, Illinois and has always loved and performed music. She wanted to go college to become a music teacher, but couldn't afford it, so was going to community college when her beloved dog got cancer and eventually passed away. After that she decided to save up and study to become a vet.
That's what she's been doing for the past four years, studying animal sciences at the University of Illinois. (Yay, Fighting Illini!) However, she kept herself in music singing in an a cappella group. Last year she decided to give music one more shot – and it's led her to The Voice.
[youtube https://www.youtube.com/watch?v=J32a2udWWuU]
From the moment she started singing, "I'm Every Woman" all I could thing of was Lea Michele. Micah even looks a little bit like her! She got coaches Blake Shelton and Gwen Stefani to turn. She went with Blake, which was surprising. Besides, Blake has nothing but women on his team! He says he needs to diversify from the "country" genre, but more than that, he needs to get some guys!
Troy Ramsey – 31
Troy, originally from Vermont, lives in Seacliff, New York. His dad played in a cover band and was a teacher as well. Tragically he died of throat cancer in 2004. Troy's been in his own band for 5 years, but wanted to try something on his own. Some of this performance "Wild World" by Cat Stevens is for his dad, who Troy loving says would "have loved to be a rock star."
[youtube https://www.youtube.com/watch?v=YXUSMGdiafI]
He's definitely got that classic rock sound down! His four-chair turn gave him his pick of coaches. Turnabout is fair play. He went for Team Gwen. She got him with her, "I felt you" bit about his music. What straight guy can resist those big brown eyes while she's saying you've affected her soul? I love how shocked she was that he picked her!
Ericka Corban – 31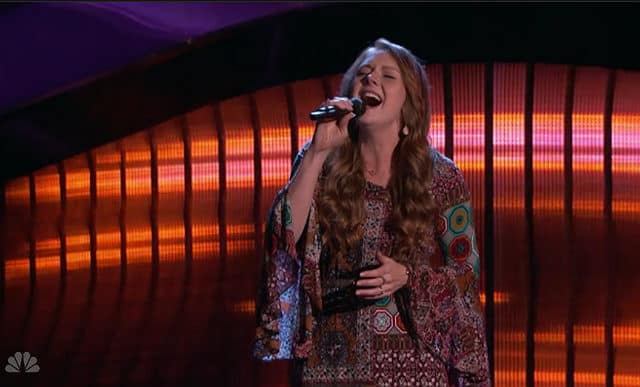 Erica Corban is a stay-at-home mom who apparently home-schools her four little boys. Four! Her husband travels a lot for work "to make ends meet." Nevertheless, she and her husband both agree that it's important for their kids to see their mother following her dreams. For her, she says just wants to know if her "voice is worth hearing." Well, if her voice wasn't worth hearing the producers wouldn't have even aired her audition.
In Aberdeen, Washington she says there's not many venues for her kind of music. The nerves singing in this one showed some. On top of that she sang "Wade in the Water" in a very smooth-jazz style. People occasionally get onto the show doing jazz,The Voice doesn't really have a jazz slot for going forward. It's a little sad because she said that the show was "one last shot." I hope she knows that it's not. It's just not the place to do jazz.
Jack Cassidy – 18
Jack is second-generation show business. His grandmother is Shirley Jones from the 1970's hit show The Partridge Family. David and Shaun Cassidy – also famous from that show – are his uncles. Jack's father, Patrick Cassidy is a full-time working actor with many movie, television, and musical theatre credits. (Hard-core Castle fans might recognize him from the 1940's noir episode "The Blue Butterfly.") Patrick is a worship leader at his church, and plays piano….
[youtube https://www.youtube.com/watch?v=KQ3ZGlMPypU]
Coaches Alicia Keys & Adam Levine turned for him. Blake very slyly played up the piano-playing connection Jack had with Alicia. We don't know for sure that's why Jack picked team Alicia, but it probably helped!
Kawan DeBose – 30
Aside from being able to sing, Kawan is hilarious! He's got a thing about people knowing that he's thirty! Anyway, he grew up living with his mom and grandparents – and his grandfather was a preacher. Kawan's been singing in church since he was five. Although he grew up in Miami. The guy has been working in music since he was ten, Currently he lives in LA pursing his dreams while supporting himself as a musician playing at places like The Four Seasons. He's also opened for Mary J. Blige and Ludacris.
[youtube https://www.youtube.com/watch?v=kWCb-6mPbqk&w=640&h=360]
Adam finally got someone! After he compared Kawan to Prince with such specific points, no one else was going stand a chance!
Taylor Alexander – 25
Taylor is a country artist from Georgia who was in a punk band as a teenager! Maybe that's why he had the most creative song choice. He turned "Believe" by Cher into a country song!
[youtube https://www.youtube.com/watch?v=-57ew39NH-M&w=640&h=360]
Adam is the only one who turned for Taylor. Blake said something about it all being some kind of strategy because on Adam's team it's a "wide open lane" Right. Taylor's the only country artist, but Adam has nothing but guys on his team. So, it may be a strategy, but that strategy is not to be there for both of them – which is what Blake said. Blake still has no guys on his team. My guess is Blake probably didn't turn in the hope of stealing him later. (We all know Blake always likes to keep as many country artists on the show as possible.)
Gaby Borromeo – 22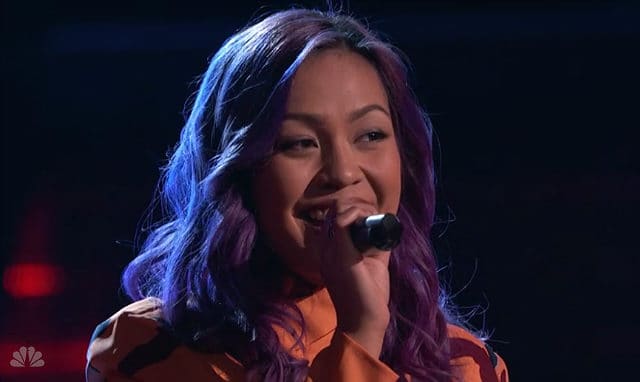 Gabby performance of "Happy" by Leona Lewis was a two-chair turn, with Adam and Blake battling for her. (I was surprised Gwen didn't go for the pop sound.) Ultimately she went with Adam. (You can check out her audition here.)
Originally from Seattle, Washington, Gaby is another one of those prodigy stories: belting out "I Will Survive" at "3 or 4," making demos by 12, and signed to a production deal at 15. The deal happened because her sister was living in New York City and got it to a producer. So at 15 she moved across the country to move in with in with her sister. Then at 16-17 she got the chance to work with John Legend. In other words, she's been pursuing this dream for most of her life!
Griffin Tucker – 14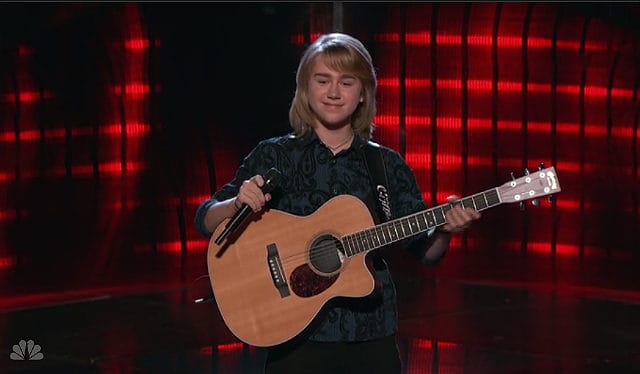 His music isn't anything like Justin Bieber but nevertheless this cute blond teen for Dallas Texas brings that pop star to mind. It's not only the hair that does it. The guy plays a slew of instruments and started learning them at age six. Yes, it's yet another phenom.
Griffin comes off as super-polished in his interview with host Carson Daly. Maybe it's because he was in a Beatles cover band at 8, and then a KISS one after that? He's got very enthusiastic parents supporting him as well. Despite this, his cover of the Elvis classic, "Heartbreak Hotel" doesn't get a chair turn.
Missy Roberson -34
She's a pastor's kid from California who grew up singing in church. As an adult her b-job has been "to help people with disabilities to find jobs, but getting into the music business is something she's worked at since she was seventeen. Well, The Voice season 12 day four of the blinds was her day!
[youtube https://www.youtube.com/watch?v=Soc1IHHemQQ?rel=0&w=640&h=360]
Missy sang ""Scars to Your Beautiful" by Alessia Cara. Finally, a contemporary song! It's not until literally the very last second, but she gets a two-chair turn – Alicia and Blake! She chose Alicia, which seems like a good fit.
Aaliyah Rose – 14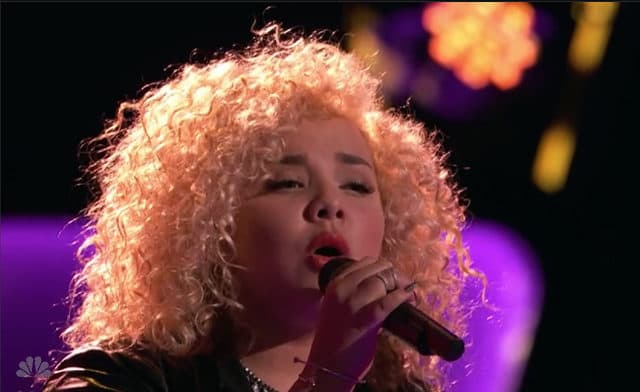 Only Gwen turned for her, but that's fine. It's a solid match – especially because they are both fans of glitter! Get ready for some sparkle Voice fans!
Aaliyah is from Utah and describes her family as "blended." That's not just because of her interracial background. She, her parents and siblings all live with her grandparents due to the family's finances being tough. It's a great example to show that money isn't everything, because with this young lady you really can feel the love that she's grown up in. You can also hear it and the determination to succeed in her voice. This is the only performance that brought tears to my eyes. (You can read more about her here.)
Josh West – 17
Josh is another prodigy with enthusiastic parents. His father is a musician and music teacher who noticed Josh's talent starting at age 4. Meanwhile, Josh said his "mom helped him to graduate early" from high school so that he could focus on music. In high school he did a lot of musical theatre as well. Currently Josh plays gigs with his dad and he credits his dad with teaching him everything he knows about music.
[youtube https://www.youtube.com/watch?v=zSoMAAbDJzI?rel=0]
Josh was a four-chair turn. There's a lot of potential in his voice. The range is great, and the tone is, (as Adam pointed out) is similar to some major 1990's rock bands. Personally, I think the biggest thing Adam will have to work on as his coach is taking the musical theatre sound out of Josh's voice so that he can really rock!
Since Josh was the final audition of the night – that's a wrap for The Voice season 12 day four of the blinds!
Tell us what's wrong with this post? How could we improve it? :)
Let us improve this post!