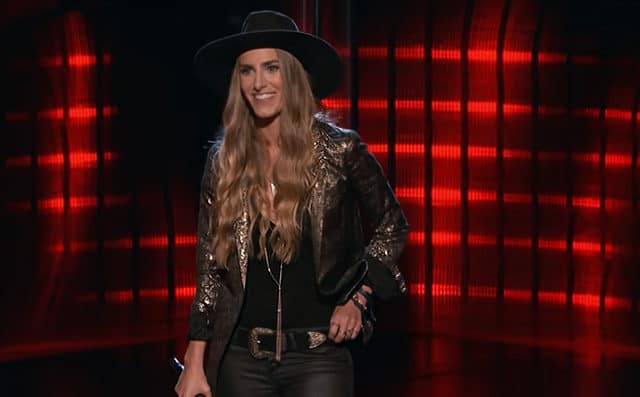 Did you see The Voice Season 12 premiere blind auditions? Aside from some awkward inserts of the coaches' Blake Shelton & Gwen Stefani romance they had a pretty relaxed vibe to it. Gwen and coach Alicia Keys have a connection in terms of them both coming from the heart. Blake's relationship with Alicia is as solid as last season. Coach Adam Levine also seems to have a good rapport with both Gwen and Alicia, while the fun competitive bromance between him and Blake is still fun.
In terms of the actual coach's performances, some of the better moments are when Gwen is having a heart-to-heart connection with an artist. We got to see that with the right off the bat!
J. Chosen – 29
J is from Albany, Georgia, works with special needs Georgia and has a young son. The 6'6″ former college basketball player sings "Sexual Healing." The only reason we're hearing J sing is that he shattered his knee in college. Basketball's loss is music's gain! Adam turns first, then Alicia. Blake comes in next, then Gwen. He's still got half the song left!
[youtube https://www.youtube.com/watch?v=gHY7mH4xIcU?rel=0]
Gwen related to the soul in his sound. Then she was able to take in his background and what that said about him as person. Marrying his sound to that was smart.
Still, everyone (including Gwen) was surprised that he chose Gwen. Afterwards J. said he picked Gwen as his coach because he wanted to diversify his sound. Gwen's sell, about having bounced around in different genres was what he wanted to hear. Everyone else had him married to the r&b thing. They packaged him, which, given the song he did and his old-school classic style of dress, is understandable.
Gwen's ability to go to the story behind the sound will serve her well as a coach. Will mixing up genres serve J overall though is a different question. I'm looking for a steal later on. His best match is without a doubt Alicia.
Lauren Duski – 25
Lauren is from Northern Michigan, and the only person in her family that sings. Her dentist parents realized early on though that she was musical. As a kid she was in a country band….
[youtube https://www.youtube.com/watch?v=Imhh-6LJTE0?rel=0]
We all knew where this was heading. Alicia is the only one who didn't turn because the sound isn't really in her wheelhouse. (When Alicia goes for a country artist it's a person with a stronger blues influence.) Lauren has a sweet country voice with great control and articulation. She's on Team Blake.
Johnny Hayes – 29
Johnny from Alabama auditioned last season but didn't make it on. At the time he was engaged – now he's married. From the sound of things marriage suits him well!
[youtube https://www.youtube.com/watch?v=ibiKlYJ7dlI?rel=0]
This was a two-chair turn, but I'm with Adam – Alicia and Blake missed the boat!
Skyler Harris – 25
This 25-year-old police officer from Tennessee had a tough story about getting out of an abusive relationship. Despite having a great voice she didn't make it on the show. Interestingly enough, before going on stage Skyler said she had, "90 seconds to give them 25 years of heartbreak, 25 years of dreaming. and hope they hear me." Basically that's what she didn't do.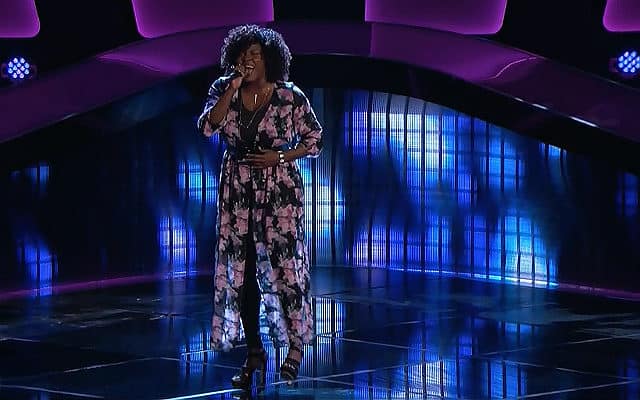 Right off the bat, Alicia said Skyler had a great voice. Gwen agreed, but noted there wasn't a sense of who Skyler was. Alicia then asked Skyler to tell her what the song meant to her.
It didn't help that the song Skyler did was "One and Only" by Adele. You've got to have emotional connection to the music – on top of the vocal power, to pull that off. Skyler's got the latter, but she's got to let herself be totally vulnerable in her singing to really sell that song. Perhaps the residue of her past relationship, or even her job as a police officer, added to the difficulty of doing that?
Now that the issue has been pointed out to her it's something she can work on. If Skyler's able to learn to completely open up her heart on stage she will definitely be back!
Anatalia Villaranda – 16
What a bundle of energy! The California girl may not have a ton of vocal range, but what she's got is powerful! She's got a personality that blows up on stage as well. This girl could be a Disney kid – but The Voice got her first. (Given the history of girls that grew up working for Disney this is lucky thing!)
[youtube https://www.youtube.com/watch?v=u3oP9IzWtWk?rel=0&w=640&h=360]
Anatalia's four chair turn was in the last 20 seconds, after she belted one heck of note. Blake nailed it when he said she just kept going. The fact that she wasn't fazed was a strong testament to her artistic commitment. Anatalia chose Alicia, but I can see her being stolen by Gwen later. Party music is gonna be this girl's bread and butt
Stephanie Rice – 27
Okay, Stephanie from Texas is my favorite audition for The Voice season 12 premiere. It's the one of the few exchanges where Blake and Gwen's relationship fit into the overall banter going on. Still, Adam saying he didn't turn because Blake and Gwen had and he didn't want to be a third wheel was silly. (Alicia seems to be staying away from country genre – at least for now.) Mainly this is my favorite audition because I felt Stephanie was the best vocalist of the night!
[youtube https://www.youtube.com/watch?v=MmElKP3pR7E?rel=0]
Stephanie's story about being disowned by her family because she's a lesbian is horrific a reminder that this kind of thing still happens. That Gwen picked up on the personal anguish being channeled is another one of those moments that remind people why she's a good coach.
Branden Martin – 25
Branden is from Owensville, Kentucky. Here are some stats so you can understand just how momentous it is that this guy even made it to a blind audition. Owingsville has an area of 2.4 square miles and in the last census had a population of 1,530 people and a per-capita income of $18,156. This is the sweet, real-deal rural small town and Branden's got a thick musical southern accent that makes Blake seem like a poser! (Gwen actually said this after Branden's audition!)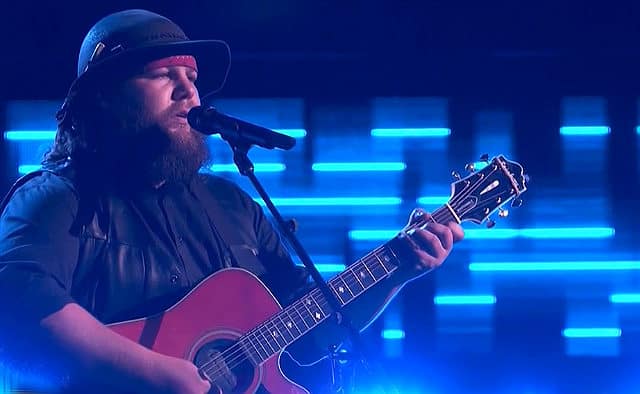 Unfortunately, I think his accent might helped undercut his audition. Blake said Branden was coming in sharp at the end of his phrases, but that very well may have been his accent in play. On top of that, there here were a few places where the words seemed garbled. The other thing that was missing was passion. Adam told him he needed to have a more "conviction" in his singing. Gwen called it "command."
Branden was told to come back and audition again though, so we'll likely be seeing him again in a season or two!
Mark Isaiah – 19
A native New Yorker, Mark currently lives in Pennsylvania. Mark's story is that he was a chubby kid that didn't start learning to believe in himself until he was 14 and won a national singing contest promoting the Justin Beaver movie. He went off to college, dropped 40 pounds and now looks and sounds like a member of Backstreet Boys circa 1995. Take a listen of his cover of the Shawn Mendes hit "Mercy." (He also sounds like that a Backstreet Boy….)
[youtube https://www.youtube.com/watch?v=SVRsnrjwDLc&w=640&h=360]
All the coaches note that Mark sounds like he's already on the radio. Yes, he does. He will absolutely make the live shows. With his perfect pop voice and adorable looks, I'd say he has a shot of taking the entire thing. Two words: Sawyer Fredericks.
Brennley Brown – 14
Does everyone from Apple Valley, California have such cute red apple-round cheeks? She may be from California but she's 100 percent a country artist – grew up on a ranch with horses and everything. Her voice is well-suited for country/pop, although she's got a lot more vocal range than that. If I were typing I'd say she sounds like a young Jewel or Sarah Mclaughlin.
[youtube https://www.youtube.com/watch?v=HJIlj0TcQP8&w=640&h=360]
The tone and pitch control Brennley has is astonishing. The word to describe her would be prodigy. (There's going to be a few of them this season. Do you think The Voice changed the age for just one or two singers? Nope.)
There's no surprise that she picked Blake, but I'm a little worried. One thing that stood out with her as an issue is her diction on those runs. The issue is a lot more noticeable than it was with 16-year-old Danielle Bradbery back in season 4. Blake is obviously a great coach, but the technical side of singing isn't his thing. Of the four coaches on there I actually think she'd be best with Adam – at least for a while. Of course, Adam didn't turn for her, but I wouldn't be surprised if she gets stolen…and then stolen back. (That's happened before, so never say never!)
Shawn ChrisJohn – 31
Remember how last season there were all those African-American female soul/r&b/old-school singers that auditioned? This season may be the male version of that.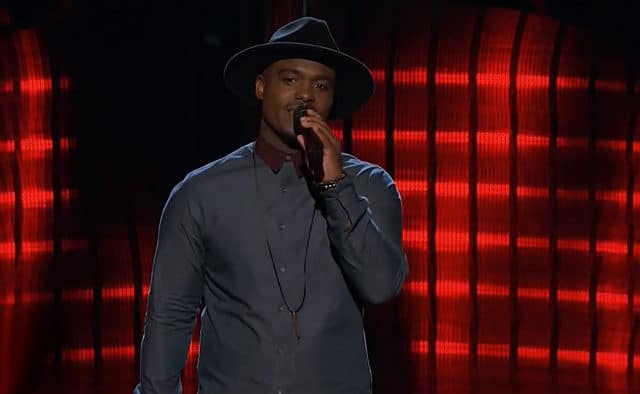 Shawn's issues were similar Skyler's earlier. He has a good voice, but he chose a Stevie Wonder classic, "You Are the Best Thing." Then he did it too laid back and cool. Styling is nice for a wedding band. For The Voice the coaches need to hear the passion and conviction of the artist when they sing, not just the quality of the vocal cords.
Felicia Temple – 28
Felicia's a nurse from Teaneck, New Jersey who's a recent survivor a rare kind of stomach cancer. On top of that her dad was a police officer…while being a member of the famed The Sugar Hill Gang. It was going to be pretty awful if she didn't make it on. Luckily, she's got the goods.
[youtube https://www.youtube.com/watch?v=UqhMyBUMrZU]
Everyone turned but Adam! He said it was because he "heard a little bit of Alicia" in Felicia's voice. Personally, I heard a little of Beyoncé. However, that may be because Felicia was doing the Etta James song "All I Could Do Was Cry" and the last time I heard it was when Bey played Etta James in Cadillac Records.
It was pretty funny how Blake and Gwen just conceded Felicia should be with Alicia, but after that duet, it was obviously the case!
The Wrap Up
A duet with Alicia was a good place to end the The Voice season 12 premiere blind auditions. Was this slate of singers as good as last season's premiere? Let me know what you thought in the comments!
Tell us what's wrong with this post? How could we improve it? :)
Let us improve this post!