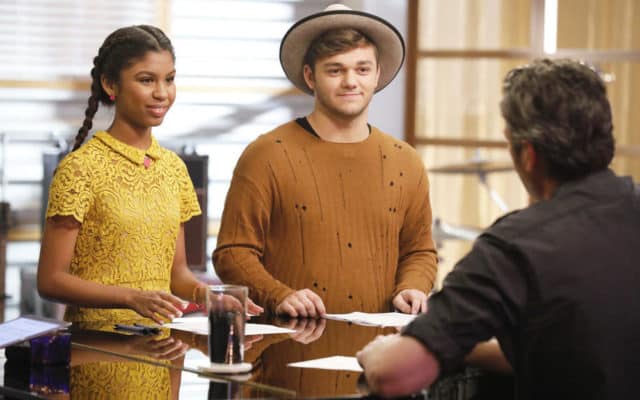 Night Two of The Voice Season 12 Battles
If you missed night two of The Voice season 12 battles here's a quick review of what went down. There were only three battles, so not to worry. Now, if you missed night one of the battles, you can get the rundown of those right here.
Battle 1. Team Gwen: Johnny Gates vs. Sammie Zonana
This was an enjoyable segment from start to finish. Celine Dion is a lot of fun as an adviser, and Sami with Johnny is a really good pairing. Gwen says they sound like an indie band and she's right.
It's not the first time I've noticed this kind of thing. It's weird when two singers are way better together than they are separately. Like last season, Brendan Fletcher went from a talented coffee bar rocker to the total rock star package when he was paired with the diva Ali Caldwell. (I'm still not over that performance!) Depending on how Johnny does overall, he might want to consider working with Sammie when this is all over.
Song: "I Drove All Night"
Winner: Johnny Gates
Battle 2. Team Alicia: Chris Blue vs. RJ Collins
This is gonna be a tough pairing. Both these guys are incredible r&b singers! Alicia breaks it down that RJ is more like 90's r&b and that Chris is more like old school guys like Marvin Gaye. I liked the tip she gave them in terms of covering a song:
When artists take too much liberty – it just doesn't go over as well.
The song they did was "Adore." …There were some issues with this battle, which you can read about here.
Winner: Chris Blue
These first two segments were long because we spent time with the mentors, and then the second battle had some…drawn out feedback. However, the Tuesday segments can never fit everyone in. I've always thought they picked what they considered the best battles musically because they never even post those individual battles on Youtube. Maybe they just flip a coin though. In any event, the next bit was a montage of these battles:
Team Adam: Josh West vs. Nala Price. Team Gwen: Aaliyah Rose vs. Savannah Leighton.
Team Blake: Micah Tryba vs. Andrea Thomas
Winners: Josh, Aaliyah, Andrea
Battle 3. Team Blake: Aliyah Moulden vs. Dawson Coyle
These two teens gave us a battle of absolute cuteness! Aliyah is only 15, while Dawson is just three years older. Blake was the only one that turned that Dawson – Aliyah was a three-chair turn. Blake said he paired them because he had to decide which of the two he was going to keep as his "young pop artist." (Judging from who got to audition, a "young pop artist" was probably on the list for the casting descriptions – that and "black male r&b singer.")
Blake's adviser is country star Luke Bryan. They've done many things together outside of The Voice – like co-hosting the Academy of Country Music Awards – so they have an easy dynamic. However, what I really liked was seeing Blake working with these kids. There's a reason he's done well with younger artists – he's just really good at it. By that I mean he doesn't baby them or try to be their best friend, but he's also funny and gentle. If he wasn't a country superstar he'd probably be a great high school music teacher!
Song: "I'm Walking on Sunshine"
Winner: Aliyah
Stolen: Dawson
Alicia stole Dawson, which continues the team of Blake and Alicia teaming up to keep their people on the show…. I wonder if that's going to keep happening. Guess we'll find out on night three of The Voice battles!
So, that's it for night two of The Voice season 12 battles! However, here's a sneak peek for tonight!
Team Alicia: Hunter Plake vs. Jack Cassidy: "Dancing on My Own" – Sneak Peek
Judging from this battle…yeah, there's going to be another steal – and it looks like more than one coach is going to try for it. I'm betting Blake is one of them. Either of these guys could fit into Blake's country arsenal. Plus, he's being sort of coy by saying he, "hopes anyone that has a steal" picks up whomever loses the battle. The only person who does not have a steal left is Alicia!
Save
Tell us what's wrong with this post? How could we improve it? :)
Let us improve this post!