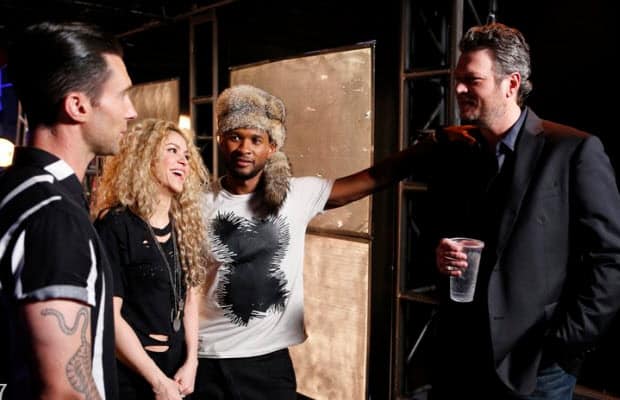 Season 6 of the hit show The Voice decided to mix things up last night. Typically, the show has just one round of battles, but not this season. 'Battles Round 2' debuted last night to stellar reviews. Let's just say this round of battles DESTROYED the first round in terms of quality. Also, Coldplay's Chris Martin was the universal mentor for all the coaches this year, which was pretty cool as well. The major difference from this round to the last is the singers pick a song from a list of options provided by their coach. The coach still picks the two contenders going up against each other and it's still sudden death. Each coach is provided with one steal.
As for the results:
Audra McLaughlin vs. Megan Ruger (Team Blake): The girls ended up selecting "The Climb" for their battle. I can't say that either girl was terribly comfortable with Miley Cyrus' ballad, but it was McLaughlin's emotional commitment that overcame Ruger's technically sound performance. Blake chose Audra ending Megan's time on the show.
Cierra Mickens vs. T.J. Wilkins (Team Usher): The two soul singers chose Oleta Adams' "Get Here". Martin suggested the two focused on something in their personal lives while singing this song. It worked. The battle was one of the better ones we've seen and the coaches were left dumbfounded. Usher eventually picked Wilkins ending Mickens' time.
Jake Worthington vs. Tess Boyer (Team Blake): John Hiatt's "Have a Little Faith in Me" was the song chosen by Team Blake's vocalists in this round. Both singers are vocally impressive, but it wasn't the most technical performance we've seen. In the end, Blake ended up picking Jake Worthington. Boyer's performance was good enough to get all three coaches to try and steal – Shakira eventually won out.
Christina Grimmie vs. Sam Behymer (Team Adam): The two singer's selected One Republic's "Counting Stars" for their performance. This was a back and forth performance with each singer showing equal potential and shakiness. Despite Blake Shelton saying Sam won the battle, Adam moved Christina forward.
Josh Murley vs. Patrick Johnson (Team Shakira): "Run to You" by Bryan Adams was the song of choice for this round. It was one of the closer battlers of the night. The judges had a tough time deciding who won this battle, Blake chose Johnson and Shakira agreed with him.
Delvin Choice vs. Josh Kaufman (Team Adam): Perhaps the best song chosen all night was Stevie Wonder's "Sign, Sealed, Delivered I'm Yours". The guys had one of the more successful rehearsals which lead to a solid performance. Ultimately, Adam ended up choosing Choice leading Usher to snag Kaufman.
The second round of the Battles 2 airs tonight at 8 PM. So far the changes are working well!
[Photo via Trae Patton/NBC]