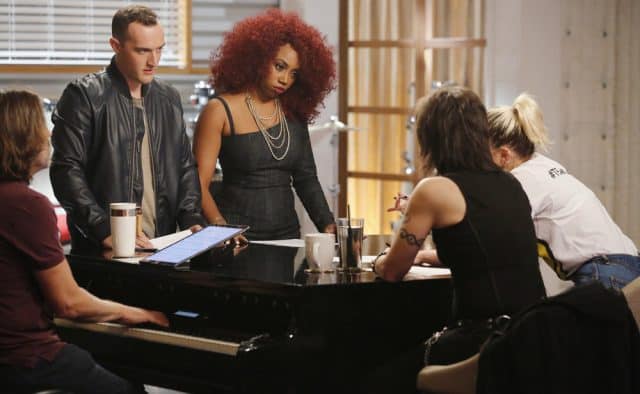 Before week 2 of The Voice battle rounds aired, I did a breakdown of who was left to battle and some predictions. You can check those out here. So far, it's been pretty close. Out of 9 battles, 7 predictions were correct, one was wrong, and one was half wrong. However, the half-wrong one was the biggest surprise of all! Let's recap Monday's battles for week 2 of The Voice battle rounds!
Team Alicia
There's been a running gag about the fact that new coach Alicia Keys seems to nearly always beat veteran coach Blake Shelton in getting a particular artist. There's something to this, because so far only one person on her original team wasn't stolen! That singer is Halle Tomlinson.
I liked Halle because she had a real contemporary jazz feel to her music and I thought that would be great for Alicia to work with. However, on the show they called her an indie/pop singer. What? She's like a cross between Esperanza Spalding and Diana Krall! At the same time, contemporary jazz isn't the music on the Billboard hot 100 lists. Hopefully Halle's short time with Alicia pointed her in the right musical direction – which wouldn't happen if she stayed on The Voice.
Halle was paired with indie Belle Jewel, so she's still on team Alicia. The two did "Bennie and the Jets" by Elton John – a classic rock/pop song . Their battle was yet part of another montage, so viewers still don't have a clear sense of what Belle sounds like.
However, there is her studio recording. After listening to it the pairing makes a lot of sense. She's redid the Simple Minds song, "Don't You Forget About Me" complete with jazz rifts and scatting. Is indie the new word for contemporary jazz? Many the labels being given by The Voice are more about what genres a singer is comfortable and willing to move into – not what they've been doing.
Here are the other battles Alicia had on the episode.
Josh Halverson vs. Kylie Rothfield: "House of the Rising Sun"
[youtube https://www.youtube.com/watch?v=t4jer6G-Pbo?rel=0]
Frankly, Kylie knocked it out the park. Alicia kept her. However, Miley promptly stole Josh – which is pretty much what was expected.
There's one more battle to go for Alicia, and that's between Gabriel Violett and sistersWhitney & Shannon . I still think Gabriel will be eliminated. As much as she loves harmonies, can you see Alicia giving up Whitney and Shannon?
Team Blake
Thus far, Blake's battles for week two have gone as predicted. In the montage video we saw him keep Dana Harper and let go of Tarra Layne. Josh Gallagher and Blaine Long battled and Blaine was eliminated.
[youtube https://www.youtube.com/watch?v=VtNRwYA8X8w?rel=0]
Blake says more than once how Josh's voice already sounds like it should be on the radio. Like I said…he's just more marketable.
Christian Fermin is pitted against Gabe Broussard. The song is "The Reason" by Hoobastank. Advisor Bette Milder says Christian has a "light, beautiful, pitch perfect" voice – but says Gabe's voice is more "open and powerful," She tells both young men they have to make the audience feel what the song means to them.
[youtube https://www.youtube.com/watch?v=QW3xB4PPlPI?rel=0]
Miley says it best, noting that it depended on what Blake wanted for his team. Christian had more vocal command and "tricks" – but Gabe's voice had "strength and maturity." All three coaches said more or less the same thing. For Gabe to sound like that at 15 was too amazing to let go.
Blake has one battle left. It's between Austin Allsup and Preston James.
Team Adam
Adam had two battles today. In the montage video Simone Gundy wins over JSOUL. The second battle is Johnny Rez against Nolan Neal . They do "Sledgehammer" by Peter Gabriel.
[youtube https://www.youtube.com/watch?v=aNSXE2jF0w0?rel=0]
Even though Johnny really outdoes himself, Adam already has two pop singers. Plus, he's the one who told Nolan to come back when Nolan auditioned for season 10. Johnny is eliminated.
Team Miley
Miley had only two battles left and they both result in steals. That part was dead on. It's who gets stolen that's surprising!
For the first battle it was pretty straightforward. Darby Walker battles Karlee Metzger. They do an oldie: "Brand New Key" by folk music singer Melanie. It's a strange, yet perfect song choice!
[youtube https://www.youtube.com/watch?v=jBEmLGZYKyU?rel=0]
Miley picks Darby, Blake steals Karlee. No surprises.
It's the second battle that totally knocked me out! (It was also the final one of the night!) Aaron Gibson vs. Sa'Rayah. Afterwards Miley says their performance is "the picture" of what she wanted her team to represent. Their version of "I'll Take Care of You" (as done by Beth Hart with Joe Bonamassa)is awesome. It's like Aaron's voice becomes like the guitar! Still, the outcome is shocking!
[youtube https://www.youtube.com/watch?v=i0vUaZ05pNg?rel=0]
What! Miley gave up Sa'Rayah?! I did not see that coming! Hindsight is 20/20 though. In the beginning of this, Miley says one of the reasons she picked the song was to give Sa'Rayah the experience Sa'Rayah wanted of doing something different. …Maybe that should have clued me in that she was planning on turning her over to Alicia!
Yes, she went to team Alicia. Even though Blake hit his button first. However, I wouldn't put it all on Alicia's great pitch. One of the things he says to Sa'Rayah is that, "He doesn't have anyone else on his team like her."
Excuse me? Do you not remember that you have Courtney Harrell? Was this not the killer battle you set up last week?
[youtube https://www.youtube.com/watch?v=EU2twkad1pM?rel=0]
This isn't like the blinds. Unless the teams are completely sequestered from each other – which I doubt – they know who's on the other teams! With one sentence Blake's admiration for Sa'Rayah changes into a bunch of pick-up lines. On team Blake she knows she'd be played against Courtney in the knockouts. It's better to be on a different time and face Courtney in the live shows. Besides, Alisha really wanted Sa'Rayah the first time, and Blake didn't even turn for her.
The Wrap Up
Since I was hoping both Sa'Rayah and Aaron would stay on the show and they are, I'm happy. Miley letting go of Sa'Rayah, whom she said could very likely win The Voice, is surprising. Maybe it's not though. Alicia probably is the better coach for Sa'Rayah. Miley may have let her go to put her in the best position to win….
Week 2 of The Voice Battle Rounds will end with tonight's episode. Teams, Adam, Alicia, and Blake, all have a battle left, but only Blake has a steal. I'm guessing he'll steal Brendan Fletcher from team Adam. but we'll have to watch NBC at 8pm (ET) to find out for sure!