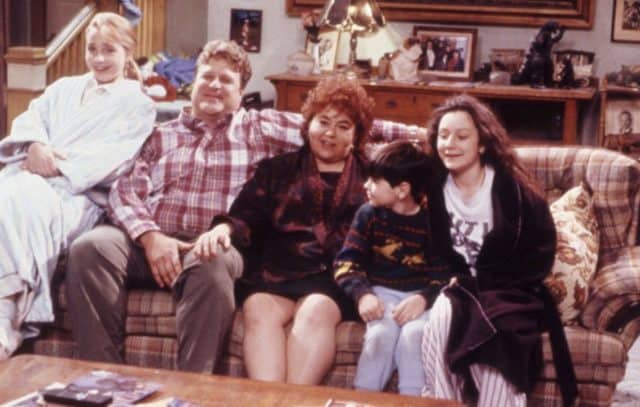 Maybe John Goodman didn't know the original couch from Roseanne wasn't in the Smithsonian, or maybe he was told it was and it just wasn't so. In any case the real couch from the show wound up with a museum curator named James Comisar who collects such items that are seen on TV, and he's had it for about a decade or more. The real couch has been kept in a warehouse safe and sound until Sara Gilbert, aka Darlene, decided to try and get the couch for the return of the Roseanne show. However it seems that Comisar and ABC couldn't come to an agreement about how the couch was going to be preserved and taken care of so it came to pass that Comisar refused to let the show use the couch again. That simply led to them using a replica that will serve just as well.
Really when you think about it you would likely assume that some fans would think somewhere in the back of their mind that the set would hopefully change just a little bit. The iconic trappings of the Connors household shouldn't be so stuck in time that the couch would need to be the major focal point any longer. After all, the average household will go through at least a couple of couches in the span of time it's taken for the show to come back. Springs get busted, cushions get worn, and frames tend to get a bit cracked and even broken from time to time, which means that the family would need a new couch. But instead it seems that the Connors are going to be slaves to tradition and habit since they wanted the same couch and the same everything else. That's pretty normal really since there are a lot of people that don't want things to change as it might be a sign of their favorite things fading away right in front of their eyes.
But haggling over a couch when it comes to a TV show seems a bit silly to be honest. Granted, there are some truly iconic pieces of furniture in some TV shows that would be better off never being replaced, but the Connors couch is not one of them. Just about any sofa of the same size, shape, and color would work. In fact it seems safe to say that a lot of people don't even remember the old couch that well and would accept almost anything that was put in its place. But for a purist it might make a difference, in fact it might be inexcusable to some to use a replica if they're really being honest. But it's a TV show, and while some things seem sacred and should probably never be touched it would add a little more realism to the show to change things up now and again, if only to give it a new look in some small way.
But all this fuss about a couch is still kind of, well, strange.