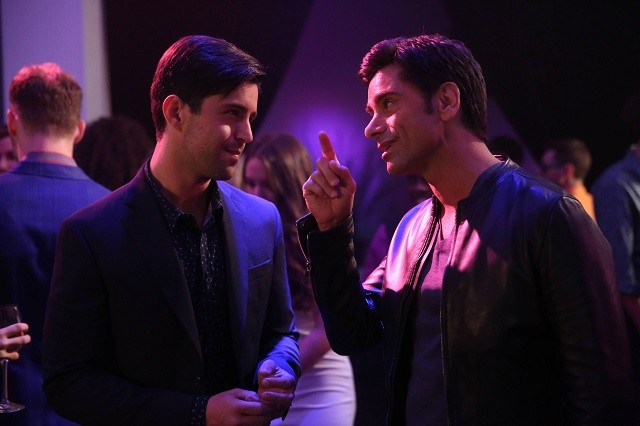 What's worked so well about these past two episodes of Grandfathered, last week's wonderful "My Amal" and last night's "Sexy Guardian Angel," is that the series continues to develop and progress instead of telling the same story over and over again like it did during its first few weeks on the air. With each new episode, Grandfathered is becoming less and less about whether Jimmy can be/will be a father and grandfather and more about what kind of parent and grandparent he actually is. "Sexy Guardian Angel" doesn't feature Jimmy reflecting on the years he lost with Gerald or reluctantly bonding with him out of some sense of obligation; instead, we see how Jimmy has evolved into someone who actively cares about his son, a dad that worries about his kid perhaps even a little too much.
"Sexy Guardian Angel" begins as a story about Jimmy helping Gerald meet women now that he's no longer pining for Vanessa, but it quickly ends up becoming an episode about the outrageous lengths a father will go to in order to protect his son. While at the bar with Jimmy, Gerald meets Frankie (played by Lyndsy Fonseca of Nikita and Agent Carter fame), and the two hit it off, quickly becoming an actual, legitimate couple in just barely over a week. However, when Jimmy hears rumors about Frankie sleeping with her boss, thus cheating on Gerald, he goes to desperate lengths to protect his son from humiliation and heartbreak.
It's a pretty simple and familiar sitcom story, with Jimmy behaving crazily as he does his best to catch Frankie, who, of course, is completely innocent of his accusations. The misunderstanding leads to some very funny moments, particularly when Sara gets involved in the episode's climatic dinner scene (Paget Brewster disgustingly saying "He has a name for it!" when hearing about Big Daddy's "Little Daddy" had me dying with laughter), but ultimately, the whole ordeal showcases one important fact: how much Jimmy has grown to care for Gerald.
Seemingly gone are the days where Jimmy would look longingly at a picture of the family he could have had, or find himself forced into a family function. In "Sexy Guardian Angel," he instantly invites Gerald to go out with him to pick up women, and when he believes that his son could get hurt, he goes above and beyond what any parent would do to try to protect him. Is it a little bit cartoonish? Sure it is, but it also reflects the honest, grounded emotions that make Grandfathered an enjoyable watch, even when the show's not at its funniest.
Is Jimmy the best father he can be after this episode? Of course not, which is perfectly shown by him referring to himself as "a normal, sexy dad" and Sara's ever-so-funny "Almost there" response. But Jimmy is learning, growing, and evolving, and it's those small but still significant changes in his character that help make "Sexy Guardian Angel" another strong episode of Grandfathered.
Other thoughts:
The main thing holding this episode back from the heights of last week's season-best installment is the B-plot with Vanessa and Annalise. While I did enjoy Annalise's hilariously bad performance of "Tempted" and the friendship that has begun between the two women, Vanessa is still just too "big" of a character for me to enjoy at the moment. Her loud, abrasive, and oblivious ways don't work nearly as well as Grandfathered wants them to.
I was very happy to see Lyndsy Fonseca back on my TV, since I'm a huge fan of her from Nikita and really enjoyed her work on Agent Carter. Here's hoping Frankie sticks around for a while.
Also, to my fellow Community fans out there, with Frankie's name being dropped so many times throughout the episode, who else couldn't help but think of Paget Brewster's fantastic character from that show? Seriously, Brewster's Frankie was one of the best parts of Community's sixth season.
Sara calls herself LL Cool Mom. Sara is the best.
Jimmy buying Gerald a regular printer instead of a 3D one at the end of the episode is another example how well Grandfathered uses small, sweet, and funny actions like that to say so much about its characters.
What did everyone else think of this week's episode of Grandfathered? Comment below and let me know.
[Photo credit: Jordin Althaus/FOX]