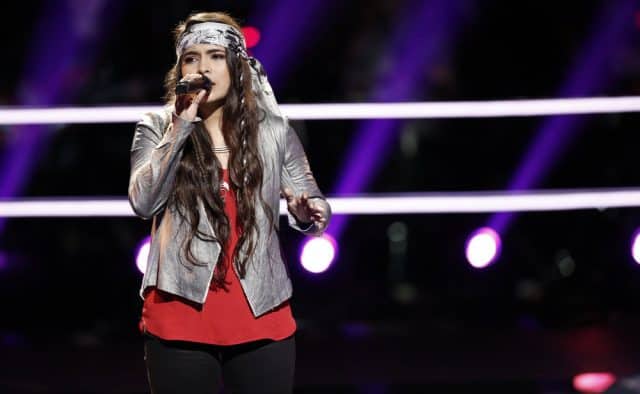 It's The Voice season 11 knockouts premiere, and some of these blows are going to hit hard! This episode has some hard-to-call knockouts that some will find heartbreaking. Right at the top is a sound bite from coach Miley Cyrus saying that "all the best of the best are here now." She and her fellow new coach Alicia Keys talk about how difficult it is to do this "chopping block" round. Each coach is going to have to let go of half their teams! Furthermore, unlike the battle rounds, each coach only has on steal. Get ready for some surprises!
Knockout Round 1 – Team Blake
Coach Blake Shelton has Josh Gallagher vs. Sundance Head. This match-up was not a surprise, and for all the reasons coach Blake Shelton says – they are both radio-ready country artists. He only needs one like that.
Sundance chooses "The Climb" by Miley Cyrus. It surprises Blake. In particular, his upper register is a new element. Advisors Faith Hill and Tim McGraw advise him to play guitar and to do the song acoustically.
"The Climb" is a power ballad of a country song. They call them power ballads for a reason. They are designed to show off a vocalist's voice and ability to wring emotion out of the listener. Even stripped down, the lyrics and melody of "The Climb" lift the listener up.
Meanwhile, Josh is doing "My Maria" by Brooks & Dunn. Although the song is a country classic, it already feels like Sundance is going to win. "My Maria" is a nice song, and a sweet sentiment, but it's not a vocal showstopper. This is the knockouts. You need a showstopper, not something in the same vein as Jimmy Buffett doing "Margaritaville." Plus Faith Hill comments that she's a little worry about the falsetto and advises Josh not to use it every time.
Winner: Sundance
The good news here is that coach Adam Levine steals Josh! …Of course he does. The chance to have a great country artist and compete against Blake is too good to pass up!
Performance by Josh Gallagher: "My Maria"
Knockout Round 2 – Team Alicia
Alicia talks about the connection between country and soul music with Faith and Tim. d says that's the link with the artists on her team. Her first match up is Kylie Rothfield vs. Whitney and Shannon. Yikes!
The match-up seems like a no-brainer, but Kylie is doing "Hound Dog" – the Big Mama Thorton version. and her version has Alicia, Tim and Faith are seriously impressed. I'm thinking it will be a set up for another steal. Someone in this match-up is going to Team Blake…. will it be the sisters?
Whitney and Shannon are singing, "I Won't Give Up" by Jason Mraz which immediately makes me sad. Christina Grimmie – who was viciously murdered this summer – did the song on The Voice in 2014. Even though songs are done by different people all the time on music competition shows, the tragic circumstances of Grimmie's death make this emotionally bittersweet to hear from someone else. If this were a live show this choice would probably hurt them.
However, this isn't a live show. What is of concern is that Alicia suggests that Whitney and Shannon sing separately at some points. Since the magic of these two is how they look and sound together it seems like an odd choice. The knockouts are about the artists showing who they are and singing solo isn't at all what they are about.
Although each young woman has a nice voice they aren't solo artists and it's not their individual voices that got them a four-chair turn. Furthermore, they've been very clear that they want a career performing together. Maybe Alicia just wanted to see how much more there was to work with beyond their amazing harmonies before making her choice?
Winner: Kylie
I'm shocked Blake didn't pick up Whitney and Shannon! I did tell a friend of mine that I thought Alicia was going to let them go, but I thought Blake would take them. Their pure harmonies lend themselves to country music and would be a better fit. However, duos rarely make it to the live shows. Maybe it shouldn't have been such a shock.
Performance by Whitney & Shannon: "I Won't Give Up"
Knockout 3 – Team Miley
This is a tough one: Ali Caldwell vs Lauren Diaz. I like both singers, but they have different strengths. Ali has great soul/r&b voice and a big range, but she needs a little work on her stage presentation. Lauren has a good voice that's more versatile. She could do r&b, pop, or even country if she wanted. She also knows how to really sell a song.
Ali does "No Ordinary Love" by Sade and when she does it for rehearsal Faith and Tim are completely blown away! It's an excellent song choice for her because she's able to get passionately involved with the music. Sade has a very distinct sound, so normally it's hard to do without being unfavorably compared to the original. Ali totally makes the song hers. (Which she also did with her blind audition sound.) 9 Faith gives her a tip about holding out some notes instead of doing a run. Then Tim basically tells her not to hold back on the smoke and sexiness. After that she's good to go.
Lauren's song choice is "Rise Up" by Andra Day.
There are two things that come up. Faith and Tim take her off of the piano so that she can be more open and vulnerable. Then Miley tells her to watch out for "pinching" some of the notes. However, Miley notes that Lauren's strength is being able to deeply connect to what she sings.
Just from Miley's reactions watching Ali it's obvious that Miley is going to pick Ali…. and she does.
Winner: Ali
If you were to cross Whitney Houston and Jennifer Hudson I think you'd get someone who sounds like Ali. She also really dove into this song. Lauren needed to be perfect to have a chance vocally, but she has slight vocal issues early on in her song. That doesn't change how she nails everything in the emotionally done second half. Maybe she was a little nervous when she started? Adam nailed it in his critique of the performances.
I'm going to say one critical thing about Ali. Sometimes you can get detached from certain things because you're so good. And I think Lauren needs that emotion to make her performance better.
Here's the thing, a star is more than great vocals. That emotional connection Lauren lays out it her songs and shares with the audience is part of what makes a great performer. As Adam says, it elevates Lauren's singing. You respond to the emotion.
I was hoping that maybe Blake didn't take the twins because he was waiting for this battle? I could see him taking Lauren because she has the emotional aspects of country and soul and if you look at her Youtube views she's quite popular. This is when I remember that during the lives we still have the wild cards…. If they have those this season some of the favorites will get the chance to come back….
Performance by Lauren Diaz: "Rise Up"
Knockout Round 4 – Team Adam
David Mosian vs. Simone Gundy
David Mosian made a bad song choice. Period. Alicia says it straightforwardly after both singers perform, but Adam telegraphs this beforehand when talking to him about the song.
Winner: Simone
Simone is good, but Alicia, Miley, and Blake all have vocalists that have given stronger soul/gospel/r&b performances. She's going to have to do a lot to match these other singers in the lives…..
Performance by David Mosian: "Like I Can"
Knockout Round 5 – Team Alicia
Wé McDonald and Courtnie Ramirez
This was the hardest knockout to watch. 17-year-old Wé is a phenom and in this competition she truly has the most uniqueness musically and personally. Yet Courtnie is also a talented 17-year-old, one with a happy, spunky, girl-power vibe and a confidence that's a joy to watch.
Courtnie's song choice is good for her….but it's also been done so many times by young female singers. In contrast, Wé chooses "No More Drama" by Mary J. Blige. Alicia says it's going to come down to who makes you feel more, and that's ultimately the piece that pushes it. Courtnie's performance is good, but Wé is singing from someplace real and deep.
Winner: Wé
I really like that Alicia had the audience stand and applaud both girls. Courtnie is such a bright light. I'll miss her!
Performance by Courtnie Ramierez: "If I Were a Boy."
Knockout Round 6 – Team Adam
Riley Elmore vs Jason Warrior
Riley's doing the Michael Bublé song "Haven't Met You Yet."
Jason does "I Want You" by Luke James
Winner: Riley
Based on the performances Riley being the winner was a surprise. It wasn't the strongest we've seen from him. Then Jason does these crazy high killer falsetto riffs that are amazing! However, Adam loves Riley's voice and potential.
Luckily Jason is stolen by Blake. So basically, Blake and Adam just swapped team members! Blake has won with a singer like Jason before. As such, aside from the guy's undeniable talent, I can why Blake would steal him!
Performance by Jason Warrior: "I Want You"
With this steal it means only Miley and Alicia have steals left!
Stay tune for more recaps and thoughts on The Voice Season 11 Knockouts! Also, I think it's time to start thinking about who you'd want to win a wildcard spot. If it happens there will only be four….