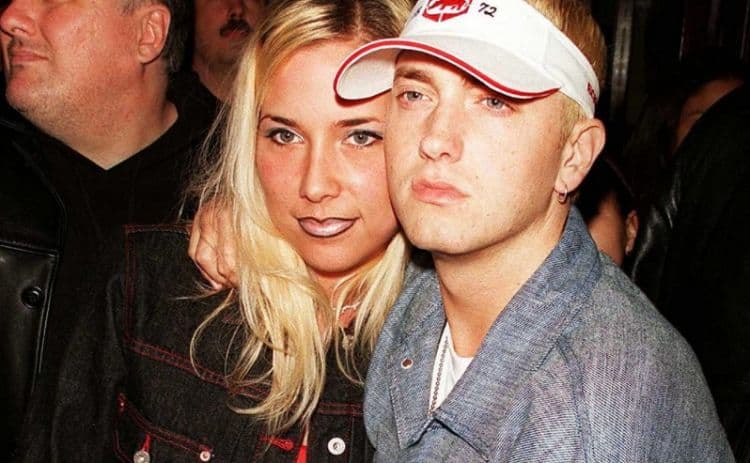 If you've been an Eminem fan since the early days of his career, you probably remember his marriage to Kimberly Anne Scott. Kim and Eminem met long before his rap career took off, and their journey included lots of ups and downs which included lots of financial hardships. The couple welcomed their first and only child together in 1995, and Eminem knew that he had to work hard to put his family in a better situation. Unfortunately, however, as things improved in his music career, things between him and Kim began to deteriorate. After the couple broke up for good in 2006, Kim largely disappeared from the spotlight, and lots of people have been left to wonder where Kim has been in the years since. If you've been looking for an update, you came to the right place. Keep reading to find out what happened to Eminem's ex-wife, Kim.
Eminem and Kim's Relationship
Like Eminem, Kim also had a difficult upbringing that included her running away from home several times as a teenager. The pair met in high school when Eminem drew attention to himself by standing up top of a lunch table and rapping an LL Cool J song. She eventually ended up moving in with Eminem and his mother during the late 1980s. However, a romantic relationship between them didn't start until a couple of years later.
Even though they went through a lot of challenging times, their relationship appears to have been strong in the beginning. As a result, they decided to tie the knot in 1999. This was also the year that Eminem's sophomore album, The Slim Shady LP, was released. The project would go on to change the trajectory of his career, and it likely had an impact on their relationship as well.
A Turn For The Worse
Not long after their marriage, it became clear that Eminem and Kim were struggling and by 2001 they had already filed for divorce. Along the way, Eminem had mentioned Kim in several songs, and most of what he had to say wasn't good. In one instance, he even beat up a blow up doll version of Kim during a live performance. During an interview with People, Kim spoke about how the incident effected her and said, "Seeing the crowd's response and everybody cheering, singing the words and laughing and it just felt like everyone was staring at me. I knew that it was about me and that night I went home and I tried to commit suicide".
Surprisingly, the couple reconciled a few years after their divorce. They briefly remarried in 2006 and divorced the same year.Depsite dating such a high profile person, and becoming known by association, Kim didn't seem to enjoy being in the spotlight. Although she did a couple of interviews shortly after they parted ways, it's been several years since she's made any public appearance.
Where Is Kim Now?
Eminem has had a lot of success since he and Kim's final divorce. Sadly, however, it doesn't appear that the years have been as kind to Kim. Oaver the years, she has had several run-ins with the law including drug charges and DUIs. She even attempted to take her own life again. During an interview in 2016, Kim said, "I sat at the end of a road, where I knew that no one else but myself would get hurt," she continued. "I drank, yes, I took pills, and I hit the gas and aimed for a pole". That same year, Kim's sister, Dawn, passed away as the result of a drug overdose.
As far as we can tell, Kim has not done interviews or may any other public appearance since 2016. She seems to really enjoy keeping a low profile and that probably isn't going to change.
Do Kim And Eminem Still Keep In Touch?
Lots of people have wondered whether Eminem and Kim were ever able to salvage a friendship for the sake of their daughter. In 2010, a spokesperson for Eminem revealed that the two had a "friendly" relationship, but no additonal details were given. Outside of that, nothing is known about the status of their current relationship – if they even have one. Now that their daughter is an adult, there's less of a reason for them to keep in touch.
Hopefully, however, Kim has been able to heal from the public humilation and harassment she endured during her relationship with Eminem. Next time we see her name in the headlines, we hope that it will be for something positive.