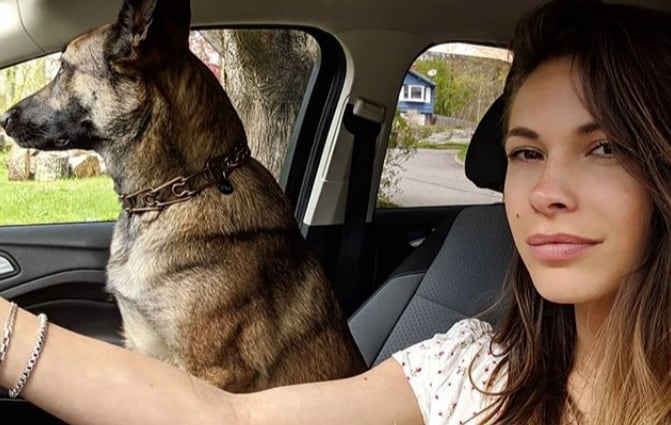 Dani Mathers is a model and actress who was born in California on January 5, 1987. She is best known for being a Playboy model as she was the Playboy Playmate of the Month in May 2014 and the Playboy Playmate of the Year in 2015. The latter was probably the highlight of Mather's career as her life took a downward spiral thereafter. She was involved in a scandal that destroyed her career and she has avoided the limelight since. So, what happened and what is Dani Mathers doing now?
Between 2014 and 2015, Dani Mathers was enjoying a particularly successful period in her career, both as a model and also as an actress. She had previously had a recurring role in the CBS soap opera 'The Bold and the Beautiful'. She then began appearing in several Playboy TV productions, including Camp Playboy, Bada**, Playboy's Beach House, and Playboy Trip: Patagonia. Dani Mathers then extended her career into radio when she became a regular on the Heide & Frank Show on KLOS radio in Los Angeles.
Things went wrong for Dani Mathers when she secretly took a picture of a 70-year-old lady while she was naked in a shower at LA Fitness, says The Sun. She then posted the picture on Snapchat accompanied by a caption saying "If I can't unsee this then you can't either". While Mathers might have found this photo and caption funny, a large number of people who saw it disagreed. This resulted in an angry backlash online with Mathers being accused of body shaming.
Initially, Mathers tried to say that she had posted it publicly by accident and that her intention was to send it to just one friend. This was not enough and people accused her of showing no remorse. She then apologized for the post and said that she understood the magnitude of what she had done. She went on to say that body shaming isn't OK, and that she should not have posted the picture.
However, the incident was a little more serious than causing some offense online as Mathers had broken California's privacy laws. Specifically, she had photographed an identifiable person without their knowledge or consent. In an attempt to avoid court, Mathers said that the woman in the photograph was too far away for people to identify her.
Her pleas fell on deaf ears as Judge Gustavo Sztraicher said that she had not shown remorse. He warned Mathers that she could face a custodial sentence of up to six months, plus an $800 fine. LA Fitness was also not impressed as they banned her from all their gyms for life as they wanted to show their support for people's privacy in their gyms and their disgust at body shaming. Mathers was also fired from the Heidi & Frank Show on KLOS radio.
In a bid to avoid the case going to trial, Mathers participated in an anti-bullying course and underwent counseling. This was to no avail as she was sent back to court and charged with a misdemeanor invasion of privacy crime on November 4, 2016. Mathers was given the option to complete 30 days of community service or to spend 45 days in jail.
The model decided to complete the community service as retribution for her mistake, says The Daily Mail. She is also on probation for three years following the incident. Part of the terms of her probation is that she cannot take photographs of anyone and post them online without their permission.
Mather has faced significant consequence in both her personal and professional life because of her actions. In terms of her personal life, she spent a long time hiding out at her mother's house because she was receiving death threats. There was also a lot of paparazzi invasion into her life following her appearance in court. While Mathers has spoken about her acceptance that she is suffering as a result of her own actions, she has been criticized for even bringing attention to the invasion into her privacy as people believe it is hypocritical.
In terms of her career, the impact has been significant. While she had been at the pinnacle of her career as a model and was establishing herself as an actress prior to her court case, her career came to an abrupt end after her trial. Not only was she fired from the radio show, but all the job offers dried up.
She went on Inside Edition in an episode called 'Dani Mathers Speaks Out' in 2017 to open up about the experience and let everyone know how sorry she was for the incident. However, this only led to a further backlash with viewers accusing her of trying to gain sympathy rather than showing remorse for her actions.
Mathers avoided social media altogether for a while after her court case, but she has now made a return. In September 2018, Mandatory reported that she had made a comeback on Instagram and had begun to post photographs of herself on the social media site.
Unfortunately for Mathers, her own actions seem to have ended her career. She has not worked as a model or an actress since 2015. Her only television appearance was in the 2016 documentary about herself, and this related to the court case. Modeling and acting are both careers that require the public to have a certain level of admiration for the person. Her body shaming actions have taken this away and she is no longer respected by the public. For this reason, only time will tell if Dani Mathers can make a comeback in the future and regain her former popularity. It will probably take time for her to win over public opinion after such a serious incident.
Tell us what's wrong with this post? How could we improve it? :)
Let us improve this post!