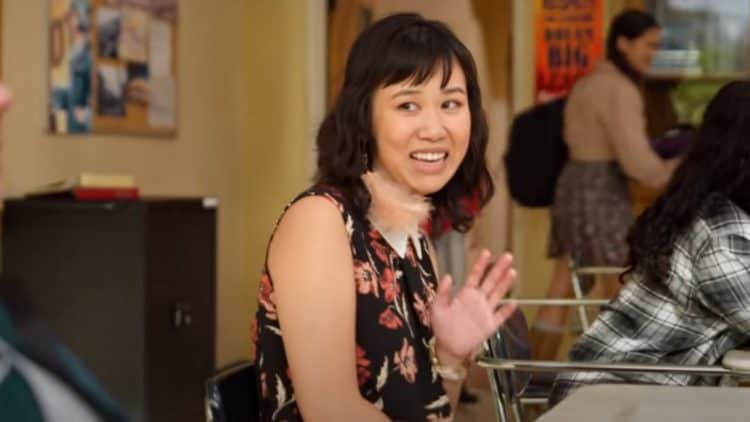 Thanks to quarantine, watching watching shows on Netflix is even more enjoyable than it used to be. So far, the streaming service has done a good job of putting out bingeworthy content. Among Netflix's most recent releases is a new series called Never Have I Ever. The show, which was created by Mindy Kaling, and tells the story of an Indian-American high school student who is hoping to become popular. Ramona Young plays the role of the main character's best friend, and it's yet another example of just how talented she really is. Here are 10 things you didn't know about Ramona Young.
1. She Attended More Than 40 Schools
Ramona's mother is in the Navy which resulted in the family having to move dozens of time during Ramona's childhood. She attended over 40 different schools and had to learn how to adjust each time. Although being the new kid is never fun, it taught Ramona very valuable lessons about herself. She told Teen Vogue, "Going from school to school a lot gave me a sense of who I was. Maybe more so than the average kid in high school. I really learned about who I wanted to be and who I could be and that could really be anything. "
2. She Can Relate To Eleanor
For Ramona, portraying Eleanor is about more than just acting in a role. In many ways, she can relate to Eleanor's story, and things it's important to have a character like Eleanor represented on screen. Ramona says, "I played my truth when I played Eleanor and her background for sure."
3. Her Parents Didn't Want Her To Become An Actress
Ramona's parents always expected their daughter to lead a traditional lifestyle that involved getting a good education and following a more stable path. When she initially decided she wanted to be an actress, her parents didn't really support the idea. Fortunately, her parents have gotten more supportive of her career path.
4. She Speaks Three Languages
Ramona grew up studying in both the United States and Hong Kong for the first 8 years of her life. In addition to English, she can speak Mandarin and Cantonese fluently. She also can understand some of the less common dialects thanks to her grandmother. So far, she only done English speaking roles, but it'll be interesting to see if she ever decides to pursue non-English opportunities.
5. She's An Introvert
No matter what type of personality you have, working in the entertainment industry usually requires you to be 'on'. Whether you're shooting on set or attending events, people usually expect actors to be extroverted. However, when the cameras are done rolling, Ramona returns to her naturally introverted self. She says she likes to stay low key and only has a few people who she considered close.
6. She Briefly Attended Grad School
After completing college, Ramona's parents encouraged her to attend grad school to further her education. She applied to a program and got accepted. However, when she stepped in her very firs class, she couldn't help but burst into tears because she felt like she was not being true to herself and her passion.
7. She's A Songwriter
When Ramona Young has free time, she loves to make music. Ramona enjoys writing and singing her own songs. She also plays the guitar and has posted a few Instagram stories of herself singing. She hasn't discussed where or not she plans to officially release music.
8. She Didn't Grow Up Watching TV
Lots of actors got their first dose of inspiration from the things they saw on TV, but that isn't how things were for Ramona. She didn't have cable growing up and said that she didn't have much time to watch TV because she was always focused on school work.
9. She Loves Classic Disney Music
Ramona has very diverse taste in music. She listens to and enjoys everything from The Beach Boys to Alicia Keys. However, if she had to pick a genre of music that has gotten her through some of life's most crucial moments, she would choose classic Disney music.
10. She's First Generation American
Ramona has a close relationship with her parents and considers them to be her very first role models. Both of Ramona's parents are from Hong Kong making her the first person in her family to be born in the United States. Although she didn't do exactly what her parents wanted in terms of her career choice, Ramona is still living the American dream.