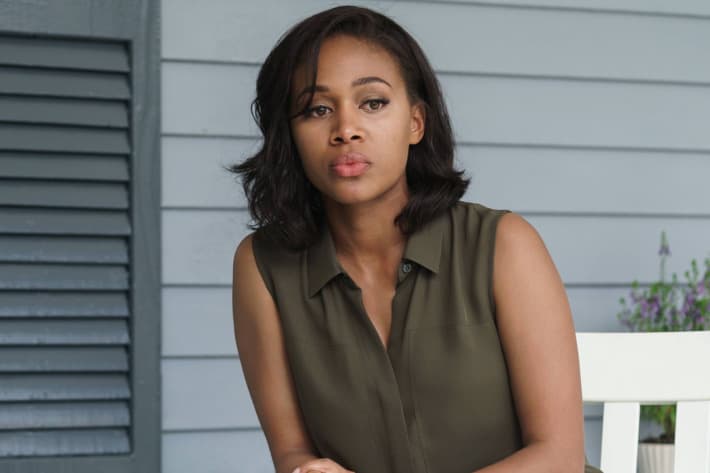 Keeping track of who's who in the annals of Hollywood seems like it would require an entire team of writers that focused on nothing more than facts and statistics these days. But Nicole Beharie is at least distinguishing herself from other actors by dint of taking on roles that are in some way important to history as well as to entertainment. As a proud and distinguished individual on the Hollywood scene she's managed to come across as both genuine and sincere in her roles and has managed to catch the eye of many an audience member that happen to think that she's quite skilled and has a bright future ahead of her. She's got a lot of years left to her career if she wants them, and it's pretty obvious that she does since she continues to give a great performance every time she's on screen.
Here are a few things you might not have known about her.
10. She starred in 42.
As Rachel Robinson she was Jackie's one and only love and the woman that cared the most about him when he was on the field and when he was off. To think of what the real couple must have gone through during Jackie's time in the pros is kind of hard since it was a very different time and there wasn't much he could do about the blatant racism that was going on in the league. Plus, Rachel couldn't do much more than support him in every way possible, which was no doubt a great thing to Jackie at the time.
9. She was the first person to receive the Robin Williams scholarship at Juilliard.
In fact she was voted to receive the scholarship by a unanimous vote, which was quite impressive since scholarships such as this aren't just given to people. The amount of faith that was placed in her is simply incredible and people can only hope that she'll prove that such faith was well-founded. So far it would seem that it has been.
8. She dated Michael Fassbender for a while in 2013.
The two were costars and then hooked up for a bit but like all relationships in Hollywood there's rarely any certainty that can be relied on from day to day. Some people get together because they think they're compatible, while others do it just in the heat of the moment. However it happens a lot of relationships come and go.
7. She admits to being kind of a bully when she was a kid.
It's hard to look at anyone her size and imagine them being a bully but then you think about being a kid and remember that it didn't take much more than a surly attitude and the ability to intimidate others to be a bully. Girls never seemed to be that great at bullying anyone other than girls, but Nicole admits that she bullied the boys too.
6. She'll be appearing in a remake of Jacob's Ladder.
It's hard to say how to feel about this one since the original Jacob's Ladder was so controversial but also so widely loved that one can't help but think that it would be wise to hold any comment on this until it's seen. How a person would go about remaking this movie isn't too hard to imagine, but making it to the same specifications and being able to produce the same kind of terror would be kind of difficult.
5. She's been acting since 2008.
She's not a newbie and she's just barely a veteran to be honest, but she's proven that she has what it takes to stick around and continue to get roles that help to move her career forward. There are bound to be people that still don't know about her since everyone's got their own taste in movies and TV shows, but it could be that eventually she might become a much more famous individual.
4. She was featured on the TV show Sleepy Hollow.
This was an interesting take on the old legend of Sleepy Hollow, but while she played a vital role as a Witness, Nicole's part did end at one point when her character was killed off and the main character that played Ichabod Crane was left on his own. Since then she's still been acting but it seems like this could have been one of her absolute best roles.
3. She's also a singer.
She's lent her voice to a few projects but has focused mainly on her acting and keeping her career moving forward.
2. Her filmography features a decent amount of films.
She's done close to the amount of TV roles as she has film, but combined it shows that she's been a busy woman over the last decade.
1. She trained for her craft in England.
A lot of actors have made their way to England once or twice in their careers as this country has some of the best acting schools in the world. Keep in mind that this is where acting was once considered to be height of the industry. Some might say it still is.
Tell us what's wrong with this post? How could we improve it? :)
Let us improve this post!