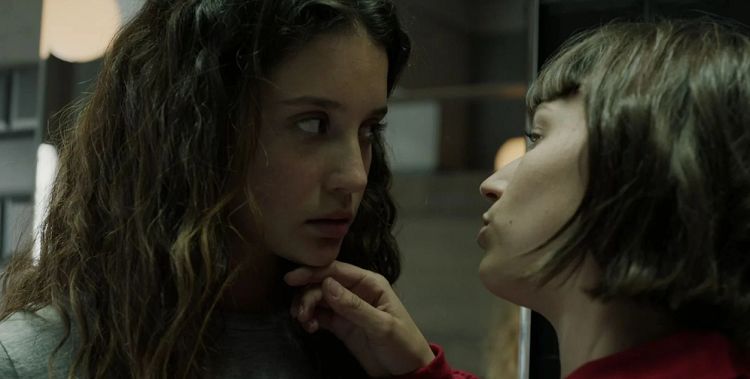 Lots of people spend their entire 20s trying to figure out their career path. Others are lucky enough to figure out exactly what they want to do very early on. After making her acting debut in 2017, Maria's dreams are already coming true. At just 24, Maria Pedraza already has already appeared in three successful Netflix series. She has starred in Money Heist, Elite, and Toy Boy. The Madrid based actress and ballerina is a multitalented star who has made a name for herself in a few short years. Keep reading for 10 things you didn't know about Maria Pedraza.
1. She's Dating One Of Her Former Co-Stars
You never know where you'll find love. It turns out that for Maria Pedraza, love was waiting for her on the set of Money Heist. While working on Money Heist, Maria was introduced to a fellow young actor named Jamie Lorente. In 2018, she and Lorente who ,plays Daniel 'Denver' Ramos on the show, began dating. Although Lorente is still part of the Money Heist cast, Pedraza left the show in 2017.
2. Instagram Got Her Discovered
Social media is no longer all about fun and games. It has also become a way to network and create business opportunities. No one knows this better than Maria Pedraza. She was discovered on Instagram by Esteban Crespo, a film director who was interested in having her appear in a movie he was working on.
3. She Considers Dance An Old Friend
Although acting has become what Maria Pedraza is best-known for, she will always have a special relationship with dance. In an interview, she referred to dance as an "old friend" and said, that it is her passion. She also added that dance makes her feel like nothing else will.
4. Acting Has Taught Her Empathy
Maria's appreciation for the art of acting runs deep. She also believes that acting has shown the importance of relating to others. She said, "Performing brings me the option of dreaming with something I've wanted to be, feel, have, live… Getting inside the skin of someone else. To empathise with someone that I'd never imagined I would have before and bringing the audience with me."
5. She Attended The Royal Conservatory of Dance Mariemma
Dance is more than Maria's passion, it's also something that she was professionally trained to do. When Maria was learning to dance, she was trained by some of the best. She graduated from the Royal Conservatory of Dance Mariemma which is located in Madrid. The school is one of the best-known in the area .
6. She's A Cat Person
For all the dog lovers out there, don't turn on Maria just yet. She also loves dogs. However, Maria is definitely a cat person and she enjoys sharing photos of herself spending time with her cats. Her cats even have their own Instagram account which currently has more than 31,000 followers.
7. She Loves Jewelry
Maria loves fashion and style and she's all about putting a nice look together. Every fashionista knows that no outfit is complete without the right accessories. Maria loves to wear jewelry and prefers to wear silver on a regular basis and save gold for more special occasions.
8. She's Been In Vogue Magazine
In addition to being an actress and a ballerina, Maria is also a model. Maria enjoys being photographed and knows exactly how to pull of a fierce look. Thanks to her on camera presence, Maria has appeared in several magazines including Vogue Spain. On top of that, she was on the cover of an issue of Cosmo in 2019.
9. She Keeps Her Personal Life Low Key
Maria Pedraza has over 10 million followers on Instagram and countless other fans outside of that. While she loves and appreciates her fans, she still likes to keep certain aspects of her life to herself. Maria is a relatively private person who hasn't shared much about her personal and family life.
10. Photography Is One Of Her Hobbies
When Maria isn't busy working in front of the camera, you can likely find her behind one. She enjoys taking pictures has taken up photography as a hobby. Although she likes to snap quick photos on her phone, she's also invested in an expensive camera to help her learn the ins and outs of photography. During an interview with Vogue Spain, Maria shared that her camera is one of the things she likes to always keep in her purse.