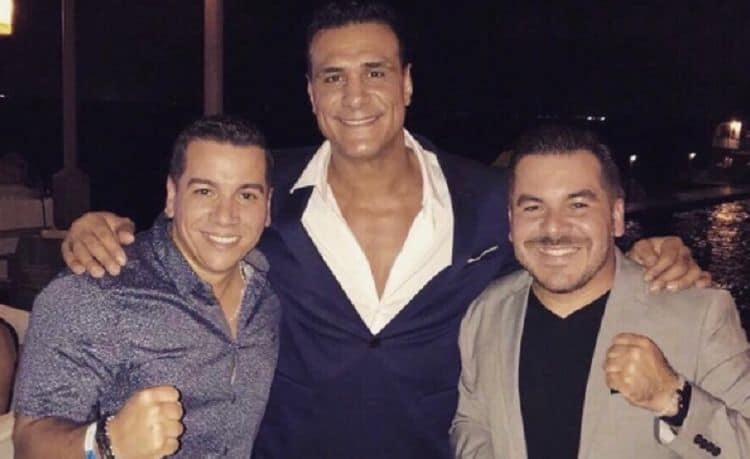 The wrestling industry is huge, and it's getting even bigger. While many fans are being asked to stay home, to socially distance, and to wear masks while they come to sit with many chairs between them in virtually empty stadiums in baseball fields, football stadiums, and basketball stadiums across the country in pandemic times, the wrestling industry hasn't closed down their doors to anyone. They're also keeping their political and current climate opinions to themselves, and many fans are flocking to the wrestling arena because they prefer their entertainers and athletes to entertain or play the game and keep politics out of it. Wrestling was big before, but it's bigger than ever right now. Wrestlers like Alberto Del Rio are reaping the benefits of it, and his fans are looking to learn more about him.
1. Alberto Del Rio is His Stage Name
He might use this name as a stage name, but it is not the name his parents gave him at birth. In fact, he was born Jose Alberto Rodriguez Chucuan. He was born on May 25, 1977. He's also used the name Alberto El Patron, but that was a long time ago.
2. He is from Mexico
He's a born and raised Mexican wrestler. He was born in San Luis Potosi City, San Luis Potosi, Mexico. He was raised there with his very famous wrestling family. He stuck around his entire life, even going to college in the same town in which he was born and raised.
3. He is from a Famous Wrestling Family
Alberto Del Rio did not get into this business by accident. As mentioned above, his family is very famous in the business, which means it is only natural that he would take part in the family trade. His father is Dos Caras, a famous luchador. He has two uncles also in the business. They are Sicodelico and Mil Mascaras. He also hascousins in the business, too. His younger brother is also a wrestler (Guillermo) though he no longer does this for a living.
4. He is Divorced
He was a married man for some time. His ex-wife is Angela Velkei. The couple shares three children together, and his wife decided she no longer wanted to be married to the wrestler in June of 2016. She called the marriage over because of adultery. However, he says that was not a problem and that his marriage was over nearly a full year prior to that so there was not adultery to be had.
5. He Wanted to Get Married a Second Time
Following his divorce from his wife, he got engaged to another woman. He was ready to give marriage a second chance. It did not work, however. He never made it down the aisle with Saraya-Jade Bevis. She's also a wrestler. They were engaged in October 2016 and done less than a year later.
6. He Owns a Restaurant
Back in 2016, the wrestler opened his own restaurant. It was called La Cantinita. The restaurant was located in San Antonio, Texas, where he hoped that he would have a long run as a restauranteur. However, like so many restaurants do, he closed in his first year.
7. He is a U.S. Citizen
While he was born and raised in Mexico, Del Rio knew for some time he wanted to become a U.S. Citizen. As a result, he worked on his citizenship. In 2018, the work he put into becoming a U.S. citizen paid off and he became a naturalized citizen.
8. He Was Accused of Sexual Assault
In 2020, he was accused by his then-girlfriend of sexual assault. He was arrested and charged with the crime. He was accused of hitting him, of causing injury, smashing her phone and computer, of forcing her to strip for him, and then forcing a sock in her mouth and threatening to take her child from her and leave him alone in the road if she ever told anyone.
9. He Has a College Degree
Though he likely knew from an early age that this was his future, he was a man who also knew he wanted to go into the university system and earn a degree. He attended the Universidad Autonoma de San Luis Potosi. He has a degree in architecture. If his wrestling career does not work out for him, he has a chance to work on his architecture career.
10. He is Keeping Private
While he's never been one to speak of his personal life too much to the press, he's been exceptionally quiet about his personal life since his arrest and the charges he faced in 2020. He's not speaking to anyone about anything in his personal life these days, and we have a feeling he will stick with that line of thinking.
Tell us what's wrong with this post? How could we improve it? :)
Let us improve this post!