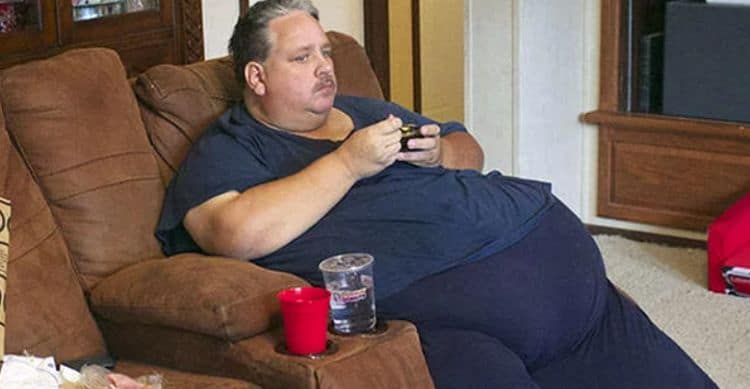 Over the course of nearly a decade, My 600-Lb Life has been a platform for dozens of people to share their weight loss stories. As fans of the show know, it can be incredibly difficult for people to open up about their struggles with weight, but they do so in hopes that they can help other people who may be in the same situation. In 2014, Chuck Turner decided that he wanted to document his journey on the series, and viewers were quickly captivated by him. When Chuck began his episode on My 600-Lb Life, he was 698 pounds. He was practically immobile and his size had started to take a serious toll on his mental health.
Chuck knew that something needed to be done or else he wasn't going to be around much longer. By the end of the episode, Chuck was able to lose enough weight to qualify for gastric bypass, but lots of people have wondered how things have been going for him since the procedure. Keep reading to get an update on Chuck Turner from My 600-Lb Life.
Chuck's Story
There are lots of people out there who have a tendency to judge the people they say on My 600-Lb Life, but in reality, nobody on the show wants to be in the situation they're in. More often than not, the cast members have developed food addictions that began as coping mechanisms to deal with trauma in life. Unlike other addictions, however, being addicted to food isn't something that people tend to take seriously. For Chuck Turner, though, it had gotten very serious. His eating habits really spiraled out of control after his first wife was murdered. Food quickly became one of the only things he could look forward to. Before he knew it, his weight had gotten out of control. Anyone who has ever tried to lose just a few pounds knows how challenging it can be. So you can only imagine how hard it is to lose weight for someone who weighs nearly 700 pounds.
Although Chuck was eventually able to find love again, he couldn't enjoy it the way he wanted to. Not only was his weight impacted his health, but it was also taking a toll on his relationship. He and his wife had stopped being intimate and she had essentially become his caregiver. She admitted that she felt more like an aid than his wife. On top of that, Chuck's wife also did the majority of the parenting because Chuck was unable to get around.
He knew that it was time for a serious change and he decided to go to Dr. Younan Nowzaradan for help. Thanks to the support of his family and Dr. Now's guidance, Chuck was well on his way to making positive changes in his life.
What Chuck Has Been Up To Since The Show
After undergoing gastric bypass, Chuck quickly began losing weight. Since being on the show, Chuck has lost more than 430 pounds, making it one of the biggest losses in My 600-Lb Life history. Losing weight has given Chuck the chance to enjoy things in life that once seemed impossible.
That said, weight loss surgery is definitely a step in the right direction, but it isn't the end of the road. Like many other people on the show, Chuck has struggled a bit with maintaining healthy eating habits. Additionally, things in his personal life haven't been the easiest. He and his wife ultimately decided to go their separate ways. Their split has been very hard for him and he's still coming to terms with the end of the relationship.
People who want to keep up with Chuck will be happy to know that he is still very active on Facebook. However, he doesn't post photos of himself very often. In fact, he's a lot more low-key than many of the other people who have been on My 600-Lb Life. He doesn't typically share updates and there's nothing to suggest that he plans to start. Unfortunately, several of his posts seem to be a little on the sad side. On the bright side, though, things seem to be going well for Chuck at work. His Facebook profile lists that he is the owner of Turner Wrecker Service.
On one hand, Chuck is in a much better place with his weight. On the other hand, however, he doesn't seem to be as happy as he'd like to be. Hopefully, he continues to make progress towards the things he wants and gets to a good place in his life.