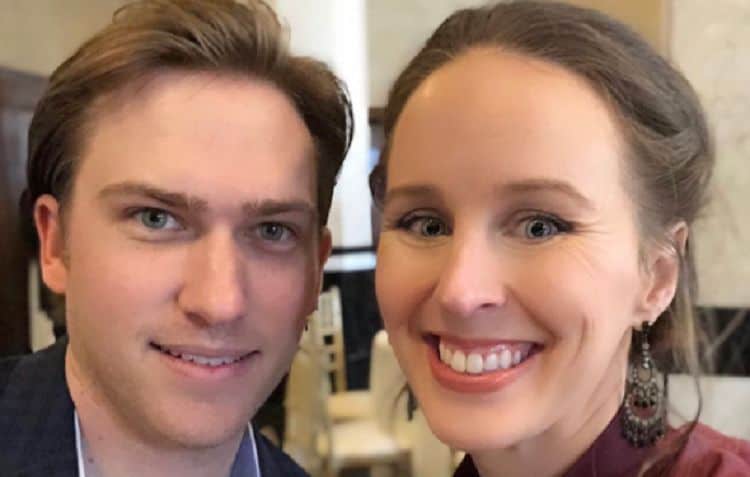 Married at First Sight is typically a train wreck of entertainment that the world never thought it needed. The show follows couples who literally never meet until they walk down the aisle, and it is nothing short of mind-boggling for the rest of the world to witness. It does work for some, but it often fails to work out. Even when professional matchmakers working to pair people together, it doesn't seem to be a situation that is ever right – save for a few – though we do think that Danielle Bergman (Danielle Dodd, now) might be a special situation. She just welcomed her second baby, and fans are itching to know more about her.
1. She is from Season 7
Danielle Bergman came to the show in season seven, which was all the way back in 2018. She was ready to find someone to love and build a future with, and she married a man by the name of Bobby Dodd. They met wearing their wedding day finest, exchanged vows, and shared their first kiss about two minutes after meeting for the first time. We are certain there's nothing awkward about that.
2. Their Marriage Worked
When decision day rolls around a few weeks after their wedding, many couples make the decision to end their new marriage and move on. They don't like their new spouse much at all, and the decision is not a difficult one. However, Danielle Bergman did not have the same experience. She told her new husband he was the best thing that ever happened to her, and she was head over heels in love with him. They decided to continue their marriage.
3. She Got Pregnant Quickly
When she and her new husband decided to make their marriage work, they had a baby right away. In 2019, about a year after their wedding, they welcomed daughter Olivia Nicole. Their marriage seemed stronger than ever, and they made the most adorable little family.
4. Her Pregnancy Was Traumatic
Toward the end of her pregnancy with her daughter, she was diagnosed with HELLP syndrome. Similar to pre-eclampsia in many aspects, it's terrifying to find out you have this situation going on while pregnant. It's dangerous, scary, and can cause serious complications during childbirth. The worst is the high risk of placental abruption, which causes the placenta to remove itself from the uterine wall prior to birth. Thankfully, her pregnancy had a happy ending.
5. They Just Had a Son
Three weeks early on December 16, 2020, this couple welcomed their first son. His name is Robert Elvin Dodd IV, and they are head over heels. Again, because of her HELLP syndrome, she faced complications. However, her doctors made the decision to induce her labor three weeks early to ensure that their son and his mother would be healthy and happy. It worked, and they are ecstatic.
6. She Grew Up in Washington
Danielle Bergman (Dodd) grew up in Washington State. She also spent a lot of her life traveling, and she loved it. She backpacked through Europe at one point, which is super cool. However, it was when she decided it was time to settle down that she chose Texas. Her future husband grew up in Dallas, and that is something fierce.
7. She's In Marriage for Good
What really worked out for Danielle and her husband is that they have a very precise concept of what marriage looks like. Their parents have both been married for decades, and they make their marriages work. One set more than 40 years, and the other around 35 years. They both knew that they were in their marriages for good, which means that they were not going to give up easily. It worked out well for them both.
8. Danielle Did not Meet Her Husband's Check List
Some people have a list of what they want in a partner, but sometimes you have to get rid of that list. What you think you need and what you actually need in a partner are not always one and the same. For Bobby Dodd, he was not entirely sure this was good because his wife didn't check nearly enough of his preconceived boxes. She was older than him; he wanted a younger wife. He wanted a wife to stay home and care for the kids, and she's more of an adventurous traveler. He wanted a wife who is open and honest about her feelings, she's more reserved and struggles with being open.
9. Her Husband Fit her Boxes
She knew what she wanted, and she wasn't afraid to say it. She wanted a husband who is open and honest, funny, laid-back, and someone who has a lot of motivation in life. She got exactly what she was looking for.
10. Her Husband Almost Didn't Marry Her
The age thing was a huge dealbreaker for Bobby Dodd, and the producers of MAFS said that he almost didn't get married that day because of it. He was 27 at the time, and his wife-to-be was 30. He was so adamant that he needed to be older than his wife that he almost walked away from it all. We imagine he's glad he did not.
Tell us what's wrong with this post? How could we improve it? :)
Let us improve this post!