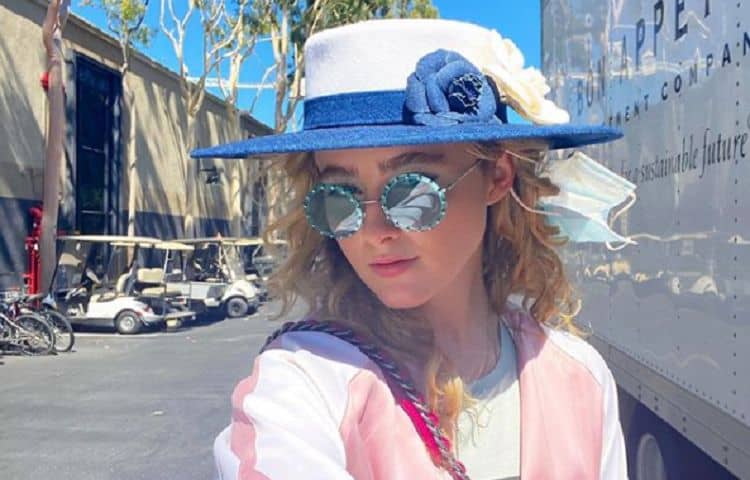 Kathryn Newton has been acting professionally for almost as long as she's been alive. She made her first on screen appearance in 2002 when she was just 4-years-old. Since then, Kathryn has managed to make a smooth transition from a child actor to an adult star. The last several years have been especially big for Kathryn and she's landed roles in successful shows like Supernatural, The Society, and Big Little Lies. No matter the role, she always steps up to the plate and she has proven that she has the versatility to play any kind of character. Kathryn has already gotten the chance to work with some of Hollywood's heaviest hitters, and she's well on her way to becoming one herself. Continue reading for 10 things you didn't know about Kathryn Newton.
1. She Loves To Play Golf
Acting may be Kathryn's first love, but she golf is definitely a close second. She loves to play golf and hits the course as often as she can. After graduating from high school, she even contemplated attended the University of South California and walking on to the golf team.
2. She Was In A Post Malone Video
Movies and TV shows aren't the only time Kathryn has gotten the chance to step in front of the camera and show off her acting skills. She's also a video vixen in her own right. Kathryn made an appearance in the video for Post Malone's 2019 single "Goodbyes" featuring Young Thug.
3. She Has Three Poodles
Karthyn is a self described poodle person. She is the proud mother to three poodles: Danforth Lady Bird Tiny Paris, Jack King Ruler of All Floof, and Buddy Hella Good Boy Gonna Need a Big Bank. Her dogs are her pride and joy and she brings them with her almost everywhere she goes.
4. She Wanted To Have A Normal High School Experience
Since Kathryn began her acting career at such a young age, there were a lot of things about her childhood that were very different from most other people. When the time came for her to go to high school, she decided she wanted to have a 'regular' experience and attend a local school instead of being homeschooled. However, despite being enrolled in school, she missed a lot of days due to her career.
5. She Did A Lot Of Her Own Stunts In Supernatural
Thanks to her role on Supernatural, Kathryn got the chance to do a lot of stunt work. She told Refinery 29, "When I signed onto the project, I had no idea that we would be doing any stunts. I trained for a couple weeks. That big action sequence took two weeks to film, and then we went to Scotland for two weeks and filmed [more]. It was a lot — I felt like I was on that show Wipe Out."
6. Her Family Is Her Support System
Working in Hollywood comes with a lot of perks, but it can also be a very stressful environment. We've all heard horror stories about actors whose careers quickly became unraveled due to poor choices and mismanagement. Kathryn has been blessed to have a strong support system thanks to her family. She has a great relationship with her parents and they have been there for her every step of the way.
7. She Loves Responding To Fans On Social Media
Kathryn has a huge social media following. She has more than a million followers on Instagram and more than 133,000 on Twitter. Even though she has such a large following that it's impossible to keep up with every comment and every tweet, she still makes it a point to respond to her fans when she can. It's not unusual to see her showing love to her fans through social media.
8. She Always Wanted To Be A Broadway Star
As a child, Kathryn loved to watch plays and hoped to make it to the big stage herself. She told Nylon, "I wanted to be a Broadway star. I'd go to see Gypsy every night, and I totally made best friends with her." Although she hasn't made it to Broadway yet, she may get the chance one day.
9. She Doesn't Think Of Acting As A Job
Some actors who begin their careers during childhood often find themselves feeling burned out by the time they're adults. That hasn't happened to Kathryn though. This is partly because she's never looked at acting as a job. Instead, it's something she simply enjoys doing.
10. She Loves To Travel
Kathryn's career has taken up a lot of her time over the years, but it's also come with a lot of perks as well. One of those perks is that it's given her the financial stability and the flexibility required to travel frequently. She has visited several cool cities over the years including London and Paris.
Tell us what's wrong with this post? How could we improve it? :)
Let us improve this post!