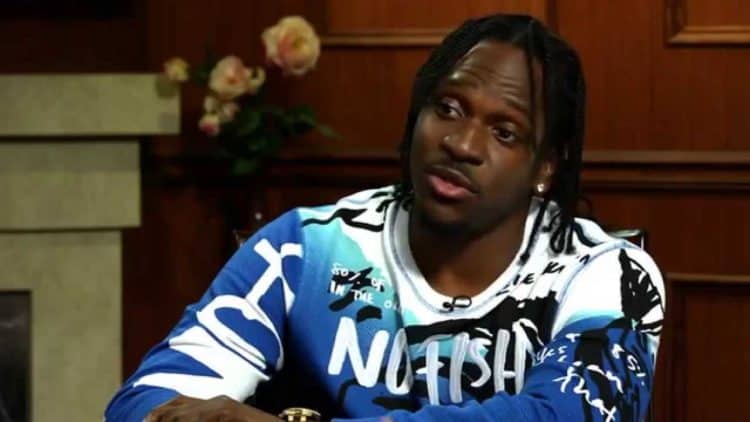 Pusha T is probably someone a lot of people should know, and a lot of people do in fact. But at the same time if you're not into rap music or don't keep up with it you might not have heard much about him despite the fact that he's feuded with a couple of big names and has been around for a while. That being said it could be that he seems to also be one of those that mires himself in controversy now and again and doesn't seem to step back so easily from it until there's no other choice but to step back and take a breath. Of course if asked his fans might tell people that it has more to do with the other people he's feuding with than his desire to say or do anything about it. But a fight usually takes the effort of two people and without that it's not much of a fight or a feud, but more of a disagreement between one person and another.
Here are a few things about Pusha T you might not have known.
10. He sold drugs when he was younger.
When he was still pretty young Pusha was out selling drugs to make money, but this only lasted as long as it took for him and his brother to get into the rap game. Plus they were thrown out of the house by their parents for doing this.
9. His rap career started in the early 90s.
When he has his brother relocated to Virginia Beach they started in on their career and eventually got something going. It might have taken a while to really get noticed as is usual, but they did their thing and kept going with it until someone finally picked them up.
8. He's been accused of stealing lyrics before.
The rapper Consequence has actually accused Pusha for stealing his lyrics and his flow. This kicked off a feud that lasted for a while and went back and forth with a number of diss tracks that didn't really go anywhere since neither rapper was really all that bothered about what was being said.
7. There's been a feud between him and Lil Wayne.
Apparently Lil Wayne felt that one of Pusha's songs was aimed at him and that's about all it took for the feud to really start since Wayne fired back and it went on like this until both sides claimed that they'd squashed it for good.
6. He's had issues with Drake too.
This is the most recent feud that Pusha's been in and it's been ongoing for a while though it's hard to say just how strong it is at this time if it's still all that serious. But for the past couple of years now they've been going back and forth with diss tracks that really only seem important to their dedicated fans.
5. So far he's been nominated for a few awards but hasn't won anything yet.
It would seem that he's been focused more on the feuds that have come his way than making any lasting effect in the rap game, which makes a person wonder why he's in the business if he's not trying to up his game and wants to spend more time trying to squabble with other rappers.
4. His net worth is around $15 million.
You can't deny that he's worth a good deal since the numbers don't lie and the fact is that he's likely made a few good decisions in his life that have been paying off. As a record executive he's likely more concerned with making money than making friends with every rapper that might have an issue with him. It's a hard business to contemplate at times.
3. He's got a hefty following on Instagram.
He's got a couple million followers on Instagram, but what's really interesting is that on Instagram his image seems to depict a man that's very cultured and quite comfortable in the place he's made for himself. It's hard to equate this person that's been feuding with others to the man that seems like he has firm control of his life and everything that affects it, but the pictures are a pretty good indication that he's doing quite well in life.
2. The daughter of the owner of the Milwaukee Bucks team actually trolled Drake by wearing a Pusha T shirt.
Apart from the fact that it was his likeness on the shirt she wore and the music that was being played in the stadium it was still enough to think that Drake might have reacted in a negative manner. But thankfully he was composed and took it well enough without any huge outcry.
1. He seems like kind of a confrontational person.
From a feuding standpoint this seems to be the case since it doesn't seem like he's ignored or failed to rise to a challenge when it comes to his music.
Sometimes you've got to shrug your shoulders and move on, and he seems capable of doing that much.