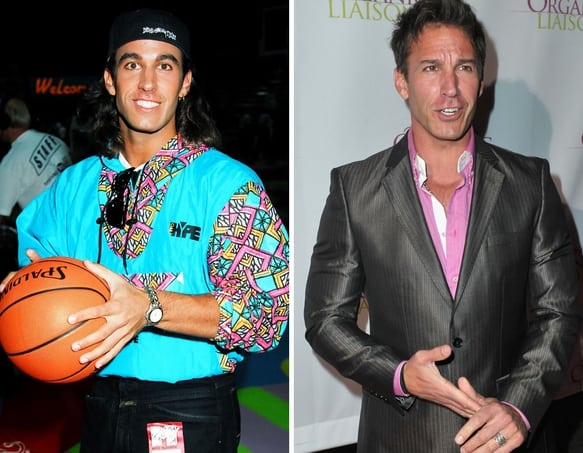 Dan Cortese is well known for his role as host of MTV sports and the "mimbo" in the popular television series "Seinfeld." He played the part of Tony, George's man'crush. He's made his mark as an actor with his most recent work as himself as host of "Guinness World Records Gone Wild" television series in 2013. He has a long line of credits in series including "Man Up," "Castle," "Surviving Suburbia," What I Like About You" and many others. Fans are wondering what he's been up to lately. Here's an update of where he is now.
He's separated from his wife
Dan Cortese (also known as Daniel James Cortese) Married Dee Dee Hemby in 1994 but the couple recently filed for divorce. The couple has two children together. Their Malibu home has been listed for sale for the asking price of $2,949.00. Although he technically is not yet officially single, it appears that this is the direction that his life is heading if nothing changes. Dan is not currently dating so there are no girlfriends in his life. He's in that awkward state of limbo that includes not with anybody but not really available to be either. He hasn't shared his feelings on the situation publicly so we're assuming that he values his privacy and is still working things out in his own head.
He's still in the business
Dan is still listed as being actively involved in acting, directing and being a spokesperson. He's been doing this since 1988 and has indicated no plans to stop any time soon. He was born on September 14, 1967 and is going to turn 50 this fall. In October of 2014, Cortese brought back his old role as Saturday Night Live's Stefon. Bill Hader was having a lot of fun with the pronunciation of his name. It has been four years since Dan has had a recurring role or spot on television. He's been busy taking care of matters in his personal life. Although a four year absence is a while, when you're in show business a great new offer can come at any time.
Cortese is active in social media
Dan regularly posts and remains active in social media. He's made more than six hundred Instagram posts. A glance at his Twitter account shows that he's still pretty popular with more than fifteen thousand followers. Dan has amassed a wonderful following and it must feel pretty great to know that so many fans are still interested in what he's up to these days.
He's doing well financially
Even though divorce may be pending, Dan is still doing well financially. He's worked hard to achieve success as an actor and he still has something to show for it. His net worth is estimated at $1.5 million in US dollars. He isn't in the mega rich category, but he is in a good position with regard to his holdings. Being out of work for four years can take a financial toll on anyone, but it appears that he's managing his affairs and staying afloat.