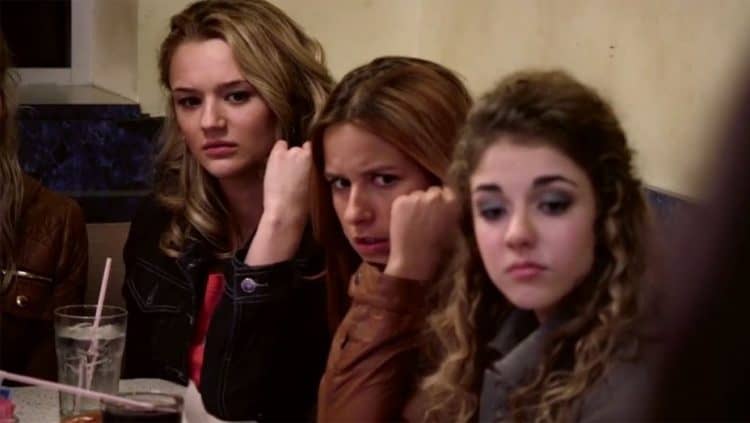 Bullying has been a serious concern when it comes to youth for a long time now, and in high school it's been seen as possible that bullying can lead to kids going so far as to commit suicide if it's so much as suggested. A Girl Like Her is a perfect case that shows just how far people can be pushed before they want to just end it all to avoid such a thing, even if the bully in question used to be a best friend. The worst part is that few people ever stick up for those being bullied, and those that do still say nothing out of respect for the wishes of their friend's. For the cast and the audience of this movie this is no doubt a poignant reminder of just how far bullying can go and what the end results can be should people decide to push the limits in such a manner.
Ever wonder what the cast members are up to now?
Stephanie Cotton – Margerete Burns
If Stephanie has kept busy after the film it's hard to tell since there's not a whole lot on her and her film credits don't seem to go past 2015. It's very possible that she's decided to remain low-key for her own reasons but perhaps we'll get to see her again soon if she decides to step back into the spotlight.
Jimmy Bennett – Brian Slater
Jimmy has actually had a rather long and successful career to this point since he's starred in movies like The Amityville Horror alongside Ryan Reynolds, and in Evan Almighty with Steve Carrell. He's continued to do movies and TV appearances since the film but to this point seem to have slowed down a bit with his career. It's not known at this point if he has any projects coming up since the last thing on his filmography is dated for 2017, but it's possible he's taking a break and will be back.
Amy Weber – Amy Gallagher
Some might say that she took a huge leap in tackling something like bullying in schools, but Amy's message was loud and clear and no doubt well-received. Filming this movie from a girl's perspective is quite interesting because there is a decided difference when it comes to bullying between girls and boys. The contrast that she showed in the movie was such that one couldn't help but wonder if a boy could withstand the psychological pressures that are inflicted upon young women, or if they would acknowledge them at all. There is a world of difference between boys and girls when it comes to how they react to bullying. To date though it's hard to know if Amy has done anything else, though it doesn't appear that way.
Lexi Ainsworth – Jessica Burns
As far as film goes Lexi hasn't been seen since 2015, but she has been prevalent on TV shows such as Teen Wolf, iZombie, Rizzoli & Isles, and Major Crimes. It could be that she's biding her time for another film role that could help her break out and become the big star she wants to be, or it could be that TV has become her niche and she's grown comfortable. Either way seems like it would work for the fans, who love watching her and think she's great.
Hunter King – Avery Keller
As the main antagonist she was one of the worst people in the movie since she was a bully that had not a single ounce of repentance in her at all. That was until she finally saw what she'd been doing to her former friend and couldn't take it any longer. Since the film she's been in a couple of short films and has gone back to TV. She's been a part of The Young and the Restless and another show as well.
The film didn't seem like a breakout chance for anyone involved but it was meaningful all the same. The problem of being bullied and getting bullies to admit what they're doing is one that has been very pervasive throughout American culture and has changed throughout generations. Back in the day it was more likely that a bully and their tormentor would throw hands with one another, if they were male, while young women would continue the tit for tat mentality that rarely if ever saw a favorable resolution. But as generations have come bullying has become far more intense as young people take to committing suicide to escape the emotional and psychological pain it causes them, seeing no other way out but to end it all. It could be said that it's the fault of the previous generations that wanted to change things and thus didn't prepare their children well enough to handle whatever life or their fellow humans throw at them, but it seems that there is much more to it than that.
Tell us what's wrong with this post? How could we improve it? :)
Let us improve this post!