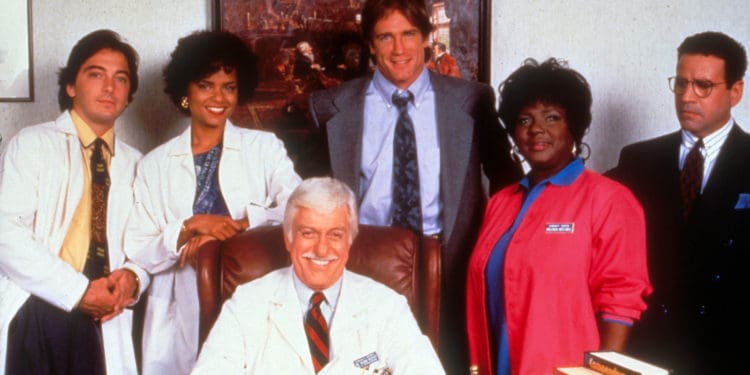 Diagnosis Murder was a show that you might not fully believe but did have its fun moments. The cast got to play the part of doctors and detectives at the same time as they worked closely with the police whenever it came to something shady coming through their hospital. While in real life it's customary and required at times for hospital staff to report anything and everything that's out of the norm for any case they handle it's also not entirely within their scope to play the role of detective. It does make for good TV however so it was well within the realm of reason when you look at it from a TV show perspective. Plus, it also gave people another reason to keep watch Dick Van Dyke, a man that's been part of show business for so long that not seeing him there would likely alert a few people that are used to his presence.
Here's what happened to most of the cast.
Delores Hall – Delores Mitchell
Delores really hasn't done much when it comes to TV or movies but the parts she has played have been pretty memorable since she's let it all out and made you stand up and realize she's there. She also had a part in the Christmas-themed movie, Scrooged, in which she plays the role of a volunteer at a local food bank. But this clip above was undoubtedly one of her better and funnier roles.
Scott Baio – Jack Stewart
Though his bio says he's still active when it comes to his career Scott Baio seems to have been hanging around the fringes for the last several years. A lot of people still remember him most fondly as Charles from Charles in Charge or Chachi from Happy Days, but he's done a lot since that time and in fact his role in Diagnosis Murder came well after his established fame from Charles in Charge.
Michael Tucci – Norman Briggs
Michael Tucci had a rather interesting career and was quite prominent in film and in TV for a while, but he decided to hang it up in 2015 and apart from a few photos here and there and a few appearances now and again he really hasn't been seen much. Some folks actually do decide to call it a career after a while so that they can have some peace and quiet and enjoy the lives they've built. And let's not forget he was in Grease!
Charlie Schlatter – Dr. Jesse Travis
Schlatter has actually had a very full career before and following the show as he's been prominent in TV and films and has been seen to be quite the prolific voice actor. He's one of those individuals that has more than just his good looks and acting talent going for him since he can switch over and voice a character as well as play one.
Victoria Rowell – Dr. Amanda Bentley
Victoria has had quite the career to be honest. She was in Dumb and Dumber if you can remember and she's been on a roll for quite a few years when it comes to getting acting jobs. Plus she's also won quite a few awards in her time as she's simply that great of an actress.
Barry Van Dyke – Lt. Det. Steve Sloan
Barry is still working to this day and has had a long run of success when it comes to his career. The one thing he seems to have done a lot of in his life is work with his father so one can assume that they get along pretty well considering how many times they've appeared on the screen together. Some people with famous parents tend to go their own way or avoid them but Barry has seemed to really get into working with his dad on multiple occasions.
Dick Van Dyke – Dr. Mark Sloan
Dick Van Dyke is an absolute legend without question. He's done so much in his life that trying to put it all into words would warrant another article simply about that subject. The guy has been going strong for so long that it's hard to imagine that he'll hang it up before the end. A lot of us can either remember growing up watching Van Dyke or enjoying the many reruns that would come on so often. He's been seen in films, TV, and has been a noted influence on many people within the business throughout the decades. In fact his is one of the names that many people think of when they contemplate just who's the funniest and most successful people around. The fact that he's still in the business and still doing what he does best is simply awesome.
The show was a bit unconventional in a way but it was still entertaining, and thankfully most of the cast members managed to find their way to other projects once the show was over.
Tell us what's wrong with this post? How could we improve it? :)
Let us improve this post!