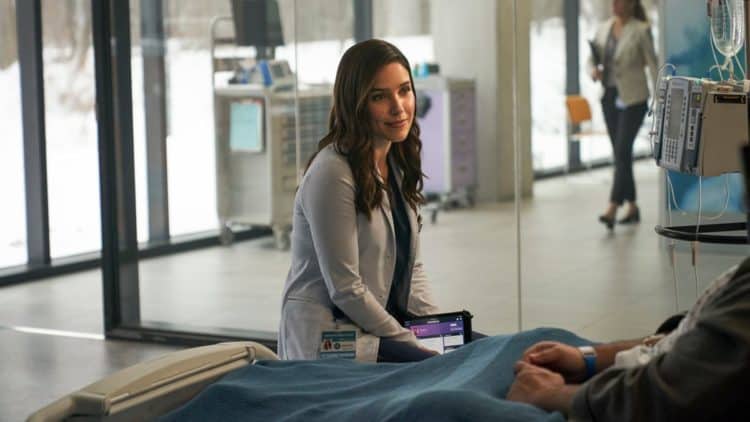 2022 may just be getting started, but it's already clear that this is going to be a great year for TV. The new NBC series Good Sam is a great example. The show stars Sophia Bush as doctor named Samantha Griffin who finds herself having to step up to the plate after her father — who is also her boss — falls into a coma. In his absence, she has takes on his role in the hospital but things get awkward when he recovers and returns to work. While it's no secret that there has been no shortage of medical dramas over the years, Good Sam offers a fresh new perspective. On top of that, the show features an awesome cast that viewers have already fallen in love with. Keep reading to learn more about the cast of Good Sam.
Sophia Bush
Sophia Bush is a California native who rose to fame in the early 2000s when she was cast as Brooke Davis in the popular series One Tree Hill. Not long after the show ended, she earned another major role as Erin Lindsay in Chicago P.D. While some people may have thought she was just another pretty face, Sophia has consistently shown that she has some serious acting chops. Outside of acting, Sophia has been engaged to Grant Hughes since 2020. She was previously married to her One Tree Hill castmate, Chad Michael Murray, for a short time.
Jason Isaacs
At this point in his carer, it's safe to say that Jason Isaacs is an acting legend. Interestingly enough, however, his original plan was to work in the legal field. Clearly, life had other plans. He currently has nearly 150 acting credits, and the list grows more and more each year. Jason has been a part of several very successful projects including the Harry Potter franchise in which he played Lucius Malfoy. Whether he's on the big screen or the small screen, Jason is the kind of actor who always knows how to put on a good show. On top of the work he's done in front of the camera, Jason is also a producer and his production credits include an episode of Good Sam. Jason has always been fairly private when it comes to his personal life, but we do know that he has been married to Emma Hewitt ​for more than 20 years and they have two children together.
Skye P. Marshall
Skype P. Marshall is a Chicago native who didn't always envision herself becoming an actress. But after serving time in the military, she decided it was time to pursue her dream of becoming a performer. Although she may not be as well known as some of her castmates, Skye has been working very hard and she has appeared in several shows including Chilling Adventures of Sabrina and Black Lightning. She has also done some work behind-the-scenes as a director.
Michael Stahl-David
Like Skype P. Marshall, Michael Stahl-David is also from the Chicago area. Despite having doctors for parents, he decided he wanted to take a more creative path. He made his on-screen debut in 2001. While it initially took his career some time to gain traction, he got a big break in 2007 when he was cast in The Black Donnellys. In addition to his on-screen work, Michael has also been part of several theater productions.
Omar Maskati
Omar's journey to becoming an actor definitely came with its twists and turns. After high school, he enrolled in The University of Pennsylvania where he earned a degree in engineering. During his time there, he also minored and theater and he ultimately decided to pursue acting after he graduated. While some people probably thought becoming an actor over an engineer was a risky decision, it's worked out very nicely for Omar.
Wendy Crewson
Originally from Canada, Wendy Crewson has been part of the American entertainment industry for many years. Her IMDB page shows that she currently has 145 acting credits and that includes a combination of movie and TV roles. Throughout her career, she has worked with some of the biggest names in the business, and she's always shown that she has what it takes to share the screen with anyone. Prior to Good Sam, Wendy was known for her roles in shows like When Hope Calls and Departure. On a personal note, Wendy is a proud mother of two. She was married to actor Michael Murphy from 1988 to 2009. Several years after their divorce, she publically came out as a lesbian.
Edwin Hodge
Edwin Hodge is only in his mid-30s, but he's already been acting for more than 20 years. He started his career in the mid-1990s, and he hasn't looked back since. Even though many of his early roles were on the smaller side, Edwin worked hard to earn more screen time. Many viewers will recognize him from shows like Mayans M.C. and Chicago Fire.
Davi Santos
Davi Santos may be younger than the rest of his castmates, but that doesn't mean he is lacking in experience. He is a formally trained actor who made his on-screen debut 10 years ago. His first major opportunity came in 2012 when he was cast in Mr. Box Office. That said, being cast in Good Sam is the first significant TV role he's had in a few years, and he's been knocking it out of the park. On top of his acting work, Davi is also a writer, director, and producer.
Tell us what's wrong with this post? How could we improve it? :)
Let us improve this post!