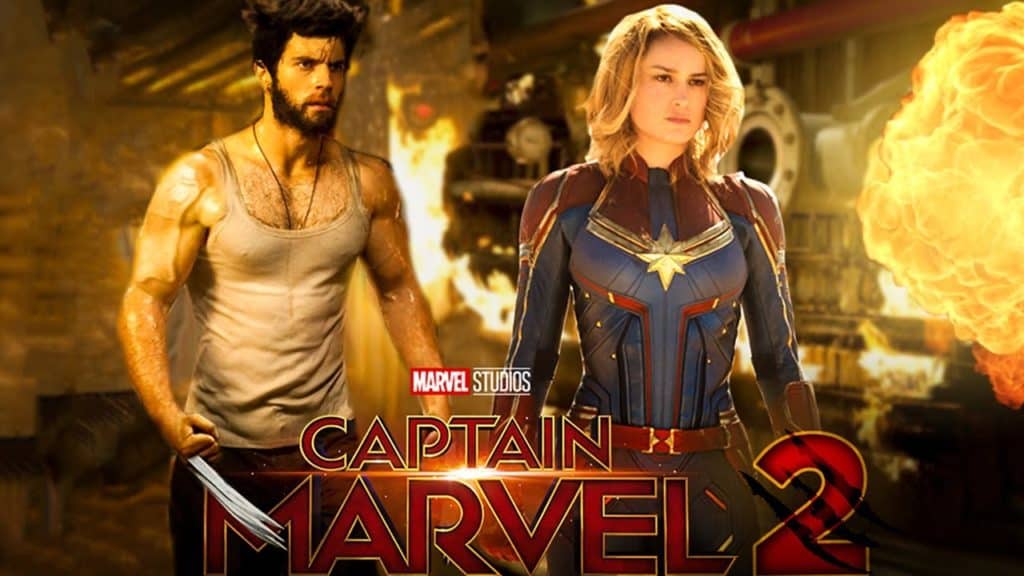 Thankfully this rumor is one that's been largely debunked according to Nicole Drum of Comic Book, and thankfully so since there are a slew of reasons why it shouldn't been considered even close to being real in the first place. Typically a lot of fans wouldn't think of Wolverine and Captain Marvel going together since the two really aren't on the same level. That's right, and this is coming from a Wolverine fan as well. The truth is that Captain Marvel would annihilate the fast-healing mutant, and it'd be impressive if Wolverine did much to CM simply because it's likely that she'd pull out the powers pretty quickly given that he's a more capable fighter and can't be broken as easily. Would he go quietly? Not likely, but Logan still couldn't really do much against Captain Marvel unless she was ready to hold still and let him dice her up. In the MCU though, this is a woman that's battered her way through entire spaceships, deck by deck, and taken a full-on headbutt from Thanos during the final fight of Endgame, so it's hard to see Logan being able to do much to her when she really gets going. Plus, the empowered attitude she's been given not just by the writers but by the performance of Brie Larson makes it pretty clear that any meeting between Logan and Carol might not end up as anything other than a serious argument and possible disaster.
On top of all that however the issue with Cavill, well there are a few of them really, is that he's just not the right guy for the role, plain and simple. To delve further into that however it's easy to see that his acting really doesn't fit with the character, and the fact that he stands 6'1″ is another point of irritation over how Hollywood is treating this character since Logan is one of the shortest heroes around and doesn't even come close to 6′ tall. Someone that's at least several inches shorter would be a great deal better, such as Zac Efron or even Tom Hardy would be great choices since both of them could possibly take on the role and make it work. Plus, the fact that Cavill has been seen as Superman in the recent past might be enough to turn some people off to the idea if only because it would remind Marvel fans that he's been working for the other side for a while. Of course that would open up a whole line about hypocrisy since there are a few other people that have worked both sides, DC and Marvel, throughout the years. It's a job really, but it's not one that Cavill is really suited to play when it comes to this particular character.
In a big way Paul Tassi of Forbes is more accurate in his words than whatever source that was used to begin this rumor in the first place since it does kind of feel that someone was trying to stir the pot and get people riled up. That's kind of the name of the game in this particular matter since without people talking, without people tossing barbs back and forth, the whole DC/Marvel rivalry tends to cool down as people begin to find that they really don't care who's better or who came out with this or that first. When people discover that they can enjoy both and not worry over the particulars or why one might be superior to the other due to this or that, there's less controversy, and that's not what makes good media after all. Personally I don't think that Cavill would be a great Wolverine if only because he doesn't appear to have the ability, but it could be that Hugh Jackman has raised that particular bar so high that very few people are going to be able to reach it once again. Tom Hardy would get my vote since he's one of the actors that's gone from acting in a DC movie to a Marvel movie, and can obviously make the switch without any real problem.
That's not to say that Cavill couldn't play ANY Marvel character, as there might be a few that he'd be suited for, such as Gladiator or perhaps Hyperion or some other hero that's a bit full of himself. It's not a shot at Cavill believe it or not, but having played Superman it wouldn't be too much of a stretch to see him take on the role of another super-powered individual. As of now though, the fact that this rumor even came along is indicative that someone had a mind to mess with the fans and try to start something that was unfounded and not all the sensible. One has to wonder just what the next rumor is going to be based on.