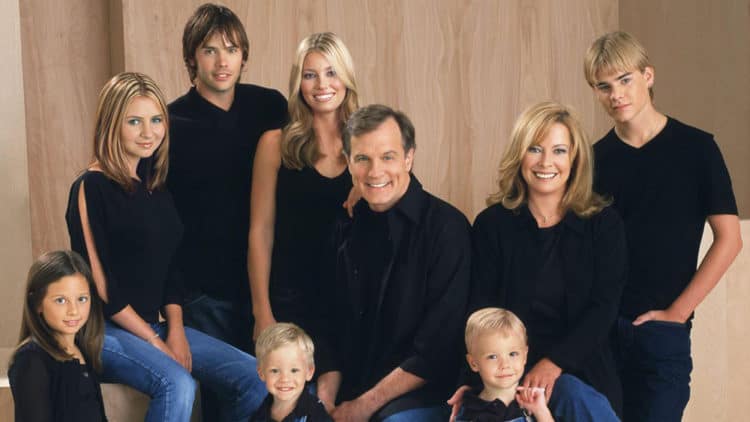 7th Heaven was one of those shows that you watched if you wanted real family drama and a feelgood kind of show that would leave you all warm and toasty inside when they did manage to solve each others problems and come to a clear resolution at the end of the show. For those that enjoyed drama and a show that wasn't all about thrills and chills and controversy this was the perfect match. It had a pretty good run too since it lasted just a year shy of a decade, when all the young actors were grown or almost grown and the parents were ready to move on. It was the kind of show that you could follow pretty easily since it didn't try to confuse you and really stuck with its fans, trying to please them as much as it could.
So here's what happened to the cast after the show went off the air.
Barry Watson – Matt Camden
Barry hasn't been idle during the show or after it. In fact he even had a cameo in the film Ocean's Eleven when it came out as one of the stars that was learning how to play poker in one of the opening sequences. Since then however he's been doing most TV movies and shows, finding what he can and taking on regular roles here and there to continue his career.
Catherine Hicks – Annie Camden
Catherine has had a long and very notable career before and after the show. She was after all one of the original actors from the Child's Play movie that started Chucky's long reign of terror in film. She has been focused mostly on TV movies and appearances it would seem as she took a healthy break from films stretching from 1997 to 2009. She's still acting to this day and still has plenty to offer as she's just as good of an actress now as she was back in the day.
Mackenzie Rosman – Ruthie Camden
Mackenzie seems as though she might be uncertain of her place in Hollywood or else isn't really so into it that she feels the need to stay busy as she's been seen to take a couple of years off in-between projects now and again. Perhaps she's trying to find her place or maybe it's something she does when she's not busy doing other things. For some people show business is a full-time gig, for others it's something they can do when they feel the need to get paid.
Beverley Mitchell – Lucy Camden
She hasn't been seen in the movies for a few years but she's been a steady presence on TV. Beverley was also featured in Saw II as well, further cementing her legacy in film. In TV she's kept fairly busy with a few gaps in between that could indicate that she was exploring other options.
Jessica Biel – Mary Camden
At one time Jessica Biel seemed prime and ready to become a breakout star and a big hit in the movies. Her face was plastered across as many films as she could get and she was being hyped up to be the new 'it' actress that could do just about anything. And then something happened and her career kind of flopped. She's had plenty of opportunities to get it back and it could be that she still has that opportunity, but it remains to be seen. She's been steadily making a comeback with TV and film roles, but so far even though she's been noticed it's almost as though her spark is being ignored. That's too bad however since it seems like she has a lot more to offer.
Stephen Collins – Rev. Eric Camden
Stephen has a long list of credits to his name that go back as far as the 70s, and he's been in some very big, influential productions throughout his career. 7th Heaven is likely the one that he'll be remembered for by most, but unfortunately he'll be remembered for his indecent exposure that he admitted to that happened on three different occasions. He apparently exposed himself to underage girls and would later on go on to apologize, in one case he did this in person. His explanation for this however is that when he was younger an older woman did this to him on separate occasions and somehow this made it click in his mind that it was how things were done. Considering that the span of time that this happened to him was between age 10 and 15 though that explanation doesn't seem to hold a lot of water.
So all but one of the cast are still acting and still trying to make their name go down in history in one way or another. The show was something special when it was on, but once it was off a few people kept talking about it.
Tell us what's wrong with this post? How could we improve it? :)
Let us improve this post!