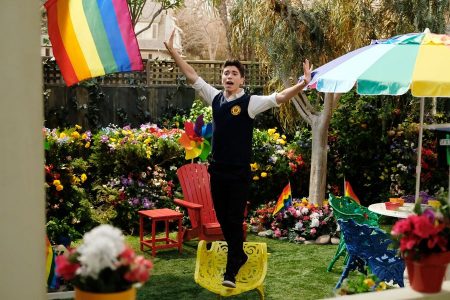 Possibly one of the gayest episodes to date, The Real O'Neals opens with a Broadway musical number comprised of singing, twirling, skipping, umbrella tossing, bird animation and witty narration as a display of Kenny's happiness for finally becoming an official boyfriend to Brett. However, after all is sung and done he's left with one dooming reality–how to tell his mother!
Before the episode, The Real O'Neals took to social media for a #TheRealReason campaign to encourage viewers to share the real reason they laugh, relate and enjoy the show. Many supplied tales and antics to why The Real O'Neals was one of their favorite shows. These accounts confirm that the over the top humor and outlandish scenarios in the series can actually address very real family issues. And that couldn't be more apparent in last night's episode "The Real Acceptance."
An original song and professional choreography, the musical sequence was enjoyable, but the best moment came when Eileen deflates the Broadway run with her, "Hey Ginger Rogers, get in here and help me with the dishes." Just when we are starting to feel entranced by the magic of love, Eileen delivers a reality check. Her aggressive and dominate personality can always be counted on to contrast the silly happenings of each episode which is why the show remains balanced throughout the storyline.
Meanwhile, Jimmy informs his parents that he scored above 1000 on his SATs and, therefore, they must uphold their agreement and buy him a car. Naturally, he has that agreement recorded on his phone since no one ever thought that achievement was possible. Maybe Jimmy isn't as dumb as he acts? Regardless, his comedic timing is genius.
At the same time, Kenny is perplexed on how to let his mom know he has a boyfriend so he decides to turn to Pat, the "cool" parent, to help soften the blow. Pat's gentle personality puts him the position to deal with Kenny's new relationship status while Eileen's hard-hitting approach lands her car shopping with Jimmy. A role reversal of sorts.
Pat meets with Brett at the gay coffee house to get to know his son's new boyfriend and have the "what are your intentions with my son" chat. Unexpectedly, the two get off on the wrong foot and Kenny has no choice but to try again. He chooses an Escape Room hoping the game will encourage them to bond, but Kenny learns that Pat doesn't like Brett after a power struggle of who is better at figuring out the clues. Plus he just says it.
A #TheRealReason moment for watching this episode is watching a father be a good father to his son. Meaning, a dad should always want what's best for his son and being gay shouldn't matter. Pat shows his fatherly nature and that's a real reason the show can get away with so much.
Out shopping for cars, Jimmy and Eileen can't find one that fulfills Eileen's list of requirements. Yes, there's an actual list. Frustrated, Jimmy tells his mom their deal is rigged while she claims it isn't and leaves him with all the cash for the car to prove her trust. Determined to find the right car, Jimmy leaves for the back alley behind the dollar store to meet "Ranger" who he met off Craigslist for a Taurus.
The moment of real acceptance for Pat comes when Shannon's quasi-boy suitor returns some homework to the O'Neal house in a very polite manner. VP Murray (oh yea, he's been with Pat the whole time) points out the protective and even mean behavior Pat shows anyone who wants to date his children. Excited at the revelation, he tells Kenny that he's just being a dad and actually will get to know Brett.
Eileen also learns to accept Jimmy is growing up after "Ranger" is a legit man selling his car near his warehouse going away party next to the back alley. When they return home, VP Murray spills the beans in a diarrhea of the mouth to his girlfriend Eileen that Kenny has a boyfriend.
As a mother, Eileen confessed she already knew. Kenny didn't want her to find out this way, but Eileen accepts that reality that she must find acceptance with her family's real situation if she wants to stay a part of their lives. A #TheRealReason we can all learn from.
What is your #TheRealReason? Leave your comments.
(Photo: ABC/John Fleenor)
ABC's The Real O'Neals Tuesdays 9:30/8:30C.