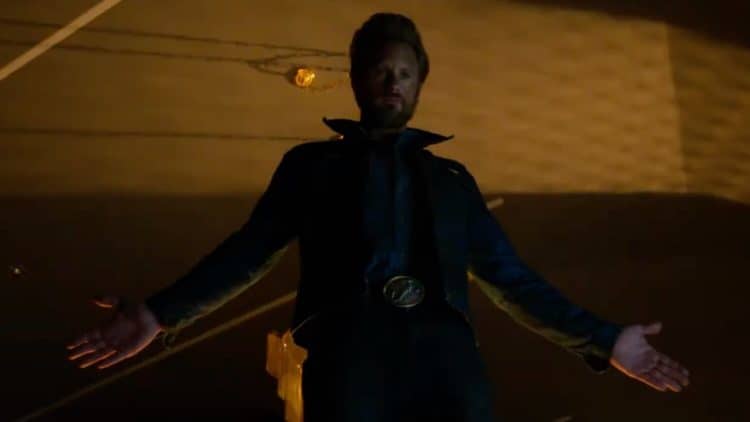 Things are staying mostly the same for The Stand miniseries coming to CBS All Access, but there are bound to be some changes since one of the main characters it would appear, Larry Underwood, will be played by Jovan Adepo, meaning that we'll be seeing another swap since in the book Larry was white, but Jovan is obviously a black man. That's going to be an interesting switch considering how Stephen King wrote Larry in but considering that Jovan is already a proven actor and someone that knows how to fill a role, it could be a wise choice. Alexander Skarsgard is already looking like a creepy but effective version of Randall Flagg, and even Whoopi Goldberg looks like she might nail the role of Mother Abigail fairly well. With James Marsden as the uncertain protagonist, Stu Redman, things are already getting off to a start that might be kind of fun to watch, especially with public opinion about Amber Heard, who will be playing the part of Nadine Cross, one of the characters that a lot of people found least appealing in the original miniseries. So far from the trailer, it looks like about what people might expect since if anyone happens to think that this current pandemic that the world has been suffering through is bad, then the fictional pandemic that King wrote about so long ago is beyond comprehension since what started out as a common flu bug in the story ended up becoming a manmade killer that decimated the world population and bringing about a new era where good and evil had to pool their resources and see who had what before finally coming together for one final battle.
The thing about it though is that in The Stand both the forces of good and evil weren't so clear-cut since Flagg's forces truly believed that they were working for the betterment of their own people and were doing the right thing, though so did Mother Abigail's. In this day and age, some people would think that Abigail made sense as she was tasked with gathering people to her to serve a higher purpose. Others might think that Flagg, flawed as he was and prone to anger as he was, still had the upper hand since he did his best to instill in his people the desire to make something better and create a system that was designed to serve another purpose. Painting Flagg as the bad guy wasn't hard since he tends to use tricks and his natural charm to get people to do what he wants, but he tends to exact a heavy price when his desires and needs aren't met. Abigail on the other hand was meant as more of a symbol, a guiding light for people to gather around but not necessarily follow as a messiah. At one point in the story, Abigail actually realized that she'd allowed people to treat her differently as they'd come to see her as a savior and placed her on a pedestal, and she did what she could to reject it while keeping the community together. Flagg was all about control, where Abigail was about experiencing freedom in service to a higher calling and to each other. It works out in a way, but many people will still have their own opinion about it.
But thanks to the fact that we're living in an era where technology can bolster just about anything, it's already apparent that the effects are going to be miles above what the original miniseries managed to do. It would be nice to see at least a couple of mentions or cameos from those that starred in the original miniseries, as Gary Sinise, Molly Ringwald, Rob Lowe, Bill Fagerbakke, Jamey Sheridan, Laura San Giacomo, and many others made the miniseries easy to watch. Obviously some of them have passed on, such as Ruby Dee, who played Mother Abigail, and Ray Walston, who played Glen Bateman, but some mention of them or even a cameo of others would be great if that was somehow worked in there, just as a sign of respect for those that did it first and were actually pretty good at it. To say that the original miniseries wasn't any good would be extremely disingenuous since the first one did what it could in order to bring the story to life. There were definitely deviations from the book, and it's likely that it will happen in this version as well. It's already been revealed that Stephen King will be writing an ending that isn't seen in the original novel, which could be interesting to see since the book ending kind of threw people for a loop, as some of King's endings tend to do. But come December it's likely that many people will be ready and willing to watch this miniseries to see what might come of it.