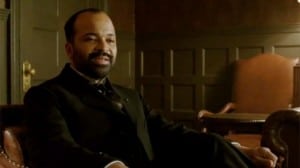 Boardwalk Empire's quality can in many ways be conveyed through the decision to keep Michael Shannon on the show. His character, agent Van Alden, had a storyline that was central to the plot in the shows first two seasons, but was very loosely connected for the third. The show could have easily gotten rid of him and either brought in a new character or spent time on an already present one. It's in this decision that we can see the faults that keeps Boardwalk Empire from becoming an elite show. Instead of seeing that a character has run its course and deciding to let them go, they feel the need to shoehorn them into a story that slowly connects to an important one. They do this not because it creates the most compelling narrative, but because Michael Shannon is an amazing actor and because 'hey, it's hard to create interesting characters.' This inherent desire by the writers to keep all of its characters while constantly adding new ones isn't a flaw in and of itself, but when not handled deftly it can lead to more exposition and less poignant character moments. Being the show runner of a TV show is kind of like juggling, and in the case of Boardwalk Empire, I feel as if creator Terrence Winter has thrown too many balls in the air.
All of that is not to say this show isn't a blast to watch, but it's one of the main reasons I don't find it quiet in the same league as many of the great shows that we've been lucky enough to have broadcasting through our TV's lately (Who watches TV shows on TV anymore?). The reason I thought of Van Alden is because he was featured for the very first time this season in "Resignation." This was a building block episode of Boardwalk that I feel did a very good job of doing what it had to do: building an interesting and compelling antagonist to Nucky Thompson. I was a big fan of Gyp Rosetti (and Bobby Cannavale's incredible performance), the big bad of season 3 who used strength in force to systemically take down Thompson. For season 4, were introduced to Dr. Valentin Narcisse (played by the always welcome Jeffrey Wright), a Trinidad-born man who feels like the brain to Gyp's brawn. It's not certain that he will be the season's main antagonist, but judging from his performance in "Resignation" I wouldn't be disappointed in the slightest to find out he will be.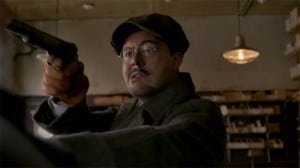 Everyone's favorite assassin Richard Harrow had some good character moments while visiting his sister, Emma. We learn he's been hired by a man named Carl Billings to take out some of his partners, but he can't kill the partner in this episode. We later see that Harrow can't even mercy kill a dog, a sign that he finally wants to be done with what he has become. In Cicero, Van Alden is told by O'Banion to infiltrate Capone's men and spy on him. Capone recognizes Van Alden and makes him reveal O'Banion's plan. Van Alden joins Capone in beating a bunch of people at a democratic rally, so you know, fun times. The rally scene was fairly funny, but it didn't jive well with the mood in Atlantic City. I love Capone and Stephen Graham is great at playing him, but his scenes this season feel a little out of place and even at times extraneous to the main plot. Another storyline that doesn't feel extraneous in any way is Agent Knox's, the prohibition enforcer who knows how to lie like the best of them. We find out he's working for none other than J. Edgar Hoover himself, a reveal that I didn't see it coming and am very intrigued to see how they'll try to attack Nucky.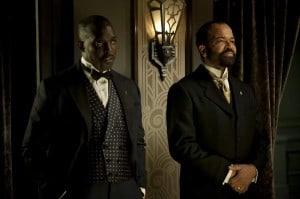 The reason for "Resignation's" title was the fact that Eddie Kessler, Nucky's manservant, doesn't feel like Nucky's giving him the respect he deserves. I've enjoyed many of the comedic scenes between Eddie and Nucky, but I've always thought the show missed an opportunity to mine a very compelling relationship between the two. The show doesn't need to spend a whole season on it, but I feel like "Boardwalk" can sometimes feel hollow and if this relationship was properly explored it could have brought some heart into a show that sometimes could use it. The main thrust of "Resignation" belonged to Dr. Narcisse though, as he quickly showed how powerful he was by making Chalky's performers stop working just on his orders. He then gets Chalky (which means Nucky) to pay him 10% of the earnings for the Onyx Club. His conversation with Nucky had real weight to it by the end of the episode, as we saw not only how cunning he is at business deals but also how cold-blooded he can be as he lets his henchman strangle Dickie Pastor's wife. "Only kings understand each other" indeed.
"Resignation" = B-
Novel Notices
– Harrow couldn't get enough of "The Chessman of Mars," which is the fifth book of Edgar Rice Burroughs Barsoom series, or in layman's terms: a John Carter book. Emma couldn't get pass the first ten pages, if only Disney had the same good fortune with the script. (Just kidding, I actually enjoyed John Carter quite alot).
– Seeing the close-up of Michael Shannon's face in the first frame of "Resignation" reminds me of how similar he looks to Boris Karloff. I really hope he plays a character in a horror film sometime in the near future.
– No Gillian today, which means no strange love scene which also means were all a little disappointed inside.
– Is it just my internet service, or is HBO Go particularly terrible. I have no problem with any other streaming sites, just HBO GO.
Sound off in the comments below