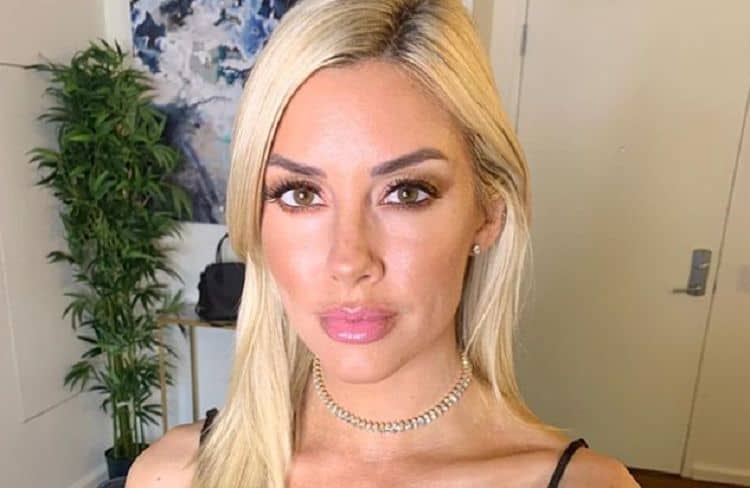 It was the Fourth of July 2019 in Newport Beach, California, when newly minted reality television star Heather Rae Young met major reality star Tarek El Moussa. It may have even been love at first sight, which we cannot confirm, but we can confirm that it took only a month for the two reality stars to make their new relationship Instagram official. From there, it's been a whirlwind of romance. Lavish, romantic dates, travel, and a beautiful engagement led to a gorgeous Orange County wedding attended by everyone – almost – from Heather's Selling Sunset show, as well as other famous guests. The entire thing was romance from the start, and nothing seems to have changed in three years…except for one thing. Heather remained adamant from day one that she was not interested in having children of her own. The reality star made it very clear that being a bonus mom to her husband's children with his ex-wife Christina Hall, but she didn't have any desire to have children of her own. Fast forward three years to July 2022 when the happy couple announced they are expecting a baby together. What changed in their relationship to make Heather Rae El Moussa decide to get pregnant?
Their Relationship Timeline
According to Tarek El Moussa, "The first time I saw her smile, she 'did that thing to my tummy' and I knew right away I needed to get to know her," and he wasn't wrong. They'd been together only two months when Heather turned 32 in September of 2019, and they were serious enough that he gifted her a Ferrari convertible. By the time the new year arrived, they were living together. They resided primarily in Orange County, but they also had a place in West Hollywood to use a few nights a week. Remember, Heather works for the Oppenheim Group in LA, and Tarek's real estate business is in Orange County. While the distance is not far, the traffic makes it a nightmare. A year after they met, they were engaged. They spent the next 15 months planning their perfect wedding, and it was everything they dreamed it would be and more. On October 23, 2021, just outside of Santa Barbara, these two exchanged their vows in front of their friends, family, coworkers, and both of El Moussa's children. Their wedding was highly publicized, and the world could not get enough of the elegant photos, the beautiful gowns worn by Heather, and the smiles on the happy couple's faces.
Being a Bonus Mom Was Enough…Until it Wasn't
For Heather Rae Young, being a bonus mother to her stepchildren was all she wanted. She clearly adores them, is frequently out and about with them, and has maintained a healthy co-parenting relationship with her husband's ex-wife. Despite having a few differences, it's clear that these three are good about putting the children first and their own personal feelings last. However, the more time went on after her wedding, the more she realized she loves being a family. "When we first started dating three years ago, we went into our relationship not planning on having children together. I really love being a bonus mom to Taylor and Brayden. They're such incredible kids and I love them so much. But as your love grows more and more and you fall deeper in love with someone and you build this life together, I started picturing myself having a child with Tarek. I started thinking I just wanted to create something with the man that I'm in love with," Heather said. The couple announced in the months following their wedding that they were beginning the IVF process. The brand new Mrs. El Moussa began documenting her journey of freezing her embryos to eventually go on to have a baby. However, it came as a huge shock for the stars to find out that she was pregnant on her own. The couple was in the midst of IVF when she took an at-home pregnancy test and found out she is currently due to have a baby at the beginning of the new year.
What Changed with Heather?
It wasn't a single moment. It wasn't an overnight decision. It didn't happen right away. It was just something she sort of came to the realization she wanted over time. There was no epiphany or big moment for the two. "We're raising two kids. I'm already a mommy. So I'm like, well, why not have just one more?" she admitted. Now the couple is pregnant with their first baby together, the third for Tarek, and they are over the moon. When she first shared her positive pregnancy tests with her husband, he assumed she had COVID and had taken some home tests. Imagine his happy surprise to find out that his wife was not only perfectly healthy but also expecting their first child. It was a huge shock to both being that they were in the midst of IVF, but sometimes that's how the story ends. Congratulations to the new parents-to-be, and to the children who are likely very excited to welcome a new baby brother or sister.