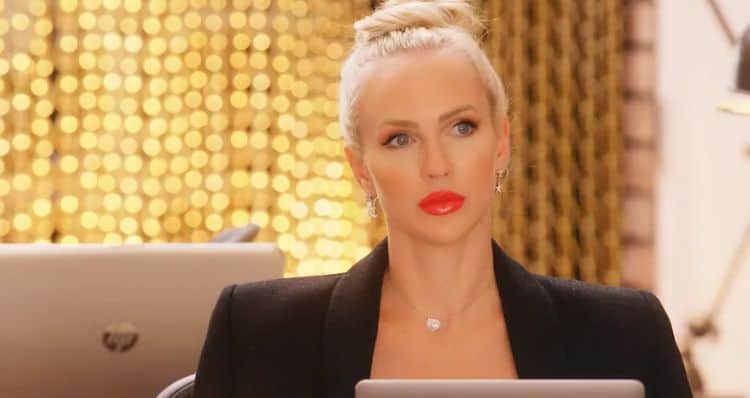 Hit reality television shows usually have an antagonist that we all love to hate. The pot stirrer who likes to wreak havoc in people's lives. The hit Netflix reality show, Selling Sunset, has found one in the person of Christine Quinn. The real estate agent is one of the top brokers of the Oppenheim Group, and is notoriously famous for her straightforward attitude, which often times lead to intense confrontation scenes, and even catfights. We have witnessed all kinds of drama in the past 4 seasons of Selling Sunset, and with the way things are going, it seems as if the best is still yet to come. Season 5 teases of an even more explosive storyline paired with some surprise pairings. We've seen Christine play the victim card in season 4 after most of her colleagues have had enough of her. Let's see if she goes on the path of revenge or redemption moving forward. Here are five times wherein Christine's traits proved that she was a toxic person in the series
5. Character assassination
The first season of the reality show was seemingly off to a good start. Chrishell Stause was just introduced as the new realtor in the office, and the more experienced girls were ready to help her get started, including Christine. The turning point happened when Chrishell innocently asked about the financial situation of her colleague and that time, Christine's best friend, Mary Fitzgerald and her fiancé, Romain Bonnet. Christine immediately jumped into conclusions and interpreted this with malice. She soon acted out like the defensive best friend who was ready to start a fight. By the season 1 finale, she has already put Christine in a bad light. It did not help that she has also outrightly called her a slew of names, which ranged from "two-faced", "shady", and even a "crazy person". This was the beginning of Chrishell and Christine's ongoing feud, and only showed how Christine could try to ruin the reputation of a person she disliked through character assassination.
4. Bullying
The drama was far from over. Christine and Chrishell may have tried to be civil during the start of season 2, but this did not last long. The tension could be felt from a mile away, and a truce was becoming more and more unlikely. By season 3, shots were fired and lines were drawn. Chrishell was going through a rough patch after she got blindsided by her divorce from actor, Justin Hartley (This Is Us), and Christine was far from sympathetic. She added more fuel to the already ongoing fire by speculating about the split, and even coming up with seemingly false accusations, which Chrishell did not take lightly. Christine acted insensitive and heartless, as she tried to knock Chrishell further down during her lowest point.
3. Straight-up lying
It's true when they say that there are two sides to every story, but with the caveat – your side, their side, and the truth. In season 4, we witnessed Christine caught in a web of lies after she exaggerates her relationship timeline with the ex-boyfriend whom she and colleague-slash-new archnemesis, Emma Hernan, both dated. Christine was adamant in saying that Emma's relationship with the said ex-boyfriend overlapped with hers. Her revelation that she was already engaged before he cheated on her with Emma was also quickly disputed by Emma and Mary who Christine was living with at that time. She was finally caught red-handed when she said that she told nobody except her colleague, Davina Potratz about the engagement, but when they asked Davina about it, she revealed that she did not even know Christine yet during that time. There was no way out anymore, and all Christine could do was lash out on Davina for not supporting her claims.
2. Gas lighting
We witnessed the end of Christine and Mary's friendship as the series progressed. They were one partners in crime both professionally and personally, but unfortunately their bond was not as strong as they thought it was. Mary's growing closeness with Chrishell in the earlier seasons made her and Christine drift farther apart until they were basically strangers by season 4. Mary tried to reach out and mend their relationship one too many times, but only felt disappointed when Christine was not reciprocating the effort. She eventually grew sick and tired of always making the first move, and just let things run its course. When the two former friends had a confrontation in season 4, Christine was obviously gas lighting Mary when she tried to twist the narrative of the story and make it seem like it was Mary's lack of effort and initiative that ultimately contributed to the end of their friendship.
1. Victim mentality
When Christine realized that she formed more foes than friends in the office, she quickly drew the victim card and tried to gain sympathy from her diminishing number of allies. She accused the other girls of being ruthless and mean, and acted as if she were the pitiful victim who everyone was ganging up on. Christine instigated a lot of drama in the series, it was only a matter of time before she fell into her own trap, and got a taste of her own medicine. Here's to hoping that the eventful season 4 finale serves as a wake-up call and divine intervention for Christine to have a change of heart.
Tell us what's wrong with this post? How could we improve it? :)
Let us improve this post!