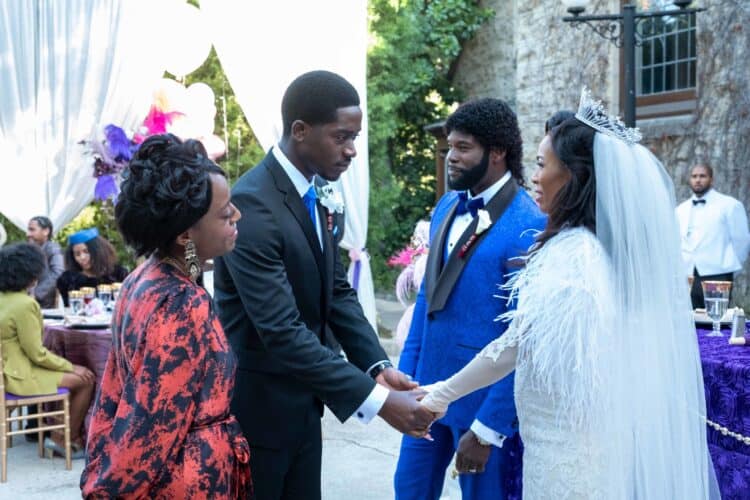 Franklin gave Leon one chance to resolve matters amicably with Kane in Snowfall Season 5, Episode 7. Franklin vowed to kill his former OG if things couldn't be handled peacefully. Louie hired the dirty cop that worked for them to kill Kane during a phony arrest. After discovering that his friendship with Peaches was a scam, Jerome realized that he had unresolved trauma and that it was time to focus on himself. The tension between Teddy and Franklin thickened when the former CIA agent found that the attack that left him badly wounded was due to Franklin's bodyguard's betrayal.
In Snowfall Season 5, Episode 8, the women exert their power and influence, challenging mainstream notions that crack cocaine of the eighties was only run by men. In the opening scene, she meets with Teddy behind Franklin's back in an abandoned warehouse. Louie wants to deal directly with Teddy for the cocaine shipments, cutting Franklin out as the middleman. She's quickly positioning herself as a major power player, and rightly so because if memory serves us a right, Louie played a big part in helping Franklin build his empire.
Teddy isn't trustworthy; Oso's face says exactly when Louie mentions that she knows he has also been supplying their biggest competition; the Columbians. Unfortunately, Louie doesn't realize that the decisions she has been making are putting her and Jermone in the direct line of danger. In episode 6, Veronique's rose-colored glasses shattered, allowing her to come to terms with the true nature of Franklin's "career." Raising a baby with a drug dealer was dangerous, and she couldn't risk it. But she made one more attempt to save her family by meeting up with Kane at a restaurant to make sure the beef between him and Franklin is squashed. Kane gives her the assurance she was seeking, but can he really be trusted?
Cissy meets up with Ruben again to strategize on the plan to kill Teddy. For the third or fourth time, he reminds Cissy that Franklin is the key to exacting revenge on her enemies. But Cissy isn't willing to expose Franklin in the process. She does inform him about Louie and Jerome's upcoming wedding, which is supposed to be an intimate celebration with only their closest families and friends. Jerome and Louie's unwavering love and loyalty to each other is a beautiful testament to black love. After proposing to Louie in the previous episode, Jerome wasted no time making things official. The couple's intimate wedding was beautiful; they even invited Skully to celebrate their nuptials as a good gesture. Mixing business and pleasure backfires when Skully spikes the chocolate fountain with LSD. Needless to say, everyone at the wedding was high as a kite, except for Wanda, thanks to the fact that she was allergic to chocolate, and Veronique, who left early to rest.
Franklin has the most adverse reaction to the drug, as he's finally forced to relinquish control and face the man in the mirror. Confused, Franklin stumbles inside the house and completely loses it. The hallucinations take over, and Rob's ghost instantly greets him. Rob didn't deserve to die; Franklin could have helped him get clean; it's the least he could do for his old friend since he had always been loyal. As much as Franklin likes to believe that his father got himself killed by outing the CIA, Rob clarifies that it's Franklin's fault. Rob pulls a gun out and shoots Franklin. For Franklin, the gunshot wound feels so real that he starts to hyperventilate while taunted by a younger version of himself. Cissy, always in mama bear mode, was also fighting the effects of the drug, but she immediately came to Franklin's aid to calm him down and bring him back down to reality. But once Cissy gets Franklin up and talking, she's quickly hit with a moment of clarity and the hallucinogenic gives her the courage to unleash the anger and resentment she has been feeling for her only son.
Franklin watches the light leave his mother's eyes, and the judgment in her gaze shames him. "I got a son that puts white people above their father and money before God. Everything you do, you do for yourself. That's not what your mother taught you; where did that come from?" Cissy's words pierce Franklin deeply, yet he responds in anger, and she leaves the room nearly in tears. Franklin's next hallucination with Veronique is profound as it forces him to face the harsh truth of his family's future. Veronique reminds Franklin that he can't be a "gangster and a family man." Eventually, he's going to have to make a huge sacrifice. Veronique strikes a chord when she tells Franklin that he will have to kill those closest to him because he drives them to betray him to survive. In the end, Franklin calls Teddy while high with a pretty realistic premonition considering the tension in their relationship. He tells the former CIA agent that he knows that he will eventually have to kill him, but he vows to kill Teddy first.
Eventually, the LSD wears off, and Franklin is back to himself, unaware that he has officially made an enemy out of Teddy, who has already begun strategizing on how to protect himself. As scary as the LSD trip was, it gave Franklin the reality check that he needed and helped him see how poorly he treated the people he loved in his business dealings. The new and self-aware Franklin aims to redeem himself with Louie, the fiery woman that was his aunt even before Jerome married her. Franklin asks for a dance, and Jerome eagerly obliges, ready for them to finally settle their differences. "I was wrong; you were right. I should have treated you like a partner," Franklin admits. "It's not too late." Louie accepts Franklin's apology, but she lets him know that it is indeed too late and that she wants to follow her path. The camera cuts to Detective Buckley slowly rolling up on Kane and his boys as the episode closes. Louie kisses Franklin's cheek, reminding us of the "Godfather kiss of death" before waltzing off.