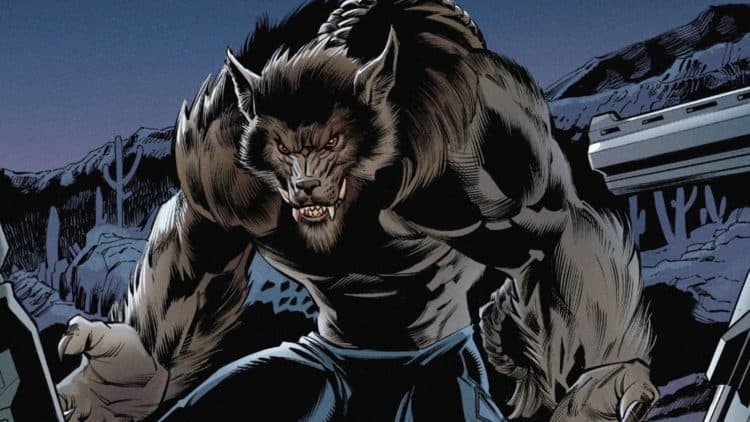 If Marvel is going to develop a Christmas special, then it would make sense of them to develop a Werewolf by Night series for a Halloween special, right? Well, at least that's what the fans are speculating. I can see why, considering there are some highly underrated Marvel monster characters they can show us in live-action form. They're pretty much doing that already with characters like Morris the Living Vampire. Sure, you can say that's actually Sony and not Marvel, but it's still a monster character from Marvel Comics coming to the big-screen. That's very exciting for the fans, because it shows us they're willing to explore the more unfamiliar characters. The only question is, where can they go beyond Morbius? Well, the answer is actually simple. If you're going to have a vampire, you must have a werewolf.
Does Marvel have anyone in their roster that fits that description? Actually, they very much do, and his very name says it all. Let's talk about one of Moon Knight's most recurring enemies, Jack Russell, aka Werewolf by Night. Okay, so the name sounds corny, but so what? What else were they supposed to call him? Maybe Wolfman, but that's just cliche, not to mention already taken. So back to this little rumor that the Wrap recently reported. Apparently Marvel is working on a Halloween special that will film early next year. As of now, it is unconfirmed what the title is or the character it will be centered on, but Marvel fans everywhere are speculating that Werewolf by Night will be the main character. That's a perfectly plausible theory, given the horror-themed nature of the character. I mean, the character himself is an actual werewolf. In my opinion, werewolves are the top scariest classic monsters in cinema history. Sorry, vampires.
Now we know this Halloween special for Disney+ is happening. We'll be getting James Gunn's Guardians of the Galaxy holiday special for 2022, so having a Halloween special would really balance things out. I'm just very curious if this Halloween special really is about Werewolf by Night. On paper, he seems like the logical choice, but Marvel could be throwing us a curveball. Why don't we take a look at what we already know. Werewolf by Night is typically seen as a villain to Moon Knight. Everyone knows that Moon Knight is getting his own series, starring Oscar Isaac. Back when Ethan Hawke was announced to join the cast, many fans were speculating that he would be playing Werewolf by Night. Of course, there were no hints to suggest that he would indeed be playing that character, but fans just want to see this monster character come to the MCU. Understandable, but based on the description Ethan Hawke has given for his mystery character, it doesn't sound like he's playing Werewolf by Night. That's okay, because I'm sure Werewolf by Night will pop up in the upcoming Moon Knight series eventually.
Now looking at this Halloween special Marvel is working on, they are reportedly looking for a Latino male in his 30s to star in it. This is a rather curious casting description, as it could very well fit the profile for Werewolf by Night. Then again, it could be for a totally different character. If it is, then I'll wait and see who it is. However, this can fit the description for the human alter ego of Werewolf by Night, Jack Russell. Or, given the Latino description, it's possible that Marvel could be going for a variation of the Jake Gomez version of Werewolf by Night. That would be a more interesting route, since Gomez is actually a young teenager in the comics and used far less than Jack Russell. But regardless on which version they use, the Halloween special can connect both characters. Perhaps even have it lead to the anticipated interaction with Moon Knight? We fans really want to see that happen, but I'm more excited about a werewolf being used in Marvel. Yes, I'm assuming the speculation is all true, but let's look into the history of the Werewolf by Night character.
I'll jump right into the really crazy part of his journey and say that he was once a part of an Avengers-like team. Of course, his presence would make for a rather unusual superhero team, but this team is hardly a team of heroes. Ever hear about the Legion of Monsters? They're not your typical comic book team. In fact, you would never expect a team like this to work together. The Legion of Monsters is exactly what the name implies. You got Werewolf by Night and Morbius the Living Vampire in the ranks, but there are also characters like Man-Thing and N'Kantu The Living Mummy on the team. Talk about a strange lineup. If the Halloween special really is about Werewolf by Night, it's possible the Legion of Monsters is being set up. Heck, it's already actually begun with Morbius getting his own movie next year. And yes, we all know it will eventually be connected to the MCU. Morbius would actually be the ideal leader of the Legion of Monsters, since he's the most able-minded of the team. A monster character, yes, but one that still recognizes his humanity. As for Werewolf by Night, he's probably right behind him, but I'd like to see the Jack Russell version explored.
His story in Marvel Comics is similar to what you might have seen in every movie about werewolves. He's an ordinary man who became an unwilling victim to the curse of lycanthropy. What separates Jack Russell from those other characters is that the curse itself was actually passed on to him. Jack Russell's ancestor, Grigory Russoff, became afflicted with the curse when he rescued a woman from Dracula's castle. The woman herself was a victim of the curse and as a result, Grigory was a carrier of lycanthropy. This would eventually pass down to his great-great-grandson, Jack, who was struck by the curse by the time he turned 18. Throughout his time as Werewolf by Night, he would make several attempts to cure himself of the curse.
His biggest success was having the curse being lifted so he could transform into the beast voluntarily at any time while retaining his mind in the werewolf form. This gave him temporary control over it, but whenever there was a full moon, the monstrous mind would take over. He never stopped searching for a cure, but his attempts would often have him crossing paths with some Marvel heroes. At one point, when he was in better control of the curse, he actually worked with Iron Man to rescue his sister from Morgan Le Fay. Iron Man fighting alongside a werewolf? How does that not sound awesome? This news about the Halloween special excites me. As a fan of werewolves, I would very much like to see Werewolf by Night join the MCU. Can you even imagine this character working with the Avengers? Anything can happen in the realm of Marvel.
Tell us what's wrong with this post? How could we improve it? :)
Let us improve this post!