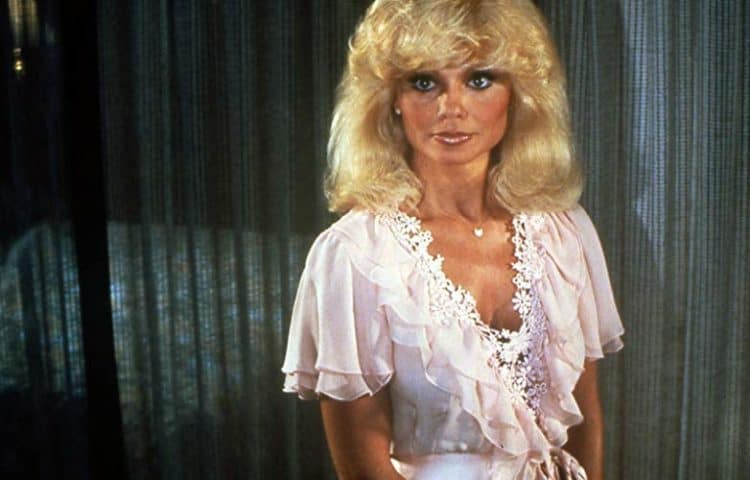 Loni Anderson is someone that you might think of as a big hit back in the 80s and someone that's endured throughout her career even as her star waned a bit. In fact you might even associate her closest with the late Burt Reynolds, despite the fact that their marriage lasted only 5 years before it ended. That being said, she's created a career that has stretched from the 60s to the current day and has had its fair share of ups and downs throughout the decades. While she's still listed as active her time on screen has really slowed down as she's taken more time to herself. This is something you might expect of those that are getting on in years, but needless to say she's not being idle as Loni just isn't that type of person. If she's not on a film or TV set then she's still of doing something with her time.
Here are a few things you might not have known about Loni.
10. She actually auditioned for a role on Three's Company.
The part she went to audition for was Chrissy, but obviously that went to Suzanne Somers, who became one of the most memorable characters in the show. Something seems to indicate that Suzanne's ability to play the ditzy blonde was a bit more convincing since Loni has usually played a very classy woman and the part didn't seem to call for this.
9. Loni won a large number of beauty contests when she was younger.
There's no denying that throughout her life Loni has been considered to be one of the most beautiful women in show business. But her ability to charm others and display a wide array of talents and a level of intelligence that's quite impressive has allowed her to win out as well.
8. She had a breast reduction at one point.
Having developed rather early in her life Loni felt it was necessary to have a reduction for her career, her self-esteem, and possibly just to gain a bit of respect since men do tend to leer at women with bigger chests and it can be an issue.
7. During her younger years she was a model for a while.
Sometimes actors tend to get into modeling as a gateway to fame and fortune, while at other times it seems that modeling can supplement a career and help to make an individual stand out just a little bit more.
6. She's a very big Disney fan.
Apparently in her home there's one room that's a pretty good size and is dedicated to her collection of figurines and memorabilia, of which Snow White is one of the most prominent characters. Hey, everyone's got a hobby and an interest.
5. For a time she was a schoolteacher.
She did this to support herself and her daughter and eventually got her college education as well. This tells you that she's not just someone that walked onto a film set and batted her eyes, she knows how to get in there and really work.
4. She's said that the paparazzi almost ran her off the road at one time trying to get pictures of her.
The paparazzi tend to get demonized a lot but then you have to take note of the times when they seem to hound celebrities just to get the right picture. That's a big part of why this story seems to carry some weight since the camera-happy folks that are trying to make a living do get a little out of control at times.
3. Her advice to those that go into acting is to get used to rejection.
This is good advice believe it or not, and it isn't restricted to acting. Anything an individual does that counts as performance art runs the risk of rejection as those trying to get peoples' attention and become something other than just an unknown will have be rejected more than once in life in order to understand just how hard it is to break into a career.
2. Her parents almost named her Leiloni, but decided to shorten it to Loni.
Her father envisioned the future in which kids would no doubt jokingly rip her name apart and use it as a cruel taunt to mock her. There are many ways to use someone's name in a mocking manner no matter what it is, that's why you teach your children to either fire back with their own wit or just ignore it altogether.
1. She's a spokesperson for COPD.
Having seen the effects of this disease on both of her parents, who apparently smoked quite a bit, Loni took it upon herself to join in the fight against the disease and speak up about it so that others could possibly avoid it in the future.
She's been a very classy and interesting woman throughout her career.