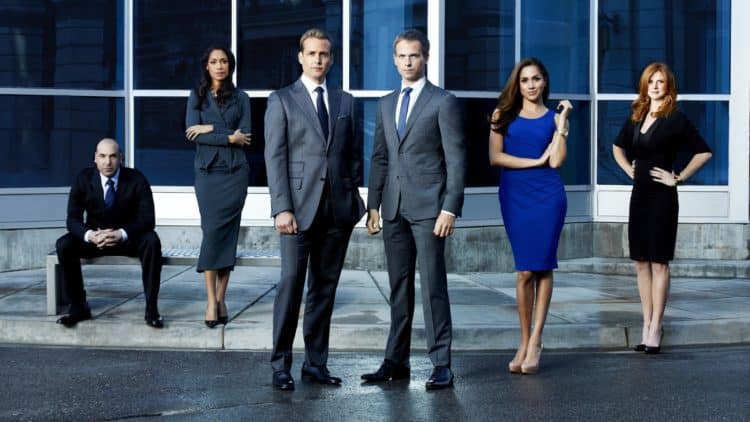 When Aaron Korsh wrote the pilot for Suits, he had no idea the show would go on air or become half as successful as it did. Asked what he thought made the show super successful, Korsh said, " The chemistry of the cast, to me, is the core of the show. If they don't work well together, the show doesn't work. Gabriel Macht, who plays Harvey, and Sarah Rafferty, who plays Donna have actually known each other for twenty years, and I think that really helps their on-screen chemistry. But I would say, first of all, they are all really nice people. They all get along together." It's this chemistry that drew fans in the first place, whether Rachel was playing hard-to-get as Mike approached, or Harvey was expressing his love and hate for Louis in equal measure. Suits had a nine-season run that ended in 2019. Here is what the cast has been up to since:
1. Patrick J. Adams (Mike Ross)
As Mike Ross, Patrick J. Adams possessed an out-of-the-norm photographic memory that allowed him to recite law books page by page. This supernatural ability got him working for Harvey. Since the series came to an end, Adams has steered clear of the movie scene, having appeared in past films such as The Waterhole and The Butcher's Daughter. On television, he played the role of John Glenn in The Right Stuff and is set to be a regular cast member on A League of Their Own.
2. Gabriel Macht (Harvey Specter)
Harvey Specter gained the audience's favor for his charismatic demeanor and good looks, which he was fully aware of. Off the screen, Macht is taking his sweet time away from any productions since Suits came to an end. His last known appearance on television was on the Suits spin-off Pearson, starring Gina Torres. Through his social media, Macht advocates for mental health.
3. Rick Hoffman (Louis Litt)
Louis was the man Harvey and all of us loved to hate. In many ways, Litt represented some of us; those who have learned to live with a chip on their shoulder, trying extra hard to make an effort even when it goes unrecognized. Away from his life as a lawyer, Rick Hoffman is now a new face on Billions, where he plays the role of Dr. Swerdlow, and is responsible for one of the funniest scenes lovers of the show have ever witnessed.
4. Meghan Markle (Rachel Zane)
We all loved Rachel Zane for the exceptional work she did as a paralegal, her desire to be seen as more than Robert Zane's daughter, and the wonderful chemistry she shared with Mike. In real life, however, Meghan is busy at work, striving to be financially independent alongside her husband, Prince Harry. Not only does the couple have a production deal with Netflix, but the Duchess of Sussex recently released a children's book inspired by her family life.
5. Gina Torres (Jessica Pearson)
As Jessica Pearson, Gina Torres was a fierce character who represented a black woman's way up the corporate ladder. Torres was also lucky enough to land a spin-off show which aired for a single season. Since then she has appeared as Maybelle Summers in the film Selah and the Spades, and as Celeste Skygoode in Dispel. Torres is also set to appear in The Hating Game, a film whose release date is yet to be announced. On television, Torres has been equally busy, appearing in 9-1-1: Lone Star and Riverdale.
6. Sarah Rafferty (Donna Paulsen)
The chemistry between Donna and Harvey was undeniable. Thanks to two decades of familiarity, Sarah Rafferty and Gabriel Macht gave us one of the best on-screen chemistries we've ever had the pleasure of seeing. Straight off of Suits, Rafferty has transitioned to the world of medicine, just like Rick Hoffman. In 2020, she appeared as Suzanne, a patient, on Shonda Rhimes' long-lasting medical drama, Grey's Anatomy. Rafferty also made a cameo as Dr. Pamela Blake on an episode of Chicago Med.
7. Dulé Hill (Alex Williams)
While Harvey Specter always thought of Williams as a 'little man', Williams always thought of himself as 'The A Team'. Outside the world where he is owed a favor by Harvey, or rivaling with Wheeler, Dulé Hill made an appearance in the film Locked Down, where he played the role of David. He is also set to make an appearance in Hypnotic. On television, Hill made an appearance on Psych 2: Lassie Come Home, and The Wonder Years, where he played the role of Bill Williams.
8. Amanda Schull (Katrina Bennett)
When we first met Katrina Bennett, she was the Ross to Louis, who would do anything to be in his good books, including poaching a client from Jessica. Her tactical ways finally paid off, and she managed to become junior partner. Away from Suits, Amanda Schull has been big on the television film scene, appearing in films such as Romance Retreat and Project Christmas Wish. She also made an appearance on an episode of MacGyver, where she portrayed the role of Emilia West. On the big screen, she's been missing in action, her last appearance having been on Devil's Gate.
9. Katherine Heigl (Samantha Wheeler)
As a top lawyer, Samantha Wheeler was to Robert Zane what Harvey was to Jessica Pearson; loyal, equally feisty, and good at her job more than anything else. Hers was a corporate war with Alex Williams, a reminder of the rivalry Harvey had with Litt. In real life, contrary to rumors that Katherine Heigl has been sidelined by Hollywood, she is still hard at work. This year, she appeared in Fear of Rain, a film in which she played the role of Michelle Burroughs. Heigl plays the role of Tully Hart in Firefly Lane, a show in which she is also an executive producer.
10. D.B Woodside (Jeff Malone)
The love story between Jeff Malone and Jessica Pearson was one to write home about. Despite her tough no-nonsense persona as a leading lawyer, off of corporate life, Jessica was a woman in love, and even risked her career for it, choosing to mix business with pleasure. Outside playing Pearson's love interest, D. B. Woodside has been booked and busy. Since 2016, Woodside had been part of the cast of Lucifer.