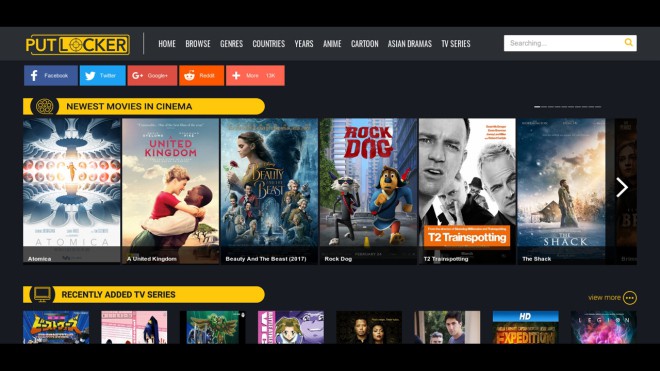 Broken down into the simplest terms Putlocker is an online index of hosted files and a website that can be used to stream films and TV series. This site originated in the UK back in 2011 and managed to grow rather quickly, attracting millions of visitors on a daily basis following the shutdown of Megaupload. By May of 2016 the site had been blocked in the UK following an order by the High Court. At its peak Putlocker was ranked among the top 250 sites that had received the most traffic worldwide. Unfortunately Putlocker has also been reported by the Motion Picture Association of America as a major piracy threat.
The site's domain address has been changed a number of times during its history, the most recent seizure of the domain was that of the URL putlockers.ch. Right now it's not known whether there is still an original Putlocker site that is maintained by the original team, but there are around fifty mirror or proxy sites that use the Putlocker name.
So what is the issue with Putlocker?
There wouldn't be much of an issue save for one thing: Putlocker has been identified as a piracy site. What that means is that the films and series that are able to uploaded onto this site have been illegally obtained and distributed to the public. Downloading these films and shows comes with a severe risk of getting caught and charged within the limits of the law, meaning that it doesn't matter if the individual doing the downloading is aware of the piracy or not, they will still suffer the penalty. The amount of time, money, and effort that are put into making movies and TV shows tends to become a factor when people decide to download programs that have either just been released in the theater or are not slated to be released until a set date. Piracy is thought by some to be victimless crime, but it does tend to affect the businesses that are responsible for putting the movies out and it can affect those that take part in it. Putlocker is safe enough if one knows how to access it and can avoid the malware that seems to plague so many users when they take advantage of the site.
Putlocker has been shut down more than once.
Throughout the years it has been found that Putlocker and its users have been guilty of copyright infringement, which is more or less using material in a manner and distributing it without permission. The MPAA has been hard on Putlocker's trail for a while and has managed to get them reported more than once in order to keep them from continuing this practice. The only problem is that Putlocker keeps coming back with new domain names that are switched just enough so that it can be launched again and again. This is a pretty big problem since it means that the issue is hard to stamp out and as long as people want to keep downloading pirated material there aren't a lot of ways that can stop them and be guaranteed to work. Shutting down Putlocker's sites has managed to earn a reprieve for only a short amount of time in each instance, as they've come back more than once after being shut down. It's kind of like trying to keep ants from a picnic, if you deal with them one by one there will always be a dozen more that you haven't seen yet.
It's not a great idea in general.
Trying out a site that is known for piracy and malware issues is not really the best idea for anyone that's not willing to risk their system and has any moral issues with viewing material that could be more trouble than it's worth. There are still sites out there that are using the Putlocker name and are accessible if you know what you're doing, but therein lies the rub. If you're tech-savvy enough to bypass all the malware and get right to downloading the movies and TV programs that you want there's still the ethical nature of it all and how much trouble you might be getting into if you get caught. Copyright infringement penalties are not light and run upwards of $250,000 per charge as well as 5 years in jail. If you think that's excessive then you might want to take into consideration how much time and effort went into each production and how they make their money back when it comes to releasing those productions.
Putlocker is one of the more notorious and well known sites that offer downloads such as this, but once again if you're not in the mood to pay a ridiculously large fine or do any jail time then you might want to steer clear. Otherwise it pays to know what you're downloading and how to keep your system safe from any unwanted viruses.
10 FAQs about Putlocker
1. Is it safe to use Putlocker?
Putlocker has a lot of pop-ups that immediately bombard you, and whenever you click on the ads, new ones will appear, which can be annoying. While not all pop-ups are harmful, others are only a click away from infecting your computer with malware or luring you into giving out your personal information which the perpetrators can use to steal your identity. To protect yourself and your computer, you can always use an ad blocker.
2. Is it illegal to use Putlocker?
Most of the content posted on Putlocker is copyrighted, and some are posted without permission leading to copyright infringement. However, the person responsible for copyright infringement is not clear; it could be the person watching it or uploading it. However, in most jurisdictions, the one who uploads the contents is held responsible. Therefore streaming and not downloading lands you in the gray area but it all depends on where you live.
3. How do I know if it is illegal to use Putlocker in my country?
The legality of using Putlocker has been a bone of contention for so long. Therefore if you are not sure if using it in your country is legal, you can do a quick search of Google to be sure.
4. Will a VPN protect me when using Putlocker?
A VPN hides your IP address by encrypting all your internet activity and redirecting it through one of its servers before getting to the site you want to access. The site you are accessing, therefore, receives the VPN's address instead of your actual IP address meaning none of your online activity is traceable back to you, even if you happen to have a copyright infringement problem.
5. Will free proxies protect me from legal issues when using Putlocker?
Since VPNs cost money, one might opt to use a free proxy, but as with anything free, you will be exposing yourself to some risks. Free proxies are not as safe as you would like them to be and most websites blacklist IP addresses they know are from a proxy. Therefore, if you want to protect your online privacy when accessing Putlocker, a free proxy may not hide your IP address nor encrypt your traffic leading you into some legal issues if you watch online or download the movies.
6. What kind of movies can I watch on Putlocker?
Putlocker has over 5,000 movies categorized into 25 genres that range from action thriller, comedy, sci-fi, documentaries and even animation. Besides film, there are TV series that include favorites such as Project Runway and American Idol, the most recent seasons. Besides, you can choose movies from different countries like India, Korea, Japan, France and many more. Further, so long as you have a file downloading software, you can download the movies and TV shows onto your hard drive and watch them later.
7. Is the quality of movies good on Putlocker?
You can watch the movies on Putlocker on high definition resolutions; either HD or full HD resolutions. To enjoy the highest quality, you can stream movies with 1080p resolution; it displays every pixel of the highest quality so you can rest assured that the films you watch are not blurry.
8. Do I need to create an account on Putlocker?
The best thing about Putlocker is you do not have to create an account for you to access the content. We are already overwhelmed with the many passwords we have to remember, and Putlocker does not add to your worry of forgetting your username and password because you do not need them. Therefore instead of creating an account you copy and paste: https://pulockertv.today/ into your browser, and you are good to go.
9. Can I watch movies on my phone?
Yes, you can; Putlocker is accessible via mobile phones whether android, iPhones or any other smartphones. However, Putlocker does not have a mobile app; therefore to access the movie you will have to use the internet browser on your phone.
10. Can I watch movies yet to be released in my country?
You do not have to wait until a movie is released in your country to watch it. Putlocker grants you the advantage of watching it long before it is released which means you will not have to wait too long to catch up with that series you have been following.