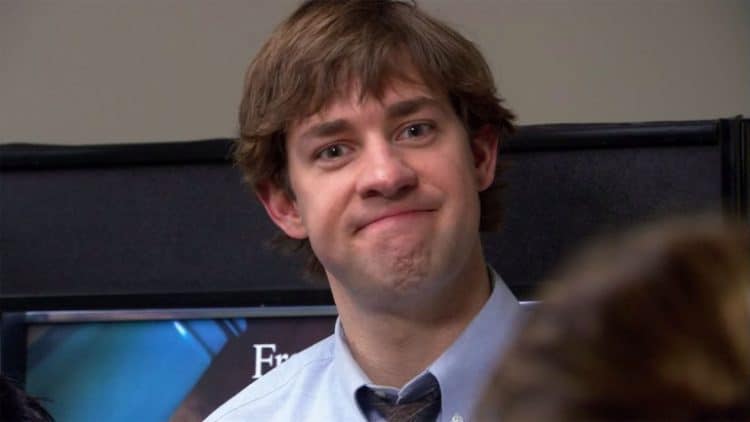 It's sometimes hard to believe that the last episode of The Office aired 10 years ago because it continues to be a part of everyone's pop-culture life. I mean, who here isn't on their fifth rewatch of the series? In 2020, Variety reported that the mockumentary sitcom was the most-streamed TV show that year, having been watched a collective 57 billion minutes during the height of the pandemic. Grey's Anatomy, taking its spot at a distant second place, only got streamed a total of 39.4 billion minutes. The Office stars Steve Carell as Michael Scott, the idealistic yet incompetent regional manager of Dunder Mifflin. The show also features Rainn Wilson, John Krasinski, Jenna Fischer, Ellie Kemper, Ed Helms, Angela Kinsey, Brian Baumgartner, Oscar Lopez, Kate Flannery, Phyllis Smith, Leslie David Bakker, Mindy Kaling, BJ Novak, Paul Lieberstein, and Creed Bratton, an ensemble cast that portrays employees of a dying paper company as they go through the mundanity of corporate life.
John Krasinski played Jim Halpert in the series, the uncaring, too-cool-to-be-here paper salesman of Dunder Mifflin who spends more time pranking his coworker Dwight (Rainn Wilson) than actually making sales. Krasinski has accomplished a lot after The Office, but he himself admitted that the show is the best thing he'll ever do in his career. In a chat he had with Rainn Wilson, Krasinski said, according to Complex: "Personally, I think it's best thing I'll ever do in my career. Everybody always says, 'At the end of the day, what if you're only know for Jim Halpert?' I was like, 'Are you kidding me? That would be the greatest thing ever.' I remember Steve [Carell], one day he was like, 'You guys know that no matter what we do—we could go to space—and this will always be the thing we're known for,' and how lucky we are that that's the case." That's not to say that Krasinski peaked in The Office, though. He certainly accomplished a lot after his time in the paper company. Here's what John Krasinski has been up to since his The Office days.
John Krasinski's personal life
John Krasinski married actress Emily Blunt (The Devil Wears Prada) in 2010. They have two children together. John is a brother-in-law of Stanley Tucci, who also appears in The Devil Wears Prada. John and Emily are one of the most admired couples in Hollywood. According to Krasinski, who first dated Blunt in 2008, his relationship with the actress was "love at first sight," as Bustle described it. "It was one of those things where I wasn't really looking for a relationship and I was thinking I'm going to take my time in LA. Then I met her and I was so nervous. I was like, 'Oh god, I think I'm going to fall in love with her.' As I shook her hand I went, 'I like you.'" Not everyone's an admirer of the couple, however. One high-profile hater, apparently, is comedian Amy Schumer, who described Emily Blunt and John Krasinski's marriage as a "pretend marriage for publicity." Interestingly, this mean-spirited swipe was written in an Instagram post that was intended to praise A Quiet Place Part II. Krasinski took it in stride, however, commenting on Schumer's post, "Thank you Amy!… for blowing up our whole marriage spot," according to BuzzFeed.
Krasinski remains close friends with his former Office castmates. The actor continues to hang out from time to time with Steve Carell, Rainn Wilson, BJ Novak, and his on-screen love interest, Jenna Fischer. He's appeared in mini-reunions with the cast over the past decade, the most notable of which was the one he organized for Some Good News, where the cast adoringly recreated their walking-down-the-aisle dance from the show. Krasinski has also been a guest on his former coworkers' podcasts, including Fischer and Kinsey's Office Ladies podcast and Brian Baumgartner's The Office Deep Dive podcast.
Krasinski is considered the highest-earning former cast member of The Office, tying up with Steve Carell and reportedly earning $80 million, according to Celebrity Net Worth. In 2016, Krasinski and Blunt sold a $6.5 million mansion to reality TV star Kendall Jenner. They later purchased a floor-wide condominium unit in Brooklyn for $11 million.
John Krasinski's post-The Office projects
Outside The Office, Krasinski has been involved in projects, both in front and behind the camera. Krasinski has been most notably associated with the A Quiet Place movies, which he directed, wrote, and executive-produced. In an interview with CinemaBlend, Krasinski admitted that he did not originally plan to make a sequel for the first A Quiet Place, saying: "As I'm sure you know, I didn't want to do a second one. I had no intention of doing it because the first movie was so incredibly personal to me, and bizarrely, I'm an audience member before I'm a writer, director, or an actor. And so I'm a big fear-based guy when it comes to sequels, too, and I didn't want it to be some big regurgitated thing. And so I just said no." Why did he continue with a sequel after all? It's all thanks to Millicent Simmonds, who played Reggie Abbott in the movies. "What happened was, where my organic in to the movie was Millie, and this idea of making Millie the lead character, not only because she's amazing, but also because that's the continuation of the metaphor of the first one. All my fears were assuaged, and we realized that rather than being scared of doing a sequel, and scared of doing it bigger and more intense and those sorts of things, we just said, 'Let's not worry at all about that. Let's just tell the story.' What happened was, the movie took on its own organic life. And so, you find out… I think you will be much more scared in this movie because you love these characters so much." Aside from A Quiet Place, Krasinski also executive-produced Manchester By The Sea. He currently plays the titular character in Jack Ryan, a TV show based on the character by Tom Clancy.
John Krasinski's Sunday Night Productions
Perhaps Krasinski's biggest accomplishment after The Office is Sunday Night Productions, a production company he co-founded with Allyson Seeger. The company has been behind some of Krasinski's most prominent post-Office projects, such as A Quiet Place and A Quiet Place Part II. It also developed Lip Sync Battle, Dream Corp LLC, and Jack Ryan. Most recently, it ran Some Good News, a web series Krasinski created and hosted during the height of the pandemic.Amy Schumer
Tell us what's wrong with this post? How could we improve it? :)
Let us improve this post!