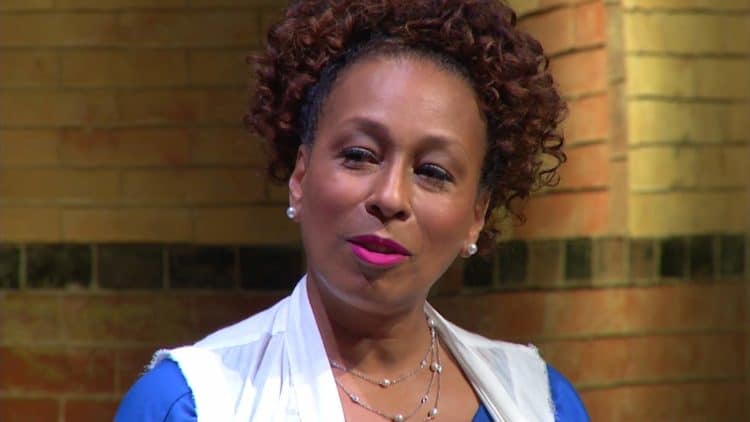 She may not be a household name, but you'll almost certainly recognize Tamara Tunie from at least a few of her numerous TV roles. The actress is one of TV's most prolific stars, with performances in everything from Better Call Saul, Blue Bloods, Billions and 24 to Dietland, Black Earth Rising, and, of course, Law & Order: SVU. Tunie hasn't kept her ambitions to the small screen, however, but can proudly claim a slew of film and stage credits, both as star and director. To find out more, keep reading.
1. She's active in the community
Tunie's contributions to the world span more than just stage and screen. The actress is actively engaged in numerous philanthropic endeavors, serving as chair emerita of the Board of Directors of Figure Skating in Harlem (a nonprofit organization that aims to improve academic success, physical health and emotional well- being through the discipline of figure skating), President of the Board of Directors at Harlem Stage/The Gatehouse, a board member of God's Love We Deliver, and a member of the Advisory Board of Hearts of Gold.
2. She's been married twice
Tunie married her first husband, Greg Bouquett, in 1988, just one year after the release of one of her most celebrated movies, Wallstreet. The marriage lasted three years, but the couple eventually went their separate ways in 1991. 4 years later, Tunie married for a 2nd time, this time to Gregory Generet. After two decades of marriage, the formerly happy couple announced their split in 2015.
3. Both her parents were morticians
Tunie had something of an unusual upbringing. Born in McKeesport, Pennsylvania but raised in Homestead, Tunie is the daughter of Evelyn and James W. Tunie, two people apparently united by their shared careers as morticians. "I grew up in a funeral home," she's shared with DuJour. "Both my parents were morticians. My dad was a mortician when I was born, and after me and my siblings got into school, my mom went to mortuary school to be certified so that she could help my father with the business. So, we grew up above the funeral home and for us it was normal. "
4. Her motto is "works breeds work"
A quick glance at Tunie's resume will tell you she's not afraid to put the work in. With her prodigious output spanning both stage and screen, acting and singing, producing and directing, it's a wonder she ever finds the time to sleep. Little wonder, then, that the motto she lives by is "work breeds work". "For me, it's not always about what's going to pay the most money," she tells the New York Post. "It's also about what I find the most compelling. I'm willing to participate in a variety of different [projects], and not just based on a pay grade."
5. She made her film debut on Sweet Lorraine
In 1987, Tunie made her film debut in Sweet Lorraine. While the film went largely unnoticed, another film she made later that same year most certainly did not. Her role as Carolyn in Wall Street may have been small, but it gave the actress that elusive Hollywood "in" she'd been striving for. She's subsequently gone on to enjoy big-screen success in the likes of Bloodhounds of Broadway (1989), Rising Sun (1993), Eve's Bayou (1997), The Peacemaker (1997), The Caveman's Valentine (2001). and Flight (2012).
6. She's a millionaire
With a successful 4-decade career spanning both stage and screen, it'll come as little surprise to learn that Tunie has a sizeable fortune to her name. Thanks to her supporting roles in features such as "The Peacemaker", "The Devil's Advocate", "Snake Eyes", "Swift Justice", "Law & Order", "Feds", "Chicago Hope", "Sex & the City", "24", "Days of Our Lives", "The Good Wife", "Flight", "Golden Boy", and "The Red Road", not to mention her starring roles on "As the World Turns" and "Law & Order: Special Victims Unit", the actress is now worth $8 million… at least if the estimates of Celebrity Net Worth are accurate.
7. She's an Obie Award winner
Tunie has been nominated for a slew of awards over the years, but it wasn't until 2016 that she finally bought home the trophy. Her first award nomination came in 1995 at the Soap Opera Digest Awards, where she narrowly missed out on the Outstanding Supporting Actress title. Subsequent nominations came from the Independent Spirit Awards, the Soap Opera Digest Awards, the NAACP Image Awards, the SLFCA Awards, and the Black Reel Awards. In 2016, she finally graduated from nominee to winner with a Distinguished Performance Award at the Obies.
8. She focuses on health over size
In 2018, Tunie starred in Dietland, a dark comedy that focused on the ever-topical subject of self-image. Tunie herself takes a refreshingly healthy attitude to weight, health, and size, as she shared during an interview with Call Me Adam. "I'm refusing to engage in the conversation about weight and body," she explained. "My focus is going to be on health and whether the body is healthy and in shape to be able to provide the demands that we make on our bodies on a daily basis. That's what I'm going to suggest to everybody. Focus on health. Don't focus on weight or size."
9. Her directorial debut was in See you in September
After 3 decades of starring in front of the camera, Tunie showed her talents behind it in 2010 with her directorial debut, See You in September. The film, which starred Estella Warren, Michael Rispoli, Whoopi Goldberg, and Justin Kirk, centers on Lindsay (Warren), a beautiful woman who seems to have it all, but who's being held back by her deep-seated fear of commitment.
10. She's produced a string of Broadway hits
Tunie hasn't confined her ambitions to the screen. The talented star has worked extensively on stage over the years, and has even produced a slew of award-winning Broadway hits, including Magic/Bird, August Wilson's Radio Golf (a 2007 TONY and Drama Desk Award Nominee for Best Play), and Spring Awakening (winner of the 2007 TONY Award for Best Musical and the 2007 Drama Desk Award for Outstanding Musical).
Tell us what's wrong with this post? How could we improve it? :)
Let us improve this post!