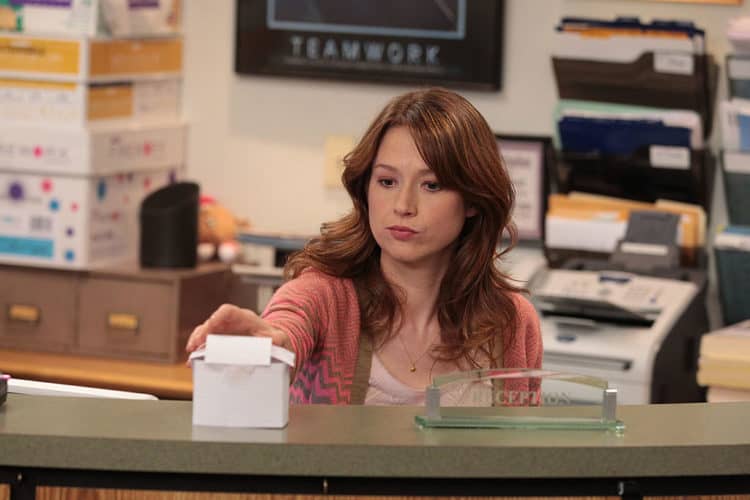 From I Love Lucy to Friends, there are hundreds of sitcoms currently available for streaming — anytime, anywhere — but for some reason, people are still choosing to spend their time watching an office mockumentary that last aired 10 years ago. The Office continues to prove its pop-culture impact, gaining new fans every day. Last year, Variety reported that the sitcom was the most-streamed show online, at a cumulative 57 billion minutes. Grey's Anatomy follows at a distant second place, clocking in at 39.5 billion minutes of watch time. The Office stars Steve Carell as the incompetent regional manager of Dunder Mifflin, Michael Scott. The show also features Rainn Wilson, John Krasinski, Jenna Fischer, Ellie Kemper, Ed Helms, Angela Kinsey, Ellie Kemper, Brian Baumgartner, Oscar Lopez, Kate Flannery, Phyllis Smith, Leslie David Bakker, Mindy Kaling, BJ Novak, Paul Lieberstein, and Creed Bratton. They all portray employees of a mid-sized paper company, featuring their lives as they survive the typical office drama that is unfortunately embedded in corporate culture.
Ellie Kemper first appeared on the fifth season of The Office as Erin Hannon. She was originally supposed to be just a recurring character in the show, but she eventually became a regular, having appeared in a total of 107 episodes. Ellie Kemper's character was involved with Andy Bernard, played by Ed Helms. The relationship wasn't exactly well-received, and Kemper herself admitted years after The Office concluded that she was never a fan of that relationship. Appearing on Brian Baumgartner's podcast, An Oral History of The Office, Kemper said that she didn't believe Erin and Andy were a good match with each other, according to Digital Spy. "I never thought [Andy and Erin were a good match]," Ellie said. "I felt like Andy was a bit too childish. He wasn't ready to take care of Erin. Erin was ready to take care of Andy, but I felt that it was uneven in that respect." Honestly, a Kevin Malone and Erin Hannon relationship would have made much more sense, and Brian Baumgartner, who played Kevin, agrees, saying: "I went up to the writers' room, and I said, 'If Kevin could mature just a little, there was something about their energy that I thought was right. Their energies matched in a weird way.'"
After The Office, Kemper went on to appear in major TV and movie projects. What has Ellie Kemper been up to since her days on the set of The Office?
Ellie Kemper's personal life
Shortly before The Office concluded, Ellie Kemper married Michael Koman, a former writer for Late Night with Conan O'Brien. The couple has two children. Kemper is a member of the prominent Kemper family; she is a great-great-granddaughter of the railroad magnate William Thornton Kemper Sr. Earlier this year, Kemper was embroiled in controversy when it was discovered that, in 1999, she was a debutante at the Veiled Prophet Ball, a Missouri event that allegedly had been historically related to white supremacy. While many came to her defense, Kemper nevertheless released a statement, apologizing for her participation in the ball. As reported by Vanity Fair, Kemper wrote on her Instagram account: "I was not aware of this history at the time, but ignorance is no excuse. I was old enough to have educated myself before getting involved." Kemper went on to say, "I unequivocally deplore, denounce, and reject white supremacy… At the same time, I acknowledge that because of my race and my privilege, I am the beneficiary of a system that has dispensed unequal justice and unequal rewards."
Ellie Kemper's post-The Office projects
Ellie Kemper has been involved in a number of major film and TV shows after her tenure in The Office. Most notably, Kemper landed a starring role in Unbreakable Kimmy Schmidt, playing the titular character. The show was created by Tina Fey and featured actors Tituss Burgess, Jane Krakowski, and Carol Kane. Unbreakable Kimmy Schmidt is about an Indiana girl who resurfaces above ground after having been lured into a doomsday cult. In an interview with NPR, Kemper described how she relates to her character in the series: "While I certainly did not undergo anything as traumatic as Kimmy did, I weirdly did not watch a ton of television or movies when I was growing up, and I don't find it so far removed from my actual self, the idea of not understanding current references or things that have transpired in the past 15 years. Because, for example, I'm not on social media. I'm not even proficient at technology, so I find a lot of the things that Kimmy says to be upsettingly close to what I actually in real life experience. My husband — he's a comedy writer, and he's constantly stunned by what I don't know, what I missed out on. He's like, "What were you doing during your teen years?" And I always say, "I was hanging out with friends! Because I was well adjusted.""
The actress also lent her voice to animated films such as The Secret Life of Pets, The Lego Batman Movie, and We Bare Bears: The Movie. More recently, she played Pam McKenzie in the latest installment in the Home Alone franchise, Home Sweet Home Alone. In an interview with Screen Rant, Kemper revealed a bit of the behind-the-scenes action involved in shooting the movie, including training to properly slip and slide. "I think that, again, the professionals will be taking the actual falls on the backs, you know, and stuff that I think I don't know how to do, but in terms of like harnesses, and ways to maneuver our body that make it look realistic. They are teaching us how to do that. And the stunts crew is awesome. They're from New Zealand and I mean, how can you not like that accent?" Home Sweet Home Alone was widely panned, with Sean P. Means of The Movie Cricket writing, "It's a bold move, I suppose, to remake a beloved Christmas comedy and invert the roles – where the pre-teen hero is now the loathsome villain, and the scummy bad guys are now sympathetic characters. Doomed, but bold."