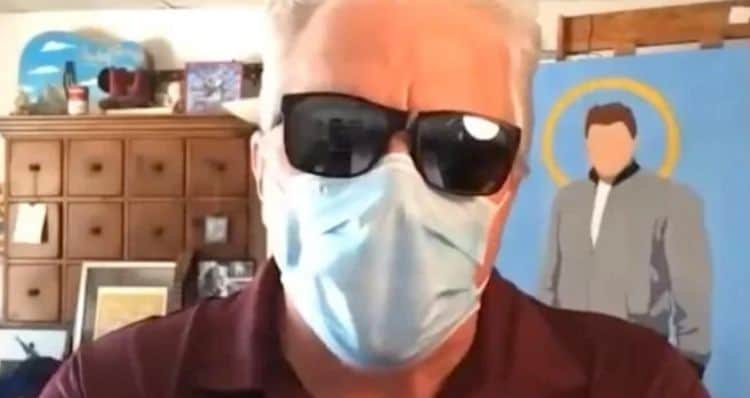 It's a fine bit of amusement that Josh Gad put together for this Q&A portion of Reunited Apart since most people that have watched the movies would have known from the first 'butthead' just who they were talking to, and given that Gad is a fan this is a clever way to get Thomas F. Wilson on the screen and to see him take on the part that most people remember him so well for. Biff Tannen was after all a big part of the movies and remained the main antagonist the entire way through since he had a history with both George and Marty McFly throughout the course of the trilogy. It would have been nice to see Crispin Glover show up as well but as it's been mentioned a few times there might still be a few sore feelings between Crispin and those that continued forward with the movie over what happened in Back to the Future II. Sometimes old grudges tend to die off as people realize they're not worth keeping and other times they're held onto for a while. It's hard to say whether Crispin still feels a certain way about the use of his likeness without his permission, but obviously he either couldn't be reached or had no interest in a reunion for Josh Gad's show.
But it was kind of odd that Thomas wasn't there when the rest of the cast showed up, though it could have been due to a scheduling issue or something that was unavoidable since actors do still have things that they're able to do and there could have been something that came up during the day of the reunion on Zoom. It probably would have been great to see Thomas with the rest of the gang and find out just what it was like with him on set during the making of the movie since out of everyone he was about the only guy that was really a villain, apart from his cronies in each movie, and it was obvious that none of them were invited or caught wind of the reunion. It is amusing to remember there were a couple of well-known names among his group however, as in the second movie he had Billy Zane at one point and Jason Scott Lee in the beginning of the movie. In a way it kind of feels as though those that were bit players or didn't have a whole lot to do in the movie might have simply counted it as one of their many life experiences and then moved on without feeling the need to talk about it any further. It could have also been, for some of them, that they were simply tired of talking about it, since there are plenty of fans out there that will approach said actors without any respect and ask them over and over what it was like working with one actor or another.
But the idea of Biff Tannen not being on the panel was kind of hard to believe at first. This kind of makes up for it since Thomas is the kind of personality that you can imagine might get lost in the mix at times even though he's played one of the best-known characters in pop culture. He's been around for other parts as well and has shown up on TV and in other movies, one notable picture being Heat with Melissa McCarthy and Sandra Bullock. But the time he spent in the Back to Future trilogy is bound to be what he's going to be remembered for throughout the rest of his career. It'd be interesting to find out just what he's doing right now since it's easy to think that he's been more of a bit player over the years given that he's not much of a leading man. In a way his role as Biff kind of curtailed a lot of other roles he could have played since this is how people still know him and will likely think of Thomas for some time to come. Some actors just don't outgrow their roles no matter how they try, and it can be a serious detriment to their careers since it diminishes their potential for other roles. Plus, seeing him as Biff makes it harder for people to see him as anyone weaker, as being anything but the bully kind of diminishes his usefulness. He's still a decent actor to be certain, but at this point in his life it's easy to think that he's going to have to continue to be the tough guy in whatever role he takes, otherwise there's not a lot that he appears to be qualified for when it comes to the big or small screen. Plus, at this point it's probably best to see him as a supporting character or an extra.