If you were around in the 1980s, then you might just remember the 1985 teen comedy film 'Just One of the Guys'. This film was loosely based on 'Twelfth Night' by William Shakespeare and adapted into s screenplay by Dennis Felchman and Jeff Franklin. It was directed by Lisa Gottlieb and starred Joyce Hyser, Clayton Rohner, Billy Jacoby, Toni Hudson, and William Zabka.
The film is about an attractive female girl who wants to become a journalist. She thinks that her teachers do not take her seriously and that this is either because of her looks or because she is a girl. She decides that the best thing to do is enroll in a nearby high school when her parents away and to pretend she is a teenage boy. During her project, she meets the school nerd and helps to transform him to help him pick up girls before falling in love with him herself.
Although the movie was commercially unsuccessful, grossing just $11,528,900, it is now something of a cult movie. It was followed by the sequel 'He's My Girl!' in 1993 and was listed at number 48 on the 50 Best High School Movies list by Entertainment Weekly. If you watched the original film, you might have wondered what its star, Joyce Hyser, has been up to since.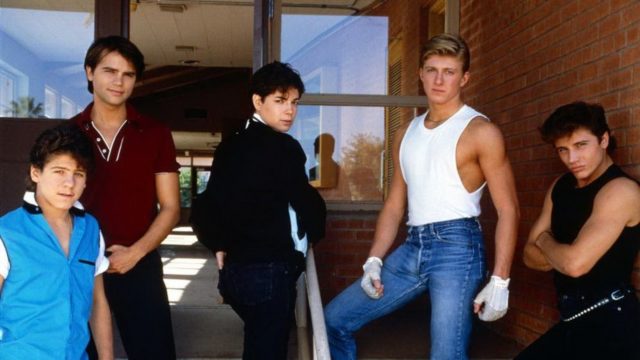 Joyce Hyser was born in New York on December 20, 1957. She began her acting career in 1980, making her film debut playing Brenda Weintraub in 'The Hollywood Knights'. Between then and starring in 'Just One of the Guys', she enjoyed a successful career in the film industry. Some of the movies in which she starred included 'They All Laughed', 'Valley Girl', 'Staying Alive', 'This is Spinal Tap', and 'The Last Hunt'.
After starring in 'Just One of the Guys', Hyser's career began to slow down. She didn't appear in another film until 1990 when she played Karla Thompson in 'Wedding Band'. Instead, she turned her attention to establishing a career in the television industry, but only achieved limited success. In the late 1980s, she had a few small parts appearing in single episodes before landing the recurring role of Alison Gottlieb in 'L.A.Law'. She appeared in ten episodes of this series between 1989 and 1990.
Hyser's role in 'L.A'Law' was probably the height of her television career. Although she had a stream of television roles throughout the 1990s, these were limited to single appearances in a series. Her career in the film industry wasn't faring any better as she appeared in just one film in the 1990s playing the role of Muriel in 'Greedy'.
Joyce Hyser's career briefly saw an upturn at the turn of the Millennium as in the early 2000s, she appeared in films such as 'Can't Be Heaven', 'Teddy Bear's Picnic', and 'Art of Revenge'. She also appeared in an episode of 'The Division' titles 'The Fear Factor' in 2001 playing the role of Ms. Vicky Lowell.
The actress then hit the slowest period of her career as she did not work in film or television for almost a decade. It is not really known what she was up to during this period of her life as she simply seemed to slip out of the limelight. She has since made a single appearance on 'CSI: Crime Scene Investigation' in 2011 followed by playing Sally in the 2014 movie 'The Wedding Pact'. The latter was the last time the actress has been seen on screen.
Outside of her acting career, she dated both Warren Beatty and Bruce Springsteen during the 1980s but has since kept her personal life out of the public eye. She is also the spokesperson for the Harold Robinson Foundation. This is a charity that provides a free summer camp for underprivileged children from the inner city.
It would seem that Joyce Hyser's career took a complete nosedive following playing Terry Griffith in 'Just One of the Guys'. It is still this role that she is best remembered for as she has done no work of any significance since. In recent years, this actress has preferred to stay out of the limelight. As a result, there is very little is known about either her career or her professional life.