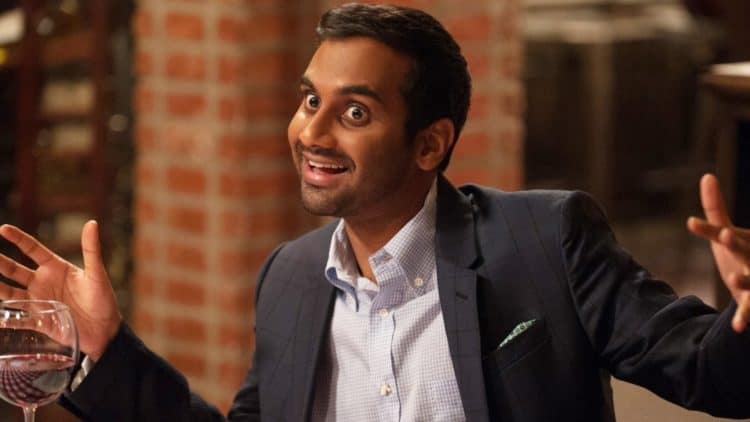 Aziz Ansari played Tom Haverford, the swag-obsessed office administrator of the Pawnee Parks Department, in the hit mockumentary sitcom Parks and Recreation. The show, which aired for seven seasons, also starred Amy Poehler, Chris Pratt, Nick Offerman, Rashida Jones, Adam Scott, Aubrey Plaza, Retta, Jim O'Heir, and Rob Lowe, portraying public officials of the fictional city of Pawnee, Indiana, as they try to survive the humdrum of small-town public service. The show has often been compared to The Office as both shows had a lot of similarities and were pretty much developed by the same people (Daniels and Schur). Throughout its run, Parks and Recreation received several awards and nominations, including 14 Primetime Emmy Award nominations (two for Outstanding Comedy Series). It also made the careers of a few relative newcomers, like Chris Pratt, Aubrey Plaza, and Aziz Ansari. After Parks, Aziz went on to appear in major projects, even creating one of his own. What has Aziz Ansari been up to since his days on the set of Parks and Recreation?
Aziz Ansari's book
Shortly after the Parks finale, Aziz Ansari published his book Modern Romance, a book about dating in the digital age. A New York Times review of the book wrote: "Mr. Ansari, who is 32 and now enjoys a healthy textual relationship with a steady girlfriend, might not be the first person who springs to mind when it comes to dispensing romantic advice. But he is as good a guide as any. He's old enough to remember what life was like in the era before cellphones, yet young enough to understand the point of Snapchat, a disappearing-image app beloved by the young and only vaguely understood by everyone else. Better still, he has a knack for getting people to talk to him and a sense of what to do to fill out a book that could easily have felt too thin or anemic."
Aziz Ansari's projects
After writing his book, Ansari produced and starred in his own Netflix series Master of None, together with Parks and Recreation writer Alan Yang. The comedy-drama show, which was loosely based on Ansari's real-life experiences, garnered several nominations and awards, including an Emmy for Outstanding Writing for a Comedy Series for the episode "Parents." The duo was also honored with a Peabody Award in May 2016 for the series, and in 2018, Ansari won a Golden Globe for best actor in a TV comedy for the show. This made him the first Asian-American actor to win a Golden Globe for acting on television. The first two seasons of the Netflix series aired from 2015 to 2017. After a long hiatus, the third season was released in May 2021. According to Variety, the third season focused less on Ansari and more on co-star Lena Waithe's character Denise, who was prominently featured in the Season 2 episode "Thanksgiving," another episode that won a writing Emmy for Ansari and Waithe. In an interview with LBB Aziz Ansari shared more about the third season: "The latest season was completely different as it was one self-contained story and we really approached it as a film. I also really wanted to challenge myself and push the show and its visuals in a new direction. Directing all of them also helped me maintain and develop a cohesive aesthetic." In an article by The Nation, the third season was described as having a marked tonal shift, "from a light comedy-drama with a romantic core to a serious adult drama. 'Though the series was never a straightforward comedy, its playful attitude has been exchanged for a self-consciously "mature" mood.'"
Aziz also lent his voice to video game enthusiast Darryl in the animated television sitcom Bob's Burgers. In 2017, a day after Donald Trump's inauguration, Aziz, who was raised a Muslim, hosted Saturday Night Live. "If you look at our country's history, change doesn't come from Presidents. Change comes from large groups of angry people. And if Day 1 is any indication, you are part of the largest group of angry people I have ever seen," Ansari said in his monologue, which was showered with praise by viewers, according to Business Insider.
Aziz Ansari's personal life
2018 forced Aziz Ansari to lay low, and his relative inactivity has been rumored to have been caused by allegations of sexual misconduct that were first revealed in a Babe.net expose. The actor had been mum about the issue since it surfaced and instead decided to take a break from the spotlight. In 2019 he addressed the issue head-on during his comeback special Aziz Ansari: Right Now. "It's a terrifying thing to talk about," he shared. "There were times I felt really upset and humiliated and embarrassed, and ultimately I just felt terrible this person felt this way. But you know, after a year, how I feel about it is, I hope it was a step forward. It made me think about a lot, and I hope I've become a better person," Aziz said, according to a report by Variety. Ansari also told his audience how grateful he was and how things have changed since allegations against him surfaced. "There was a moment where I was scared that I'd never be able to do this again." He recalled how he would say "Thanks so much!" at the end of a show and how it has changed. "But now, I really mean it. I mean it on a different level," he said. "You canceled whatever you were supposed to do tonight, and you came out in the cold, and you waited in line, and you put your phone in a stupid pouch… You did all this **** just to hear me talk for an hour and some change, and it means the world to me, so thank you so much."
It looks like Ansari has been able to recover from the controversies that were thrown his way. He was able to reprise his role as Tom Haverford in a Parks and Recreation reunion episode that was held at the height of the pandemic. A year before that, in 2019, he was able to attend a Parks and Recreation reunion live where he joined the rest of the cast to talk about the legacy of the mockumentary series. He also recently announced his engagement to data scientist Serena Skov Campbell, according to Page Six. The engagement news was revealed during a set at Comedy Cellar in New York, the outlet added. "Everyone was super excited and very much clapping," a source for Page Six revealed.Master of None
Tell us what's wrong with this post? How could we improve it? :)
Let us improve this post!