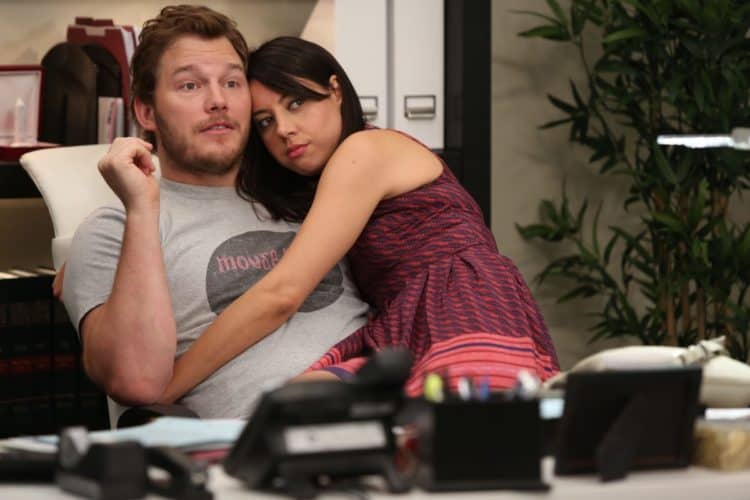 Parks and Recreation is the chicken soup of sitcoms, a comforting show that can easily change one's mood after an episode. While it didn't quite reach the level of popularity that The Office enjoyed during its time on TV, Parks and Recreation continues to be one of the most popular workplace comedies to have ever been created. Developed by Greg Daniels and Michael Schur, who also were the showrunners of The Office, Parks and Recreation aired for six seasons from 2009 to 2015. Parks and Recreation stars Amy Poehler as the overzealous assistant director of the Pawnee Parks and Recreation Department, Leslie Knope. Parks and Rec also features Nick Offerman, Chris Pratt, Adam Scott, Rashida Jones, Aziz Ansari, Aubrey Plaza, Retta, Jim O'Heir, and Rob Lowe, playing employees of an oft-ignored Parks Department as they navigate the mundanity of government bureaucracy. One of Parks and Recreation's breakout stars is Aubrey Plaza, who played the uncaring assistant April Ludgate. In an interview with Business Insider, Aubrey says that she doesn't want to be defined by the one character she played in the series, but she's nevertheless grateful to have been given a lucrative gig early in her career. "I don't want any role to ever define me," Plaza said. "Being on a television show for seven years was the greatest gift that was ever given to me and I wouldn't change it for second. But I think moving forward, it's very important to me for people to not associate me so heavily with the characters that I play." Aubrey Plaza has been involved in a number of projects since Parks. What has Aubrey Plaza been up to since her days on the set of the hit mockumentary sitcom?
Aubrey Plaza's personal life
Plaza has been in a relationship with director Jeff Baena since 2011. He's also featured the actress in several of his films. In a social media post earlier this year, Aubrey revealed that the two are married, according to People. In an interview with The Advocate in 2016, Plaza said that she's always been aware that she has an LGBTQ+ following, saying: "Yeah. I mean, it makes sense to me. I feel like I operate in an old-school way that only gays truly understand. So for me it's the ultimate compliment. My tastes are like an older gay man's, and I think that's who I really am. Like, I grew up obsessed with Judy Garland, and I was also obsessed with how much she meant to her following." She also came out as bisexual in the same interview, saying: "Oh, yeah. I don't mind. I know I have an androgynous thing going on, and there's something masculine about my energy. Girls are into me — that's no secret. Hey, I'm into them too. I fall in love with girls and guys. I can't help it." Aubrey Plaza reportedly has a net worth of $6 million, according to Celebrity Net Worth.
Aubrey Plaza's post-Parks and Recreation projects
After Parks and Recreation, Aubrey Plaza has been involved in a number of major projects, often collaborating with her husband Jeff Baena. Most notably, she appeared in Dirty Grandpa, a movie that starred Zac Efron and Robert De Niro. In an interview with Jimmy Kimmel Live, Aubrey revealed a faux pas she committed while shooting a sex scene with Robert De Niro on the set of Dirty Grandpa. During the shoot, Aubrey had suggested that she suck on the legendary actor's nipple in the scene. Needless to say, the two-time Oscar winner wasn't amenable, according to CinemaBlend. "He was, like, batting me away. And I didn't know if it was, like, in character or not, because you never know with him. They cut the camera, and then Dan called me back, and he's like, 'Bob does not like his nipple area paid attention to. So don't do that!'"
In 2020, she appeared in Black Bear, alongside Christopher Abbott (Martha Marcy May Marlene) and Sarah Gadon (Dark Oracle). Aubrey Plaza also produced the film. The movie was created sustainably, with the production of the film relying on eco-friendly power sources like solar power. In an interview with Playlist.net, Aubrey Plaza explained how she took on the role: "When I read the script I was terrified about playing that part because it was written in such a hyperbolic way. I remember reading a scene towards the end of the script where the description is "and Allison gives the best performance that anyone has ever seen" or something like that and I'm reading it going, "well, I don't know if I can pull that off." But there was something very scary about it for me and challenging. I was just shocked that he believed that I could do it honestly. I'm drawn to things that scare me and where I don't know if I'll be able to do it." Black Bear was widely lauded, with The Guardian noting that appearing in the movie is a "career high" for Aubrey Plaza. "Aubrey Plaza brings all her talent for droll and inscrutable irony to the role of Allison, a film-maker who arrives at a beautiful lakeside house for the weekend with the apparent intention of recharging her creative batteries and working on a script. We see her jotting notes on a legal pad, and her scribbled handwriting is the motif for the intertitles and credits. The house belongs to a handsome couple, Gabe (Christopher Abbott) and Blair (Sarah Gadon), who are friends of friends of Allison's and have an informal policy of loaning their house to artistic people."
Aubrey Plaza also appeared in Legion as Lenore Busker, alongside Dan Stevens (Downton Abbey) and Rachel Keller (Fargo). In an interview with the Hollywood Reporter, Plaza explained how complicated it can be to portray her character. "Essentially, I'm playing four different characters in one scene — or at least that's how it was in my head. This scene is kind of the big reveal. You've seen drug addict Lennie. You've seen overalls Lennie appearing as these hallucinations. You've seen Lennie in a suit that's kind of this crazy Beetlejuice character who has some other agendas. You've seen therapist Lennie. So that scene was very complicated for me, and it was really fun and really challenging. It's Lennie's biggest moment in the series."
Tell us what's wrong with this post? How could we improve it? :)
Let us improve this post!