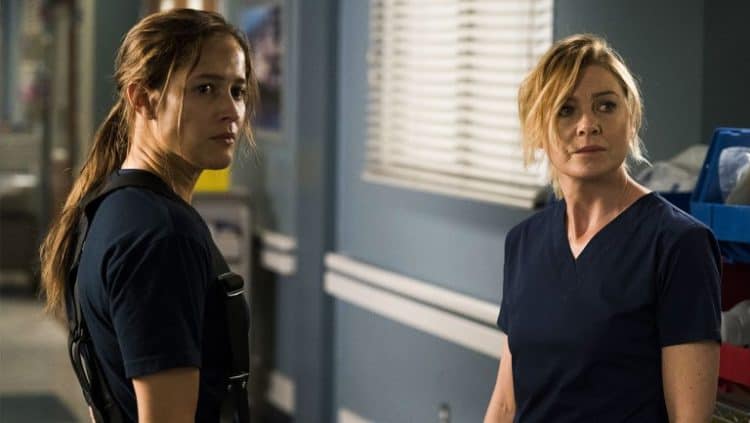 Fans of the "Grey's Anatomy" spinoff "'Station 19" will be happy to know that the firefighter phenom saga has been renewed for another season. Yes, according to TVline, Season 4 will be back on ABC in the new time slot on Thursday nights at 8 p.m. with an average of 13.5 million total viewers and a 3.7 in the demo, up nine percent over 2019. The fan fave "Station 19" was moved to Thursday nights just before "Grey's Anatomy", so that viewers could get a double-header every Thursday. So, what can we expect from "Station 19" Season 4?
Vernoff at the Helm
Now, with Krista Vernoff at the helm of both hit shows, we'll get the special treat of four great crossovers in "Station 19" Season 4. According to the Entertainment President of ABC, Karey Burke, Vernoff is a superb storyteller and they're grateful to her and the show's talented cast and crew for everything they've been doing to make the show thrive. She also called the show "addictive and rich".
A Captivating Cast
Grey Damon, Barrett Doss, Jason George, Jay Hayden, Boris Kodjoe, Okieriete Onaodowan, Jaina Lee Ortiz, Miguel Sandoval, and Danielle Savre are the stars of Station 19. Could this amazing ensemble cast be the main reason why the show is delivering one of the largest audiences weekly among all of the current ABC dramas, only being exceeded by its mothership series, "Grey's Anatomy"? Although not much has been revealed so far about what's going to happen in "Station 19" season four that's probably because we're still in the middle of the third season. It is expected, however, that the majority of the cast will be returning for season 4.
Release Date
A Season 4 release/premier date has not yet been confirmed by ABC. They did say that it will be during the 2020/2021 season. However, it's pretty easy to predict that date. The first episode of the third season was aired on January 23, 2020, so it's highly likely that sometime in January 2021 should mark the start of season four. As far as a season 4 trailer is concerned, season 3's trailer had a November 2019 release ahead of the January 2020 premiere date. So, it seems like fans might be able to expect a peek into the happenings in "Station 19" season 4 approximately two or three months prior to that, i.e. maybe November-ish?
A Little "Station 19" History"
According to Variety, Station 19" Season 1 premiered on March 22, 2018. In case you haven't been following the Seattle firefighters through their lives and loves, triumphs and tribulations, then you've missed a lot of great drama and should probably stream it online to catch up. Season 3 has already offered one of the most exciting crossovers ever seen on TV when a vehicle crashes through the Joe's Bar wall, creating the perfect bridge from "Grey's Anatomy" to "Station 19". The crash started on the former and ended on the latter. What better way could there be to get "Grey" viewers to tune into "Station 19" as the only way to find out who survives and who doesn't? Brilliant!
Season 3 Finale
According to TVshowsAce, The finale date of "Station 19" Season 3 simply hasn't been revealed yet, however, the new episodes should be continuing airing through sometime in May. That's when "Grey's" will be finishing Season 16. On the other hand, since "Station 19" Season 1 had just ten episodes when Season 2 ran for 17 episodes. "Grey's Anatomy" usually has 24 episodes each season and, if "Station 19" were to follow suit, then it might keep going right on into the summertime. Season 3 did get a later start in the midst of transitioning to the 8pm ET time slot on Thursday nights.
Late Start to the Season
On January 23, 2020, the winter premiere was a two-part show and, due to the late start, a great number of fans are starting to wonder exactly how many episodes Season 3 will offer. It's important to note that the shooting schedules on both shows could possibly be adversely affected by the COVID-19 pandemic. On that point, however, we'll just have to wait and see how many future episodes they already have in the can vs. how many may be late in getting shot if production shuts down like it did recently for "Riverdale" as well as a number of other popular TV shows.
"Station 19" Season 4 Predictions
First and foremost, we predict that Andy's father's death from cancer will hit her really hard, of course, but her new love interest, (her battalion chief), will give her a big strong shoulder to cry on and will help her through it. Meanwhile, we also see a big love triangle in their future as well. She's been living with Gibson and we predict that Jack is a lot more into Andy than she thought. To her, their little dalliance was just a "friends with benefits" thing but he may decide to fight for her anyway. And, if Jack finds out about Sullivan's addiction, he just might use it against him in the battle for Andy's heart. May the best man win!
So, will Andy ever become Captain? With so much going on in her life, maybe Dad was right and it just isn't the right time for her. We'll just have to wait and see on that one.
Tune in on Thursdays
So, why not make your Thursday nights more exciting by watching the all-new episodes of "Station 19" followed by "Grey's Anatomy" at 8/7c and 9/8c on ABC? That way, you can see for yourself why both shows are so wildly popular year-after-year!
Tell us what's wrong with this post? How could we improve it? :)
Let us improve this post!