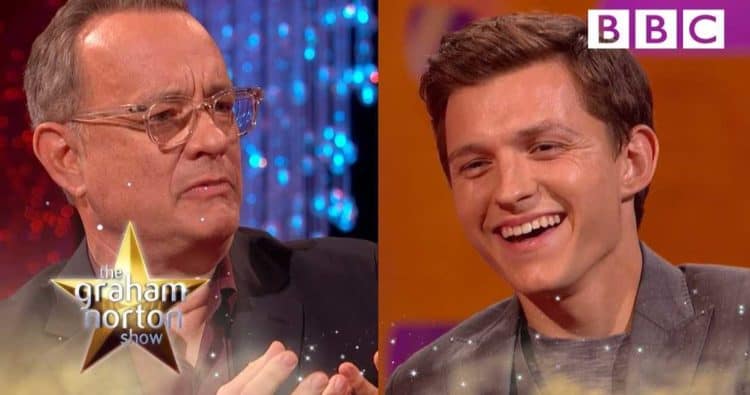 There are always a few things that the younger generation of actors can learn from the older generation as you see here with Tom Hanks and Tom Holland. Obviously it's more of a funny bit for the show but at the same time you can't help but think that, as Alexia Fernandez of People might agree, Tom Hanks is at least bestowing a small amount of repetitive wisdom on Holland simply to amuse people and to make certain that the younger man knows what he's getting at. Thankfully both men are highly skilled actors that know what they're doing and know how to play to the crowd as well as to each other. Hanks' description of how those in charge tend to wring everything from their actors during voice-over sessions is kind of funny since it seems absolutely true. Voice acting is, to some people, one of the easiest things to do in Hollywood, but in truth it seems as though it might be more difficult since the range of movements is highly limited since the mic they're speaking into isn't exactly designed to move and the act of allowing it to move with them would no doubt be kind of detrimental to the entire effect.
Holland has done voice acting before so it's a bit obvious that he knows what Hanks is speaking of and has been there, done that, though not quite as much as Hanks given the huge age difference between them. But really when you compare acting skill it would seem that Holland is well on his way to becoming just as big as Hanks one day if he continues to evolve as he has been on screen. Does anyone remember what people thought of Tom Hanks back in the day when he was still a young man? A lot of folks liked him, some folks couldn't stand him, and some even thought that he wouldn't go on to do much more than he'd already done at that point. Some might think the same of Holland but so far he's been proving that he has what it takes to stick around as he has several projects that he's working at this moment and has already wowed a lot of people with the things he's done. Granted he's no Tom Hanks, not yet, but he's still been someone that a lot of people have been talking about and as a result someone that people happen to believe in since he's given them a reason to think that he can only ascend from here.
It might have taken him just a moment to really get into the 'acting lesson' that Hanks was giving him but Holland replied beautifully in the next instant since he took to the idea of what Hanks was getting at with a certain amount of zeal after this. The lines he delivered, well, the same line that he delivered a few times, became increasingly different as he played it up for the audience and got a good laugh out of everyone and a quick stamp of approval from Hanks. It's easy to see that it was mostly for the amusement of the people watching but at the same time there are always small grains of wisdom to be taken from a lesson like this since Hanks was likely trying to explain to everyone, Holland included, just what goes into a role and how some roles are so incredibly limited but also so vital to get down. When you sit back and think about it Tom Hanks is likely one of the more knowledgeable and seasoned veterans in show business right now, which is funny since a lot of us can probably remember when he was much younger and have grown up watching him as he's gotten progressively older. Throughout his career he's definitely aged and wizened as the time has gone on, but that hasn't dimmed his ability to provide some of the greatest entertainment in cinematic history. Yes, he's had a few duds here and there, but overall Tom Hanks has become such a legend that detailing his failures is little more than a term of endearment at this point and not worth focusing on.
Tom Holland seems to be on that kind of track, different in many ways but still on the road to greatness if he so desires since his career has been taking off ever since he donned the Spider-Man costume and started swinging around the city. It goes without saying that eventually if he wants to be seen as someone that can evolve and adapt he's going to have to leave Spider-Man behind, but at this moment the role of the wallcrawler is treating him quite well and seems like it could last for a little while. Once that happens it's really up in the air as to where he might go, but for now it's fun just watching as he continues to grow and develop into a quality actor.