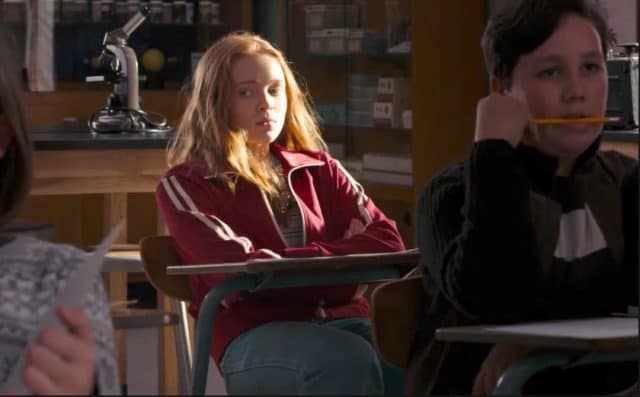 If you recognize her then it's possible that you've watched the second season of Stranger Things. Sadie Sink played the role of Max, the new girl in town that the main characters, well, at least Dustin and Lucas, seem so obsessed with. Mike could do without her, and Eleven nearly flies into a rage when she sees Mike and Max talking in the gym. However there's more to Max than everyone has figured out yet, but it might take until season three for Sink to really acclimate to the show and be seen as a part of the party. Until then, Sadie will no doubt be seeking other venues to make her name known.
Here are a few things you might not have known about Sadie.
5. She's appeared on Broadway.
Sadie might be young but she's already been seen acting with some of the biggest stars and on the greatest venue in show business. There's little doubt that she's being groomed for greatness in some way and could possibly continue forward if she desires as she continues to grow up. With the talent she already possesses it's hard not to believe that she'll one day be a leading lady.
4. Her mother signed her up for drama classes.
After watching Sadie trying to reenact Disney's High School Musical with her brother her mom signed her up for drama classes to see if it would take her anywhere. Obviously it was one of the best decisions that's ever been made on Sadie's behalf as she's gone on to do great things already and could possibly do even more as the year roll on.
3. She's starred in other shows and movies.
To date she's only been in a couple of movies but she's showed up on a handful of shows apart from Stranger Things such as The Americans and American Odyssey. It's only been in a few shows that she's had a role in more than one episode but those shows managed to make her what she is today. It's also easy to see that she'll be back in Stranger Things season 3, or at least her character will.
2. Sadie is a vegan.
Being 15 it's not too much of a surprise that she would make her own choice in this matter but one has to wonder if it's a phase or if she is completely devoted to it. This seems to be the age that many young people start deciding how they want to live their life according to what they eat. Some attempt to go vegan or vegetarian and then realize they can't do it. We'll have to wait and see what happens with Sadie.
1. She started her career in 2012.
That means she was only ten years old when she first started, which seems kind of young until you realize just how young some of these actors started out. Talent has been noticed in many people at a young age for a while now. The only issue that seems to remain is whether or not they will burn out quickly or continue to love what they're doing later on.
Keep an eye on Sadie Sink, her future seems pretty bright at the moment.